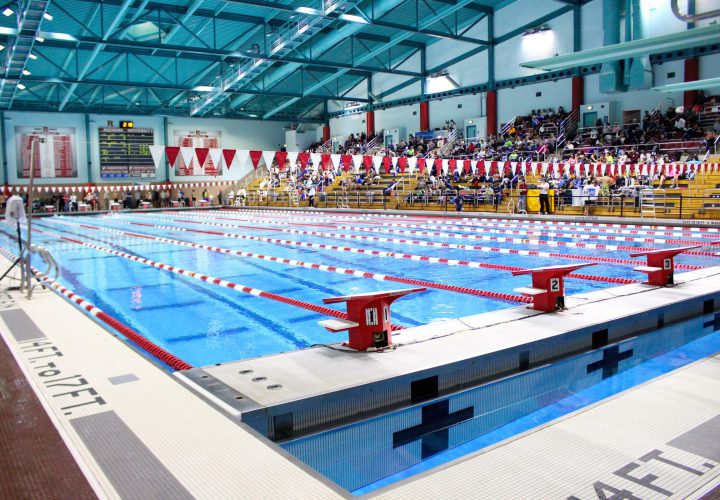 Photo Courtesy: Taylor Brien
Rutgers swimming and diving bolstered its freestyle roster heading into championship season with the addition of freshman Sveva Schiazzano, who enrolled at RU in January and is immediately eligible to compete.
Schiazzano, a native of Sorrento, Italy, brings championship experience and a neck-full of hardware "to the Banks." At the inaugural European Games in Baku 2015, she captured a gold medal in the 1,500-meter freestyle event in the juniors division.
"Sveva may be a first semester freshman, but she is also a decorated champion on the national level," said head coach Jon Maccoll. "She will be a tremendous asset to the program in and out of the water with her talent in swimming and her experience at the highest level of competition."
Following a January enrollment at the State University of New Jersey, Schiazzano signed her paperwork just in time to board the plane to Columbus, Ohio for the Scarlet Knights' quad-meet at Ohio State. There, she made her collegiate debut in the 500- and 1,000-yard freestyle events.
"I chose Rutgers because it represents an opportunity, a point of departure and not of arrival," Schiazzano said. "I know coming here would guarantee a good education and improvement in my sport."
Schiazzano made her Rutgers Aquatic Center debut on Friday against Nebraska, and wasted little time in recording her first collegiate victory. On Saturday, she won the 1,650-yard freestyle and helped RU push past the Huskers in the dual meet.
Prior to Rutgers, she accumulated medals from various national and international competitions. Schiazzano was a bronze medalist in the 1,500-meter freestyle at the 2016 European Junior Swimming Championships, and a bronze medalist in the 800-meter freestyle at the European Youth Olympic Festival in 2013 and in the 5,000-meter freestyle at the Comen Cup Open Water Championships in 2014.
At Liceo Scientifico Gaetano Salvemini in Italy, she led her team to four consecutive regional championships and four trips to the Italian Championships.
Schiazzano will accompany the Scarlet Knights to the Big Ten Championships on Feb. 14-17 in Columbus, Ohio at Ohio State's McCorkle Aquatic Pavilion. Tickets are available now here.
The above press release courtesy of Rutgers Swimming and Diving