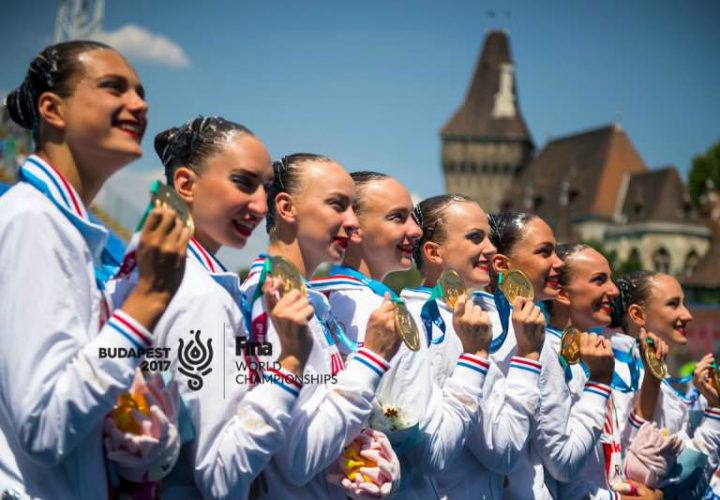 Photo Courtesy: deepbluemedia
Editorial Coverage provided by

The women of Russia successfully defended their World Championships title during finals of the Team Technical routine during day five of competition. Today's victory marked the third synchro gold medal that Russia has won so far in Budapest.
Of the eight members on the team only Vlada Chigireva and Maria Shurochkina were also on the gold-medal winning team in Kazan. The two veterans were joined by newcomers Anastasia Bayandina, Veronika Kalinina, Daria Bayandina, Maryna Goliadkina, Polina Komar, and Darina Valitova, performing to the song "The Rhythms of the City." As a team they scored a total of 96.01.09 points improving upon the 95.7457 score that won gold in 2015.
Following their gold medal performance, Team Russia spoke to FINA and the associated press, explaining,
"We have a new team. That's why we were nervous about our performance. The newcomers don't have enough experience of competing at such important championships. Well, to tell you the truth, we are always concerned about the result – not the scores but the performance in general. We are very happy with the marks in the final, we improved after the prelims. Although there is no limit for excellence. Because, first of all, we have to overcome ourselves."
China defended their 2015 silver medal with a 94.2165 score, while Japan once again finished third at the World Championships with a score of 93.1590.