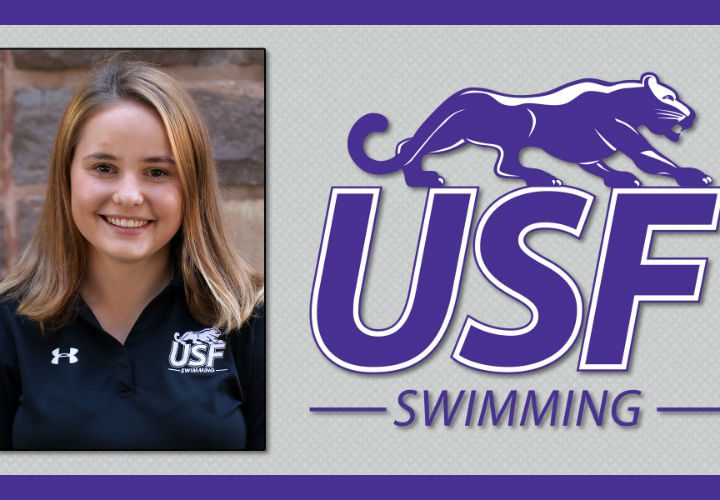 Photo Courtesy: Twitter @USF_Athletics
University of Sioux Falls Director of Athletics Josh Snyder has announced the appointment of Rita Koryukova to serve as the Interim Head Coach for USF Swimming for the remainder of the 2017-18 season.
A three-time NCAA Division II national champion at Wingate University, Koryukova served as the graduate assistant coach for the USF program during its inaugural season in 2016-17. She takes over for former head coach Jon Maccoll, who received an opportunity to coach at the NCAA DI level as the Assistant Coach at Rutgers University. Maccoll was named the first swimming head coach in USF program history in August of 2015.  Snyder also announced that Hayden Kosater will serve as a full-time assistant coach.
"Rita provides continuity in the program and offers a wealth of experience and knowledge in swimming," said Snyder. "Rita's familiarity with the student-athletes and the current system, combined with character and work ethic, make her a natural fit. We look forward to a successful year under her leadership."
A native of Omsk, Russia, Koryukova takes over a roster of 28 student-athletes, who were picked to finish fourth in the Northern Sun Intercollegiate Conference preseason coaches' poll. Among the returners for the program's second season are four NCAA Championship qualifiers and three all-conference swimmers.
Koryukova earned her bachelor's degree in finance from Wingate University in Wingate, N.C., in 2016, where she served as a captain for Bulldog swim team. She was an eight-time All-American and three-time national champion and she helped Wingate to a national runner-up finish in 2016. Koryukova won the 200-yard individual medley relay and 200-yard freestyle relay titles at the 2016 NCAA Championships and was a leg on the national championship 400-yard medley relay in 2015.
In addition to her coaching and recruiting duties at USF, Koryukova gained coaching experience as a member of the Pine Crest Swim Camp staff and Wingate Aqua Dogs prior to beginning her tenure at Sioux Falls in 2016.
Koryukova and her team will continue their 2017-18 season as they host MSU Moorhead on Friday, Oct. 27. The meet, the program's first-ever home dual, will start at 6 p.m., at the Midco Aquatic Center.
Press release courtesy of University of Sioux Falls.