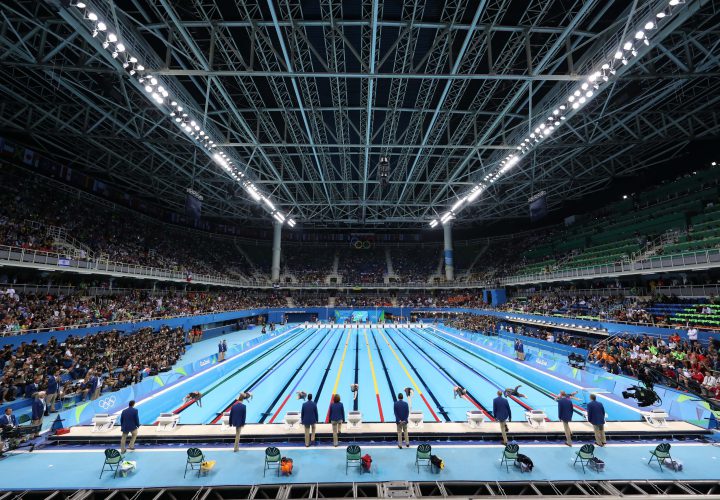 Photo Courtesy: Geoff Burke-USA TODAY Sports
In February 2017, Myrtha Pools announced that the pools they built for the 2016 Rio Olympics would be moving to new locations. On Monday, one of the 50 meter pools moved in to its new home in Salvador de Bahia in Brazil.
Myrtha Pools released a press release from February 2017:
Thanks to this Myrtha technology, pools can represent a true legacy for the city hosting the International Competition as they can move and install the pool in a different location where it is actually needed, without wasting money and materials and with an eco-friendly touch.
A similar future awaits the Water Polo pool (14x25x3 meters), installed during the Games just outside the Maria Lenk Aquatic Centre and soon to be moved to Manaus, where it will turn into a 50 meter pool.
The two "twin pools", two temporary 50x25x2 meters at the Parque dos Atletas, have already been dismantled. The first one will be delivered to a military base in Guarantiguetà, not far from San Paolo, for military competitions.
The pool saw eight World Records in seven different events during the 2016 Rio Olympics. It was home to the Olympic glory of American superstars Katie Ledecky and Michael Phelps as well as internationals Katinka Hosszu and Adam Peaty.
The pool was also home to some of the biggest upsets in Olympic history including Simone Manuel and Penny Oleksiak's 100 free triumph, as well as Joseph Schooling's historic gold for Singapore in the 100 fly.
This isn't the first case of temporary pools turning permanent as the last few Olympic Trials pools have found new homes in Texas and Boston. The 2004 Long Beach Olympic Trials pool and 2008 Omaha Trials pool also now sit in Yucaipa, California and Richmond, Virginia.