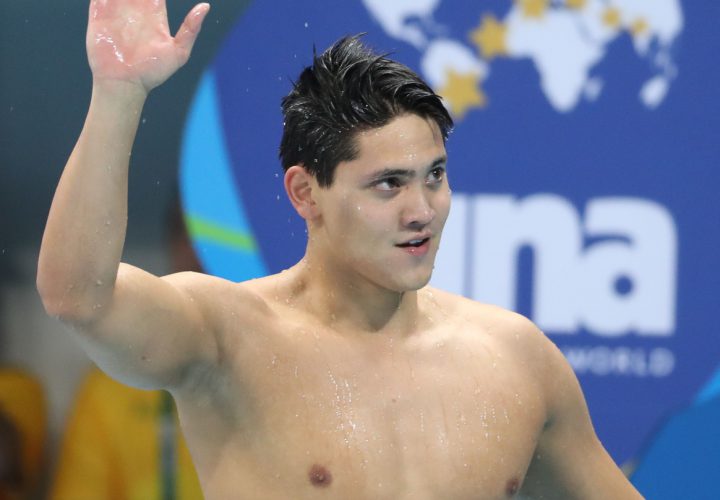 Photo Courtesy: Erich Schlegel-USA TODAY Sports

Editorial Coverage Sponsored By FINIS
Men's 100 Fly FINAL:
The 2016 Rio Olympic Games has seen many countries receive their first Olympic swimming medals ever and the men's 100 fly final followed suit. As Michael Phelps of the USA strove to make history by posting yet another four-peat in an individual event, Joseph Schooling of Singapore was seeking his country's first Olympic swimming medal.
Schooling dove in for finals with a purpose, leading at the 50 with the only sub-24 second split. Phelps, Laszlo Cseh of Hungary, and Chad le Clos of South Africa powered ahead, trying to gain on Schooling but it was to no avail. Schooling stopped the clock at a 50.39 to not only down the existing Olympic record of 50.58, set in 2008 by Phelps, but to earn Singapore their first Olympic swimming medal–and gold at that!
The history didn't stop there as Phelps, le Clos, and Cseh simultaneously stopped the clock at 51.14 for a three-way tie for silver.
China's Li Zhuhao delivered a 51.26 for a close fifth place and a new World Junior Record, while France's Mehdy Metella picked up sixth with a 51.58.
Tom Shields of the USA finished seventh with a 51.73, just ahead of Russia's Aleksandr Sadovnikov's 51.84.
Full results are available here.