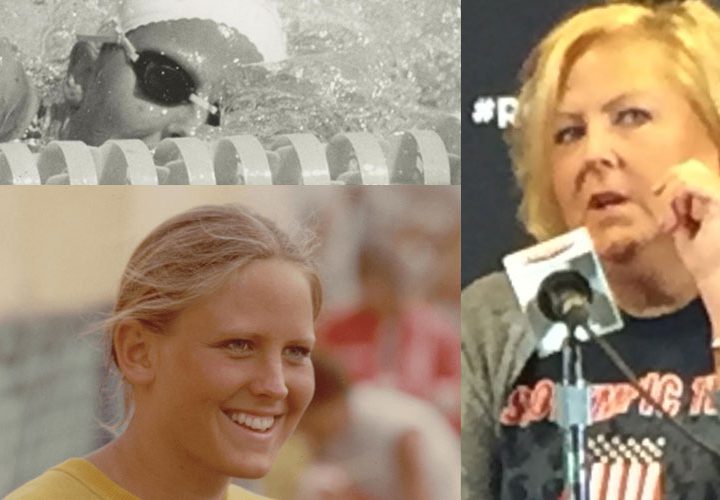 Shirley Babashoff, Making Waves: My Journey to Winning Olympic Gold and Defeating the East German Doping Program (Santa Monica Press LLC, 2016), 272 pp. + 32 pp. of illus.
Reviewed by Sanford G. Thatcher
Those who watched the Rio Olympics in 2016, shortly after this book was published, will remember at least two names from the women's swimming competition: Katie Ledecky and Lilly King. Ledecky once again proved her dominance in women's freestyle by winning gold in the 200, 400, and 800 meter races while helping the American relay team win gold in the 4 x 200 event and silver in the 4 x 100 event. King famously called out Russian swimmer Yulia Efimova for having cheated through drug use, for which Efimova had been suspended in 2014 and accused again, but not suspended, a second time. Then King followed up by beating her rival in the 100 breast, a feat she repeated a year later in the World Championships.
Anyone who reads this book will come away with the feeling that Shirley Babashoff is a cross between Ledecky and King: Ledecky because Babashoff was as dominant in freestyle in her day as Ledecky is today (perhaps even more dominant because Babashoff was able to win the 100 free in the Olympic Trials as well, which Ledecky has never done); King because Babashoff never shies away from controversy and always fights for what she thinks is right with the same kind of feisty and determined attitude. All three also share the characteristic of being super competitive, never wanting to settle for second place.
But the differences between the 1976 and 2016 Olympics were in other respects stark. Like Ledecky, Babashoff also came away with five medals, but hers had to be four silver and one gold (in the 4 x 100 relay) rather than four gold and one silver (in the 4 x 100 relay) because the East German women, doped to the hilt, robbed her of the glory rightfully due to her. Like King, Babashoff spoke out about her (multiple) rivals' doping , but instead of being believed, as King mostly was by the media, Babashoff became the target of fierce and unrelenting criticism by the media as an "ugly American" who brought shame on her country by not acting properly toward those who beat her and being just "surly Shirley," a nickname that stuck with her for a very long while.
This contrast in the attitude of media is a testimony to how far we advanced in the forty years between these two Olympiads in the handling of doping scandals. But a closer look raises questions about how far the International Olympic Committee (IOC) has come in that period. In 2016 it was another state-run doping operation that was cause for concern, this time in Russia rather than East Germany. In 1976 there was no hard evidence about what the East German government had been doing with its athletes; it took another thirteen years, after the fall of the Berlin Wall, for that evidence to come to light in the fallen government's files. In 2016 evidence was presented in the McLaren Report before the Olympics began, although only a month before. Yet the result was the same in the end: Russian swimmers got to compete in the Olympics just as East German swimmers had in 1976. The IOC avoided its responsibility by requiring each
athletic federation to make its own decision, and while FINA officials talked tough, they ultimately allowed a bunch of swimmers, even those who had been suspended earlier like Efimova, to compete. To be fair to Efimova, the coach she was training under for several years prior to the Games, Dave Salo at USC, did say that she had taken and passed every drug test that had been given to USC team members during those years. But the question remains whether it is not better to ban athletes who have been proved to use drugs for life rather than just temporarily. I think I know what Shirley Babashoff's answer would be. Anyway, the IOC's reluctance to do anything about rectifying the injustice of 1976 has to raise doubts about how far we really have advanced after all. And it is even less easy to understand because East Germany, unlike Russia, is no longer a functioning government that has any power to wield on the world stage.
There is no question that Babashoff got a raw deal in Montreal. Now, with the release of the splendid USA Swimming documentary "The Last Gold" and this book, both in 2016, the whole world knows too. But those who saw just the film but have not read the book will not realize that Babashoff got raw deals her entire life, starting as a young child when she suffered sexual abuse by her father, all the way up to age 13, when she no longer accepted her father's explanation of "this is what daddies do." It didn't help that her mother was cold and seemingly uncaring, denying what her husband was doing to her daughter (until she, too, resisted when her husband starting abusing Shirley's younger sister as well). Eventually, the abuse was discovered because the victims also included other young girls from her neighborhood, and it was stopped legally—though with a sentence that would seem ludicrously lenient today. (Babashoff tells us toward the end of her book that her father, at age 81, was still a sexual predator and brought to justice again, this time for abusing a mentally ill woman of 41 years old.) Like another star swimmer from California, Kristen Cunnane, who swam for UCLA and later became associate head coach of the Cal-Berkeley women's team where she recruited Missy Franklin, Babashoff found refuge and solace in the long hours in the pool where she felt she was in a safe and protected environment. (Cunnane, who has written a book about her experience, documented in the CBS 48 Hours special titled "Kristen's Secret," was abused by two teachers in middle school, one male and one female; the male committed suicide while the female, who continued the abuse through Kristen's high school years, was finally brought to justice and sentenced to eight years in prison, and the Moraga school district successfully sued for $2.85 million.)
So, from her earliest years, Babashoff had obstacles to overcome that thankfully most of us do not. She persevered against these odds and dedicated herself to becoming a champion swimmer. Already appearing on the world stage for the 1972 Olympics where she won two silver medals (in the 100 and 200 free) and one gold (in the 4 x 100 free relay in world record time), Babashoff grew to become the dominant female women's swimmer of her generation, even prompting some to predict that she could equal Mark Spitz's seven gold medal performance in 1972 at the 1976 Olympics. For the four years between the Olympics she trained under a brutal regimen laid down by her coach at Mission Viejo, Mark Schubert, who had her going twenty miles a day with workouts of two hours in the morning before school and three hours in the evening. That is equivalent to an insane 33,000 yards daily, to which she occasionally added by
swimming at high school and college practices as well. She was assigned to the "animal lane" with male swimmers at the club, and in high school and college she competed on the men's teams. For comparison, as a competitive swimmer for 68 of my 74 years, in high school in the late fifties, college in the early sixties, and in masters meets since 1973, I never trained more than once a day, with a maximum workout of 3,500 yards. That would have been a warmup for Babashoff. Hers was an era when the mantra for becoming an elite swimmer required workouts of massive distance— fortunately, an era that is coming to a close (though some coaches still hold to this philosophy). Babashoff proved she was ready to take on any competition when, at the Olympic Trials in late June 1976, she accomplished the astonishing feat of winning every single freestyle event (100, 200, 400, 800) in American record time (with the 800 being a world record as well) plus the 400 IM. She did then have the possibility of matching Spitz's record of seven gold medals.
But her dream was not to be. It was shattered by the brutal reality of a massive secret doping campaign conducted by the East German government that began as far back as 1968, but only reached final fruition at the 1976 Games. Over the years leading up to Montreal, the physical evidence of this campaign became ever more evident to anyone knowledgeable enough about swimming and athletic training to realize that the physiques of the East German women were transforming more and more into male-type bodies, complete with facial hair, often bull-like necks, broad shoulders, muscular arms, and deep voices. Many swimmers who competed against the East Germans , as well as their coaches, were aware of these changes, but did not know how to account for them and so did not know what to say, other than share their thoughts in private, behind closed doors. Like Lilly King later, Babashoff was not cowed by the absence of solid proof about doping but simply stated publicly what so many others were thinking in private. Carrying the weight of public expectations on her shoulders, Babashoff swam some of her best times in Montreal, setting new American records. (She dropped the 400 IM because in the weeks of training up to the beginning of the Olympics the head US team coach, Jack Nelson, ignored Mark Schubert's advice and had Babashoff swimming only freestyle, no other strokes at all—certainly an odd way to prepare a swimmer for the IM. So she got a raw deal from the team coach as well.) Because Babshoff only ended up in second in her individual events—and was unwilling to offer congratulations to the East German victors beside her on the podium—she was pilloried by the media as "surly Shirley," who couldn't accept defeat gracefully and was giving the reputation of America a bad name.
This was the third raw deal Babashoff suffered through no fault of her own, unless being honest and forthright is to be seen as a fault. In 2004 USA Today described her treatment as "one of the sports media's most shameful moments," and indeed it was. Rather than do their jobs of true investigative reporting, as the media had done successfully with such incidents as Watergate and the Pentagon Papers, they took the easy way out and invented a narrative that portrayed the East Germans as a deserving David-like, underdog challenger to the Goliath-like, scornful and snooty Americans—a narrative that of course was welcomed by the East German officials, who must have been toasting each other behind closed doors for having fooled the media into buying
into this myth. Some, including a few of the East German swimmers even today, argue that the East Germans simply trained harder than the Americans—as if twenty miles a day was loafing! The criticism was even more mortifying because the American men were turning out to have one of their most successful Olympics ever, led by the five- medal performance (four of them gold medals) of John Naber, one of Babashoff's best friends on the men's team (which also included her older brother Jack). The East German men had been doping also, but the effects on them gave them only a marginal advantage whereas the steroid use by the women had dramatic physical results in both appearance and performance. The best the East German men could accomplish was a bronze medal by former world record backstroker Roland Matthes. The women, meanwhile, were winning every single individual event but one plus the 4 x 100 medley relay, often by very large margins of victory, even though Babashoff and her compatriots were breaking more American records than any US women's team before or since. Instead of receiving praise for this spectacular historic achievement, the Americans were ridiculed and held up to scorn by their own country's reporters, none more viciously and outrageously than by Joe Gergen of Newsday , who to this day, remarkably, is unrepentant for libeling his fellow Americans. His attitude only proves how little he understands about the sport of swimming and the rigors of training in this sport. He is a disgrace to his profession, and if he had had to be licensed to be a reporter, it should have been yanked. One can only wonder if Mr. Gergen felt Lilly King to be a "spoiled brat" also. Perhaps he should have settled down in East Germany, which he respected so much, or the Putin-led Russia of today. These repressive, closed societies apparently are more to his liking than the free and open America we all cherish.
Having been subjected to this scorn for years after the 1976 Games were over, Babashoff still was not done with raw deals. Her first marriage, to a man who before the marriage had seemed to be so nice, was a disaster as her husband soon proved himself to be the scoundrel that he was, mistreating Babashoff mentally and physically and even threatening her life on multiple occasions. Fortunately, another short relationship later left her with an unplanned pregnancy, but produced her son Adam, who has become the joy of her life ever since as a single mom. And she found a job that suited her needs well with the US Postal Service as a mail carrier. Her description of this job rings true to me because my brother, a swimmer and track star in high school who ran track for Yale, took on that same job in Colorado after spending years in the Midwest and Northeast as a CFO and CEO of multiple companies. Babashoff welcomed this job in the same way my brother did, as an opportunity to gain good exercise in the performance of one's daily duties and get to know one's fellow townsfolk well in the process. Financially, it can be rewarding as well since the US Postal Service has great benefits and pays wages on a national scale that compare favorably with wages in many other professions locally. Eventually, over time, as the details of the East German cheating came to be revealed in the 1990s, Babashoff began to receive the recognition and praise that she was due much earlier. In 2005 she was even awarded the Olympic Order, the highest honor bestowed on Olympic athletes by the IOC —though Babashoff can't help wondering, with good reason, if this was just a ploy to stop her from continuing to speak out about doping scandals and coverups.
The last raw deal, which Babashoff may not have noticed but was obvious to me given my background in publishing, came from her co-author, professional writer Chris Epting, and her publisher, Santa Monica Press. The book is written in a style that makes reading it easy, and the personality of Babashoff shines through nicely. There is a wonderful 32-page section of photos as well and an appendix with a list of Babashoff's world and American record swims, her open letter to IOC president Thomas Bach about rectifying the 1976 injustices, a summary of what the results would look like in 1976 if rectified, and notes from two coaches, one of them Mark Schubert, who lauds Babashoff for "making waves." But the text itself is riddled with errors of many different kinds such as subject/verb disagreement, missing or wrong words, use of pronouns with no antecedents, outright grammatical mistakes, even errant printer's marks, etc., over 75 by my count. Babashoff, not being formally trained as a writer, cannot be held responsible for these flaws. But Epting certainly can, and so can the publisher's staff, both copyeditor and proofreader, who did not do the careful job one has a right to expect as a reader. In a book written in a colloquial manner, one might excuse some degree of laxity in stylistic niceties, but the sheer number and seriousness of many of these lapses goes beyond the pale for professional publishing. Her co-author and publisher owe her an apology, just as the East Germans and the world media did. I have a list of all these errors that I will be happy to share with the authors and publisher in case the book ever comes up for reprinting in hardback or for a paperback edition.
This is an impressive and important book that any lover of the sport of swimming can read with profit and pleasure. Anyone who cares about the Olympics and its future should read this book too and heed its message. It ends with a warning and a plea straight from Babashoff's heart to her readers:
One of the problems with doping is that the punishments for it don't fit the extent of the crime. When high-profile athletes cheat, with or without the support of their government, they're not just hurting themselves. They're hurting the sport. They're hurting their country. They're hurting the world. Until the punishments rise to meet these levels of corruption, destruction, and damage, I think this is going to continue to happen over and over again, because nobody is scared of the repercussions [just ask Yulia Efimova]. But if these athletes knew that there would be swift, just, and intensely serious punishments? They would think twice about doing anything illegal. . . .
As I write this, there are thousands of honest athletes around the world who get cheated by this sort of behavior. They don't get the medals or the sponsorships or the money. They watch the cheaters prosper. My message to all of them is that, no matter what, you should never compromise your integrity or your health. It will never be worth it. Because you'll always know in your heart that you did it the right way, that you properly represented your sport and maybe even your country. That's what really matters. I may not have gotten all the endorsements and fame that people expected of me, but when I look at those East German athletes today, I feel really bad for them. Their lives were stolen from them. They were cheated. And they will pay the price the rest of their lives.
The indomitable spirit of Shirley Babashoff shines through brightly in these closing words. A video interview with her was taped in 2016 not long after her book was published with Brent Rutemiller of Swimming World, which has championed Babashoff's cause more than any other media. It bears the title "Shirley Babashoff Wants Her Place in History." To my mind, this book supplemented by "The Last Gold" has cemented her place in history more than perhaps even the gold medals she lost may have done because now everyone knows what really happened and why she was robbed of what was due her from her amazing dedication to her sport. She has become the ultimate role model in our sport, and that is her well-deserved place in history. I hope I live long enough to tell her this in person, and I would hope it could be on the deck of a masters meet some day. Unlike some of her former teammates such as 1972 Olympian Sandy Neilsen, who has gone on to achieve many top finishes as a masters competitor, Babashoff has not entered competition again after retiring in the wake of the 1976 Games. We would welcome her return to the sport, but she might well, and justifiably, worry that masters swimming too has been tainted by cheating. We need more Shirley Babashoffs in this world.
— Sanford G. Thatcher competed for Princeton University from 1961 to 1965, never took a first place, but later helped get DeNunzio Pool built and wrote a 133-page history of the program, accessible online, and was honored with the program's top prize, the 250th Award, in 2015. In New Jersey he was a member of the Princeton Area Masters and New Jersey Masters, and in Texas has swum for the Plano Wetcats, North Texas Lonestars, and now Texas Ford Aquatics. A former editor-in-chief of Princeton University Press and director of Penn State University Press, he served as president of the Association of American University Presses in 2007/8. Today he is a member of the board of directors of The Drake Group, established in 1999 to pursue reform of intercollegiate athletics, especially with respect to ensuring academic integrity in college sports programs.