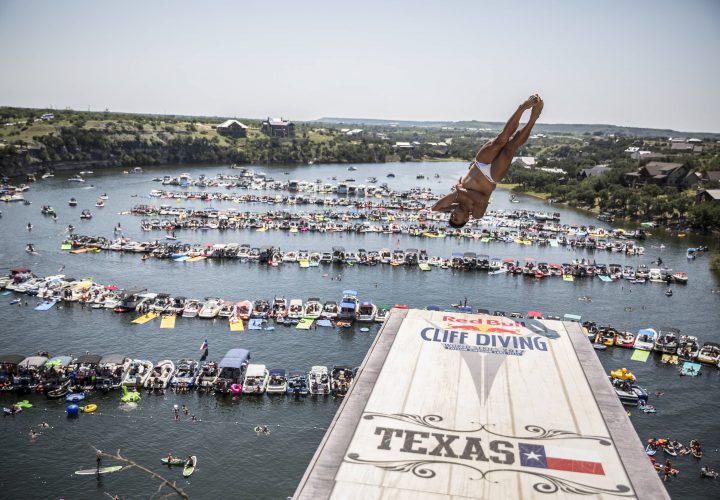 Photo Courtesy: Romina Amato/Red Bull Content Pool
The Red Bull Cliff Diving World Series will celebrate a decade of pushing the limits of what's physically possible as its globetrotting daredevils are set to wow crowds at seven stops in the U.S. and Europe in 2018. The season begins with the first competition at Texas's Possum Kingdom Lake the weekend of June 2, marking only the second time a U.S. stop has kicked off the season. This year will begin a tour of classic Red Bull Cliff Diving locations as divers will be welcomed by throngs of fans as they soar from heights of up to 90 feet, twisting and flipping as they hit the water at 55mph.
The Red Bull Cliff Diving World Series comes off a shocker of a season where Mexico's Jonathan Paredes dethroned six-time champion Gary Hunt (GBR). Paredes' second place finish in Texas and first place finish at the season finale in Chile went a long way in securing his first ever King Kahekili Trophy. He'll look forward to eager challengers in the men's division including American veterans Andy Jones, David Colturi and Steven LoBue who finished fifth through seventh in the 2017 standings.
On the women's platform, the Texas results from 2017 were a harbinger of things to come as Aussie Rhiannan Iffland cruised to her second straight Women's Championship winning four of the six tour stops including her second straight U.S. stop. However, she's not resting on her laurels as emerging talents like Adriana Jimenez (MEX) who won the Portugal stop in 2017 and Ginger Huber (USA) will challenge the two-time champion at the five female division stops in 2018.
Following the opening stop at Hell's Gate in Possum Kingdom Lake in Texas, the tour will travel through Europe and feature legendary cliff diving destinations like Bilbao, Spain and Sisikion, Switzerland which hasn't hosted a competition since 2010. The season will conclude at a fan favorite stop Polignano a Mare, Italy where the men's and women's champions will be crowned on September 23.
2018 Red Bull Cliff Diving World Series Calendar
June 2 – Texas, USA
June 30 – Bilbao, Spain (Men)
July 14 – São Miguel, Azores, Portugal
August 5 – Sisikon, Switzerland
August 25 – Copenhagen, Denmark (Men)
September 8 – Mostar, Bosnia and Herzegovina
September 23 – Polignano a Mare, Italy
2018 marks a special year in the history of cliff diving, as it's not only the tenth season of the Series, but also the fifth year since the creation of the women's division. The series is poised once again to hit oceans, rivers, and lakes while amazing thousands of fans from all around the globe who flock to see these incredible athletes put on a display of athleticism and grace unrivalled in the world of diving.
Red Bull Cliff Diving World Series
Since 2009, the Red Bull Cliff Diving World Series has provided a platform for aesthetic free-falls and dives of ever growing complexity, spotlighting the sport's finest athletes as well as the most promising talents and in 2014 it introduced a Women's World Series. Celebrating its 10th season in 2018, this rapidly progressing sport will crown two new champions during seven demanding competitions for the men and five for the women. Between June and September, this pure extreme sport will hit waters in natural and urban environments as well as remote and iconic venues of World Series classics.
Press release courtesy of Red Bull Cliff Diving.