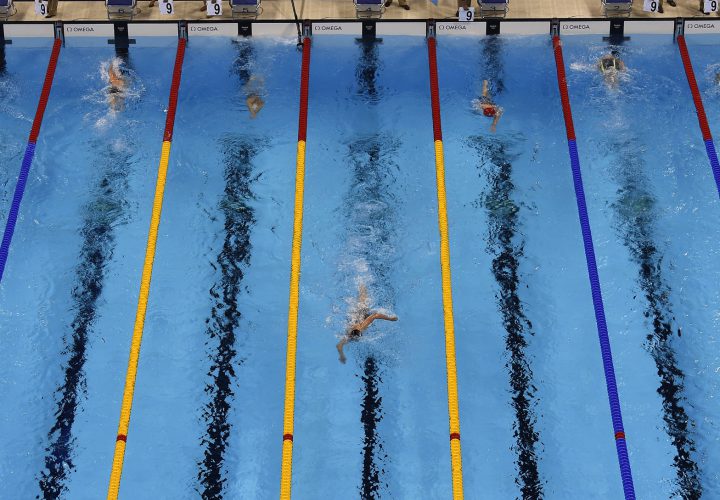 Photo Courtesy: USA TODAY Sports-USA TODAY Sports
By Norah Hunt, Swimming World College Intern. 
When I tell people that I swim competitively, their first question is usually "What do you swim?", and when I proudly say distance, they follow up with "Oh, so are you as fast as Katie Ledecky?" This question always makes me laugh and shake my head a little, because no, I am nowhere near as fast as the mighty Ledecky.
No one is. Her utter dominance is what makes her so incredible and a household name. I always love this question, even though I have to inevitably disappoint people by telling them what they probably already knew. Nevertheless, having the opportunity to grow up swimming the same events as one of the most dominant athletes in history is quite spectacular.
Simply put, distance swimming is boring. It is a lot of back and forth, and in an era of 10-second snapchats and declining attention spans, sitting around for 15 minutes to watch someone swim up and down a black line is not exactly the action-filled, intense sports saga that America demands.
It is a disciplined sport, and one that I love, but not one that the public is naturally drawn to. That is, until Ledecky swam by. America loves utter dominance in the same way it loves a nail-biter, and Ledecky clearly swimming away from an international field excites and inspires all of the American spectators back home.
They become interested in the distance niche of a sport that does not get the same recognition or coverage as other sports. They become acquainted with how long it takes to swim a mile or a 500. They talk about Ledecky's training over coffee at the office. Her name becomes common, and she brings the sport along with her into the spotlight.
The snowball effect continues. They see the way Ledecky carries herself, ever composed and always smiling, even while training for 20 plus hours a week. They follow her nutrition, her recovery, her lifting regimen. They begin to care and appreciate the work she puts in, because America loves a winner.
Spectators actually sit through her events. There are less commercials during the mile at the Olympics because no one wants to miss a second of history being made. Distance swimming becomes exciting, because any little age grouper swimming the mile at a local meet could become the next Ledecky, America's swimming sweetheart.
One of the best ways to grow as an athlete is to be among the greatest, to watch and learn from what they do. Coaches and scientists and psychologists are able to observe Ledecky and study how she swims, as well as how she carries herself. They can study her technique, the way she splits her races, the way she practices, and the way she appears in the ready room or behind the blocks.
This knowledge is reported back to teams across the country, and everyone collectively learns from watching the best do what she does best. My team loves to have talks where we discuss the way Ledecky approached a certain race or the way she composed herself in an interview; she has become a role model for so many young athletes; someone they can look up to and strive to be like.
After asking about Ledecky, the follow-up comment I most often receive is usually something along the lines of "Ledecky does some astonishing things, but all you swimmers must work incredibly hard to do what you do". Like Michael Phelps or Ryan Lochte, Ledecky is able to successfully keep swimming in the news beyond the Olympic years, and the general recognition that the sport receives due to Ledecky's feats will go far towards helping swimming grow and expand in upcoming years.
I am truly thankful to be a swimmer during the "Ledecky Era" because it is inspiring to watch someone succeed, knowing firsthand the hard work that goes into each and every medal collected. She is helping the sport expand, and contributing to the greater pool of swimming knowledge, but she is also encouraging all the swimmers across the globe by being a a positive, dedicated individual with an incredible work ethic.
Ledecky gives us something to cheer for, and it is my hope that we fully appreciate her for all that she is, beyond simply the records she breaks or the medals she wins.
All commentaries are the opinion of the author and do not necessarily reflect the views of Swimming World Magazine nor its staff.