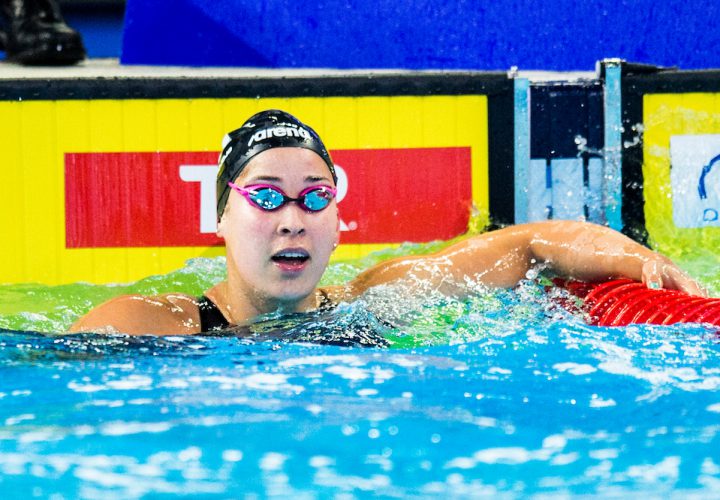 Photo Courtesy: Foto Giorgio Scala / Deepbluemedia /Insidefoto
Mere minutes after winning gold in the 50 fly, the Netherlands' Ranomi Kromowidjojo was back in the water to anchor the Netherlands to a stunning win in the mixed 4×50 medley relay. Going off less than 15 minutes rest, Kromowidjojo split 23.09 — more than a second quicker than Belarus anchor Yuliya Khitraya — to give the Dutch the touch-out win, 1:37.71 to 1:37.74. France was just one hundredth behind the Dutch in 1:37.75
The Netherlands squad also consisted of Kira Toussaint (26.13), Arno Kamminga (26.03) and Joeri Verlinden (22.26). Along with Kromowidjojo, the team broke Italy's championship record of 1:38.33 set back in 2015.
Belarus' Pavel Sankovich (22.89), Ilya Shymanovich (25.32), Anastasiya Shkurdai (25.28) and Khitraya (24.25) settled for silver. France's team consisted of Jeremy Stravius (22.94), Theo Bussiere (49.19), Melanie Henique (25.39) and Charlotte Bonnet (23.17).
Germany's team of Christian Diener, Fabien Schwingenschlogl, Aliena Schmidtke and Jessica Steiger just missed the medals by eight hundredths, touching in 1:37.83. Denmark was not far away either, finishing in 1:38.03, while Poland (1:38.22), Finland (1:38.80) and Italy (1:39.43) rounded out the final.