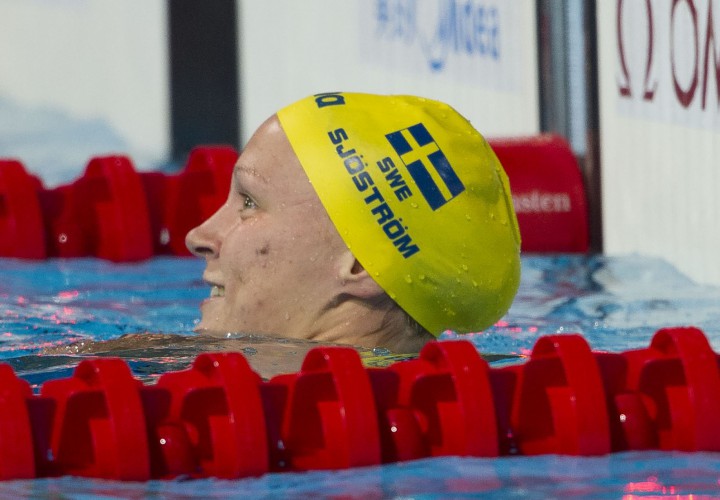 BORAS, Sweden, July 4. THANKS to the lightning fast livestream team, SVT Play, webcasting Swedish Nationals, here's a look at Sarah Sjostrom's amazing textile best swim in the women's 50-meter free.
Sweden's Sarah Sjostrom has been on such a rise as of late, and she just did something that no one else has ever done before during finals of the Swedish Nationals. She clocked a sub-24 second 50-meter free in a textile suit.
Sjostrom sprinted her way to a sizzling time of 23.98 in the splash-and-dash. That performance took down the textile best of 24.05 posted by Ranomi Kromowidjojo two years running. First, she clocked the time at the 2012 London Games before posting it against at the 2013 Barcelona World Championships.
Sjostrom still has a bit of time to cut to challenge Britta Steffen's world record of 23.73, or even Therese Alshammar's Swedish record of 23.88, for that matter. But, to many in the sport of swimming, Sjostrom now stands as the fastest non-suit swimmer ever in the event.
Sjostrom is now just the sixth swimmer to break 24 seconds of any kind. Her time moves her to fifth in the all-time rankings behind Steffen, Alshammar, Marleen Veldhuis (23.98) and Libby Trickett (23.97). Cate Campbell is the only other sub-24 swimmer on record with a 23.99 from 2009 Worlds.