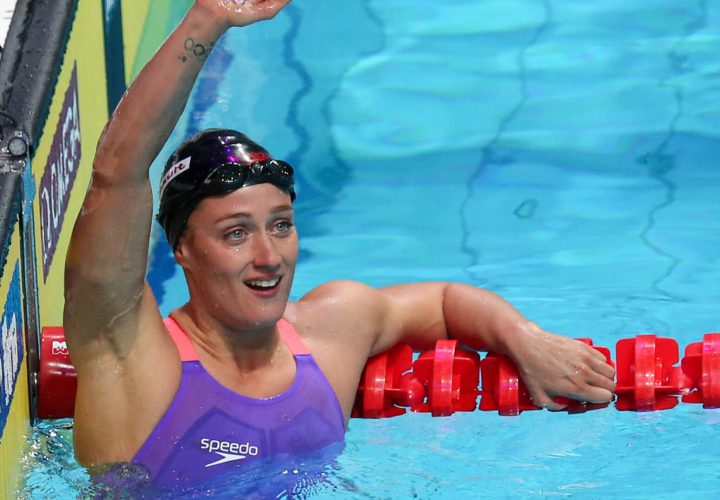 Editorial content for the 2017 FINA World Cup is sponsored by TritonWear. Visit TritonWear.com for more information on our sponsor. For full Swimming World coverage, check event coverage page.
Mireia Belmonte of Spain blitzed past Katinka Hosszu's 400 IM short course world record yesterday, while swimming at the Eindhoven stop of the 2017 FINA World Cup series.
Belmonte recently posted a video of the race on her Facebook page, which shows the power both swimmers delivered in the race. As the race unfolds, Hosszu jumps to her usual early lead, powering forward and challenging her own world record throughout the first half of the race. When the Olympic and World Champion turned at the 200-meter mark, she was leading Belmonte by 2.67 seconds and under her own world record pace by .53 seconds.
However, Belmonte cleared the gap within the first 50 meters of the breaststroke leg. The two turned a shy .12 seconds apart and just off world record pace with 150 meters left to go.
The 250-meter turn proved quintessential for Belmonte as she quickly surged past Hosszu and into a race of her own as she continued to surge forward through the next 50 meters of breaststroke. With 100 meters left to go, Belmonte was .51 seconds beneath world record pace and leading Hosszu by 3.11 seconds.
The Spaniard left nothing to chance in the final 100 meters, widening the gap between her and Hosszu as she thundered her way towards the finish. She stopped the clock with a solid 4:18.94, well under Hosszu's previous 4:19.46, becoming the first woman to ever post a sub-4:19 swim in the short course 400 IM.
Hosszu finished second overall with a time of 4:25.18, just ahead of the USA's Ella Eastin and her time of 4:26.06.
Watch the full race, courtesy of Mireia Belmonte's Facebook page:
In addition to her recent 400 IM short course world record, Belmonte also owns the short course world records in the 400, 800, and 1500 freestyles, as well as, the 200 fly.