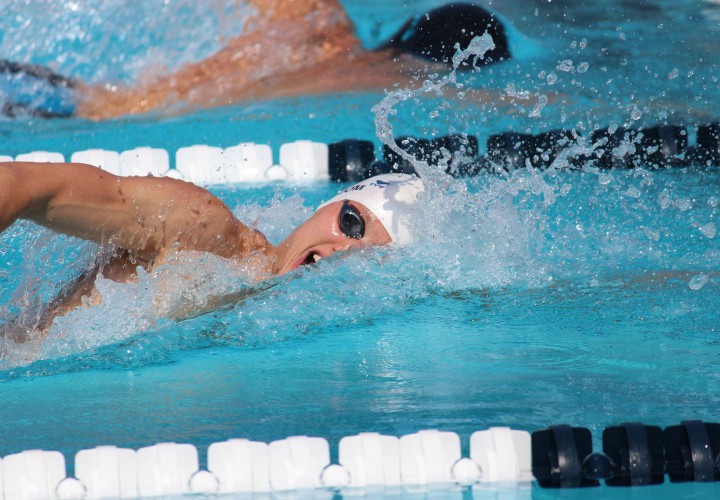 Editorial coverage for U.S. Senior Nationals proudly sponsored by Master Spas!
IRVINE, California, August 9.
The Woodlands' Michael McBroom pushed the pace early before having to hold off a hard-charging Matt McLean of NBAC, 3:47.19 to 3:47.30.  McBroom moved into a tie for 11th in the world, while McLean finished 12th in the world.  That put McBroom on the Pan Pacific team, while McLean already was on the team.
Club Wolverine's Connor Jaeger, already on the team with a 1500 free win, took third in 3:49.42 after turning in a 3:45.34 at the Bulldog Grand Slam earlier this summer.
Reed Malone (3:49.67), Club Wolverine's Michael Klueh (3:50.82), Club Wolverine's Sean Ryan (3:51.30), Badger's Ryan Feeley (3:53.82) and Metroplex's John Lewis (3:55.54) also battled in the finale.
NBAC's Frank Dyer edged Mission Viejo's Janardan Burns, 3:50.54 to 3:50.99, for the B final win.  North Texas' Jonathan Roberts placed third in 3:51.85.
Grant Shoults won a Litherland-loaded C final with a time of 3:52.78.  Townley Haas took second in 3:53.26 with Santa Clara's Aidan Burns placing third in 3:53.28.  Kevin (3:54.16), Jay (3:55.80) and Mick (3:57.94) Litherland of Dynamo placed fifth, seventh and eighth.
A final
Awards
B final
C final