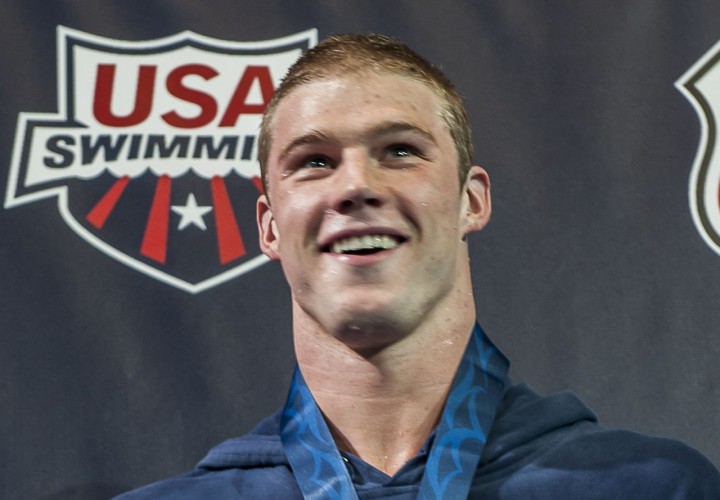 Photo by Peter H. Bick
Editorial coverage for U.S. Senior Nationals proudly sponsored by Master Spas!
IRVINE, California, August 7.
Tucson Ford's Kevin Cordes rattled the world record in the event through 150 meters before shutting it down and settling for a U.S. Open and meet record in the event with a 2:07.86.  That swim, which moved the defending champion up to third in the world behind Ross Murdoch (2:07.30) and Michael Jamieson (2:07.79), wiped out the U.S. Open and meet mark of 2:08.01 set by Eric Shanteau in 2009.
Cordes also came close to Shanteau's American mark of 2:07.42 also from 2009.  That's Cordes' first time under 2:08 as he continues to demonstrate his readiness to challenge the best in the world.
Bulldogs' Nic Fink checked in with a 2:10.66 for second, grabbing 17th in the world rankings with the swim, while PASA's BJ Johnson finished third in 2:11.01.
California's Josh Prenot (2:11.23), Badger's Cody Miller (2:11.28), Ohio State's DJ MacDonald (2:11.68), PAWW's Matt Elliott (2:11.73) and Nitro's Will Licon (2:12.95) grabbed the other transfer spots into the championship finale in what should be a historic swim.