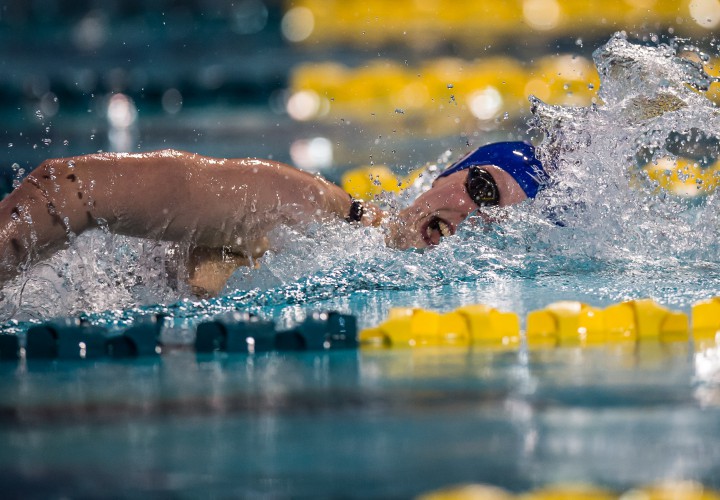 Photo Courtesy: Peter H. Bick
Editorial content for the 2015 Arena Pro Swim Series Mesa is sponsored by Arena. For full Swimming World coverage, check out our coverage page
Katie Ledecky snagged her third title of the meet with a winning 400-meter free at the Arena Pro Swim Series Mesa.
Ledecky unleashed a winning time of 4:01.95 as she won by more than eight seconds.  That swim is off her world-best time of 4:00.47 from the Austin stop of the Arena Pro Swim Series, but still is her sixth-fastest time all time.
Ledecky has already won the 200 free and 1500 free, and will be looking for more in the 800 free tomorrow.
This morning, Ledecky and Michael Phelps tied each other in the 400-meter free with matching 4:02.67s.  The two joked a possible swimoff in the post-race interview as Phelps was up in the broadcast booth.
NBAC's Lotte Friis took second in 4:10.34 with teammate Allison Schmitt earning third in 4:13.21.
Vien Nguyen picked up fourth overall in 4:15.08, while Chile's Kristel Kobrich posted a fifth-place 4:16.74.
Hungary's Katinka Hosszu (4:17.45), Gator's Elizabeth Beisel (4:19.86) and The FISH's Madelyn Donohoe (4:22.09) also competed for the title tonight.
Patricia Castro Ortega, fresh off a strong NCAA season with Queens of Charlotte, took the B final in 4:16.75.  Bonnie Brandon wound up second in 4:19.02.