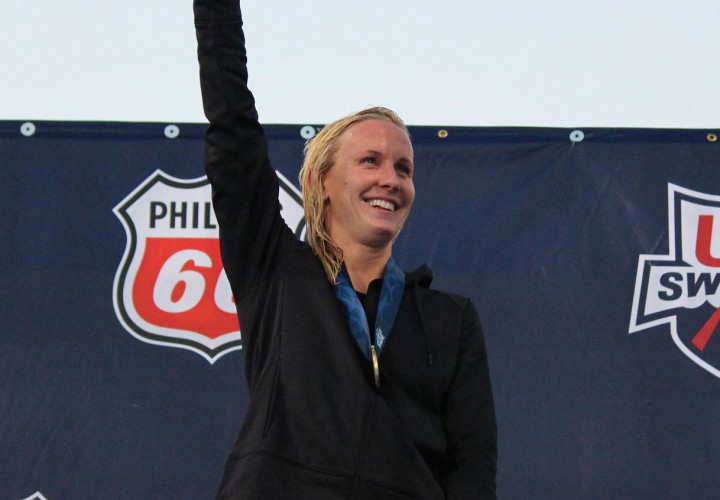 Editorial coverage for U.S. Senior Nationals proudly sponsored by Master Spas!
IRVINE, California, August 9.
Trojan's Jessica Hardy unleashed a meet record in the sprint breaststroke, the event she calls her favorite. Hardy crushed the field with a time of 30.12 to beat the 30.21 she clocked this morning. That time not only secures her a spot on the 2015 Worlds roster, it moved her to second in the world behind only Ruta Meilutyte's 29.90. She now is the fastest US-based swimmer, leapfrogging Alia Atkinson's 30.17 from the Commonwealth Games. Atkinson, who represents Jamaica internationally, trains in Florida.
Aggie's Breeja Larson posted a 30.64 to take second, off her prelim time of 30.58 that ranks her sixth in the world. SwimMAC's Katie Meili tied teammate Micah Lawrence for third with 31.00s. Both now tied Rikke Moller Pedersen for 12th in the world.
Walnut Creek's Kasey Carlson (31.02), Alabama's Kaylin Burchell (31.22), Bethany Galat (31.44) and Tennessee's Molly Hannis (31.61) rounded out the championship heat.
Outside smoke for Newburgh's Lilly King as she posted a 31.18 to win the B final in lane 1. SwimMAC's Emma Reaney finished second in 31.47 with Louisville's Andee Cottrell placing third in 31.50.
Canyons' Nikol Popov hit the wall in 31.97 to win the C final of the sprint breaststroke. Swim Fort Lauderdale's Emily Kopas took second in 32.38 with Aquajet's Olivia Anderson earning third in 32.39.
A final
B final
C final