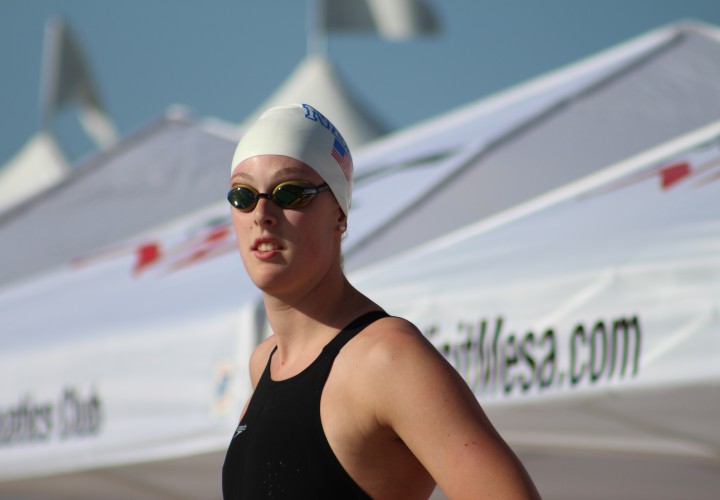 Arena Grand Prix – Charlotte editorial coverage is proudly sponsored by Arena USA. Visit ArenaUSA.com for more information on our sponsor. For all the latest coverage, check out our event coverage page. Also make sure to see our Facebook photo gallery.
CHARLOTTE, North Carolina, May 17. IT took an Olympic gold medalist to put an end to Katinka Hosszu's run of victory here at the Arena Grand Prix here in Charlotte, and Allison Schmitt served that role quite well as Hosszu completely ran out of gas in the women's 400-meter free.
Schmitt put up a 4:08.65 for the win in the finale, while Hosszu fell off the pace badly at the 250-meter mark before taking eighth overall in 4:12.86.
Schmitt's training partner Gillian Ryan nearly made up the distance with a second-place 4:09.10 as she clocked a 29.86 on the way home. Cavalier's Leah Smith rounded out the top three with a 4:09.13.
NBAC's Lotte Friis (4:10.02), Cierra Runge (4:01.77) and Becca Mann (4:10.82) took fourth through sixth, while SEAL's Chloe Sutton earned seventh in the event with a 4:11.26.
Hannah Moore edged Andreina Pinto, 4:13.33 to 4:13.50, for the B final. Lindsay Vrooman finished third in the heat with a 4:14.69.
Ashley Steenvoorden (4:14.86), Sam Cheverton (4:16.01), Elizabeth Beisel (4:17.19), Vien Nguyen (4:18.10) and Jessica Thielmann (4:18.25) also competed in the consolation finale.
=== Championship ===
1 Allison Schmitt 23 North Baltimore- 4:12.47 4:08.65 NAT
29.61 1:00.49 (30.88)
1:32.42 (31.93) 2:04.16 (31.74)
2:35.59 (31.43) 3:06.57 (30.98)
3:38.04 (31.47) 4:08.65 (30.61)
2 Gillian Ryan 18 North Baltimore- 4:11.85 4:09.10 NAT
29.27 1:00.73 (31.46)
1:32.28 (31.55) 2:04.43 (32.15)
2:36.21 (31.78) 3:08.20 (31.99)
3:39.24 (31.04) 4:09.10 (29.86)
3 Leah Smith 19 Cavalier Swimmin 4:11.01 4:09.13 NAT
28.69 1:00.01 (31.32)
1:31.31 (31.30) 2:03.50 (32.19)
2:35.07 (31.57) 3:07.20 (32.13)
3:38.33 (31.13) 4:09.13 (30.80)
4 *Lotte Friis 25 North Baltimore- 4:12.87 4:10.02 NAT
28.96 1:00.33 (31.37)
1:31.74 (31.41) 2:03.77 (32.03)
2:35.64 (31.87) 3:07.66 (32.02)
3:39.21 (31.55) 4:10.02 (30.81)
5 Cierra Runge 18 North Baltimore- 4:12.27 4:10.77 NAT
29.07 1:00.72 (31.65)
1:32.51 (31.79) 2:04.80 (32.29)
2:36.60 (31.80) 3:08.77 (32.17)
3:40.09 (31.32) 4:10.77 (30.68)
6 Becca Mann 16 North Baltimore- 4:12.12 4:10.82 NAT
29.37 1:00.94 (31.57)
1:32.90 (31.96) 2:04.97 (32.07)
2:36.61 (31.64) 3:08.59 (31.98)
3:40.06 (31.47) 4:10.82 (30.76)
7 Chloe Sutton 22 Seal Innovation- 4:13.01 4:11.26 NAT
29.63 1:00.90 (31.27)
1:32.65 (31.75) 2:04.48 (31.83)
2:36.65 (32.17) 3:08.53 (31.88)
3:40.65 (32.12) 4:11.26 (30.61)
8 *Katina Hosszu 25 Hungary 4:10.56 4:12.86 NAT
29.09 1:00.81 (31.72)
1:32.25 (31.44) 2:04.32 (32.07)
2:35.73 (31.41) 3:07.88 (32.15)
3:40.32 (32.44) 4:12.86 (32.54)
=== Consolation ===
9 Hannah Moore 17 Una SCAL-CA 4:17.12 4:13.33 NAT
29.43 1:01.06 (31.63)
1:32.85 (31.79) 2:05.13 (32.28)
2:37.20 (32.07) 3:09.82 (32.62)
3:41.91 (32.09) 4:13.33 (31.42)
10 *Andreina Pinto 22 Gator Swim Club- 4:16.42 4:13.50 NAT
29.70 1:01.96 (32.26)
1:33.82 (31.86) 2:06.41 (32.59)
2:38.31 (31.90) 3:10.89 (32.58)
3:42.47 (31.58) 4:13.50 (31.03)
11 Lindsay Vrooman 22 Badger Swim Club 4:16.05 4:14.69 NAT
30.35 1:03.20 (32.85)
1:35.24 (32.04) 2:07.88 (32.64)
2:39.50 (31.62) 3:11.86 (32.36)
3:43.32 (31.46) 4:14.69 (31.37)
12 Ashley Steenvoo 23 Minnesota-MN 4:17.00 4:14.86 NAT
30.42 1:02.85 (32.43)
1:35.08 (32.23) 2:07.69 (32.61)
2:39.71 (32.02) 3:12.25 (32.54)
3:44.06 (31.81) 4:14.86 (30.80)
13 *Sam Cheverton 25 Ohio State Swim- 4:18.44 4:16.01 NAT
30.02 1:02.46 (32.44)
1:34.87 (32.41) 2:07.45 (32.58)
2:39.46 (32.01) 3:11.79 (32.33)
3:44.15 (32.36) 4:16.01 (31.86)
14 Elizabeth Beise 21 Bluefish Swim Cl 4:17.67 4:17.19 NAT
29.89 1:02.02 (32.13)
1:34.00 (31.98) 2:06.55 (32.55)
2:38.52 (31.97) 3:11.34 (32.82)
3:44.35 (33.01) 4:17.19 (32.84)
15 *Vien Nguyen 17 Saint Augustine- 4:18.18 4:18.10
29.45 1:01.23 (31.78)
1:33.66 (32.43) 2:06.36 (32.70)
2:39.55 (33.19) 3:12.47 (32.92)
3:45.62 (33.15) 4:18.10 (32.48)
16 *Jessica Thielm 20 Una GSC-FL 4:18.75 4:18.25
30.85 1:03.12 (32.27)
1:35.81 (32.69) 2:08.21 (32.40)
2:40.85 (32.64) 3:13.59 (32.74)
3:46.65 (33.06) 4:18.25 (31.60)