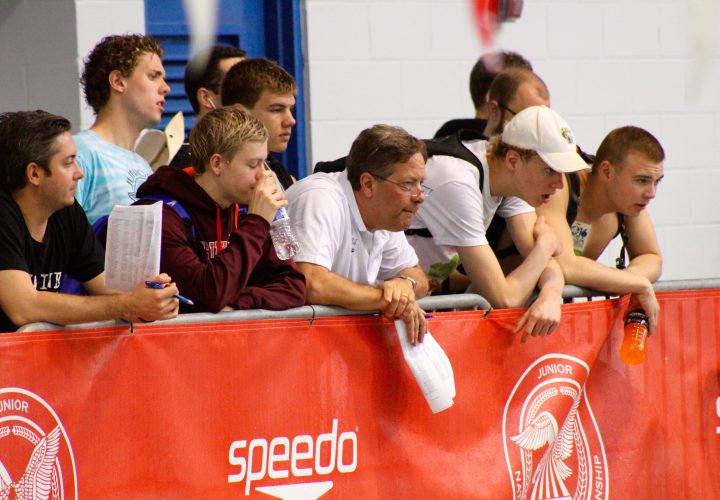 Photo Courtesy: Taylor Brien
By Matthew Barnard, Swimming World College Intern.
Championship season is well and truly here which gives athletes an opportunity to watch their teammates at their peak. Divers get a special chance to watch and cheer on their swimming teammates when often during the season they are left apart. But from watching a meet in a sport divers don't know everything about, we often find ourselves with more questions than answers.
Here are 5 questions that divers have while watching a swim meet:
1. How do they know when to go to the blocks?
Swimmers seem to always be in the right place at the right time. For many divers they don't understand how swimmers know where they need to be and are always there at the right time. With so many heats and so many lanes there is no doubt that having all team members ready to swim when they need to must be a logistical nightmare. Having multiple races, and relays in the same day must add another layer of confusion to the mix.
2. Can they even hear us when we cheer?
In diving you can clearly hear your teammates cheering for you both before and after a dive. With swimming it seems like people are cheering all the time. Surly the swimmer in the race can't hear us cheering while they are splashing around in the water, and even if they do how do they know we are cheering for them?
3. Why are they slapping themselves before the race?
Right before races a handful of swimmers will slap themselves really hard leaving red marks on their skin. If divers did that before dives all the other competitors would give them the strangest of looks. Sure it might wake up your muscles but there must be other ways them hitting yourself so hard that it leaves welts that can last until long after your race is over.
4. How many laps are there in the mile again?
The event that goes on for what seems like ever leaves divers with so many questions. Why would people want to swim this event? How do they know if they are going too fast? What do they think about the whole time? But the question that always comes up from divers while watching the mile is: how many more laps? For some reason divers can never remember how many laps there are in the mile, and often they are to lazy to do the math to work it out.
5. How do they have so much energy?
Everywhere you look during a swim meet people are busy at work. Be it in the pool during a race, cooling down or talking to their coaches, swimmers are always doing something. And when swimmers aren't focusing on themselves they are eagerly cheering on their teammates. All of this must take a huge amount of energy, which makes divers ask how do they have so much of it?
All commentaries are the opinion of the author and do not necessarily reflect the views of Swimming World Magazine nor its staff.