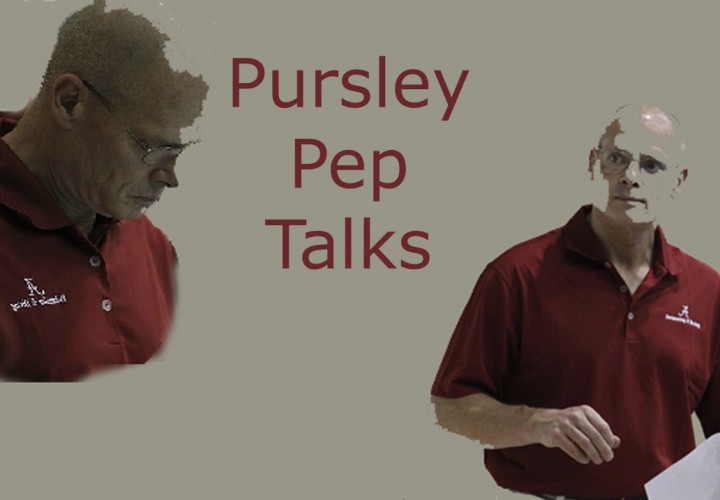 Swimming World will publish a collection of coaching perspectives written by Alabama head swimming coach Dennis Pursley. This is the 18th installment of a series that will be rolled out throughout the coming months.
STEPPING DOWN TO THE BIG MEET
We all know that unfamiliarity can sometimes result in intimidation, which, in turn, can adversely affect performances in championship competition. Carefully planned physical and mental preparation can eliminate intimidation and prepare us to make the most of the opportunities that come our way.
It is important to anticipate well in advance the physiological stresses that will likely be encountered in the season-ending, peak-performance competition:
• How many events will you likely swim (including relays)?
• How much recovery time will you likely have between events and sessions?
These scenarios should be replicated in the training program and in the prep meets so they won't be unfamiliar in the championship meet.
It can also be helpful to take it one step further by subjecting yourself to greater challenges in preparation than you expect to face in the championship meet so that you will not only be familiar with the championship-meet scenario, but it will also actually be a step down from what you have experienced in preparation.
It is also important to anticipate the logistical challenges that may be encountered in championship competition:
• How long will it take to get to the pool from the hotel, and how much walking will be involved?
• How much rest will you have between heats and finals, and what meal options will be available to you? (In some cases, it may be necessary to stock your hotel room with nutritional food and drink.)
Here again, it is better to anticipate the worst-case scenarios and rehearse your plans to respond to them successfully.
Effective mental preparation is, perhaps, the best strategy that we can use to eliminate the fear factor caused by intimidation. It is difficult, if not impossible, to replicate the energy and excitement of some championship meets, but effective mental preparation can enable us to respond in a positive way to this environment so that it can be utilized to enhance our performances rather than to suppress them.
Confidence and enthusiasm results from knowing that we are well prepared to make adversity our ally and to respond in a positive way to all challenges, both foreseen and unforeseen.
It is also helpful to keep things in perspective and to remember that with every opportunity, we have everything to gain and nothing to lose. Your personal best time can never get any slower—it can only stay the same or get faster!
Well-prepared, confident and optimistic athletes will look forward to the championship opportunity and will tap into the positive energy of a big meet to lift their performances. This kind of preparation will enable us to make the most of the unique and exciting opportunities that come our way.
About Dennis Pursley
After getting his start as a volunteer coach on Don Gambril's first Alabama staff, current Alabama head coach Dennis Pursley has gone on to one of the most extraordinary careers in the sport of swimming, a career that led him to be named one of the 25 most influential people in the history of USA Swimming in 2003.
Pursley has helmed coaching staffs throughout the world, including stops as the first head coach of the Australian Institute of Sport, the inaugural director of the United States National Team and most recently the head coach of Great Britain's 2012 Olympic squad. Pursley returned to the deck in 2003 as the head coach of the Brophy East Swim Team in Phoenix Ariz., before becoming the head coach of British Swimming in 2008.
Pursley and his wife Mary Jo have five children, Lisa, Brian, David, Steven and J.J. Lisa and David have joined him on the Alabama staff.