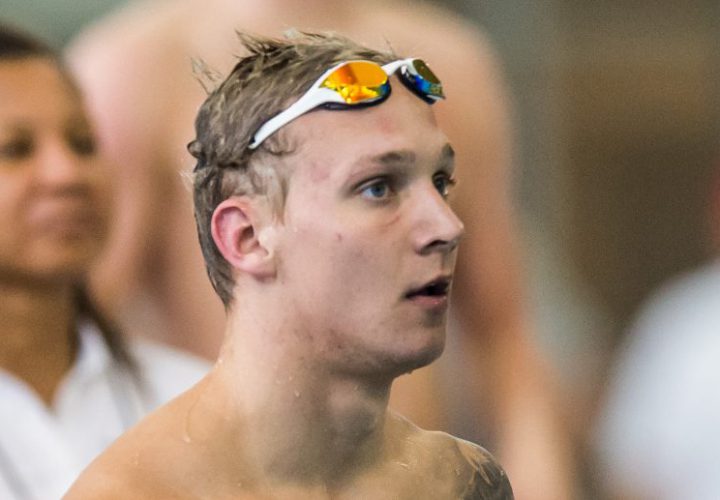 Photo Courtesy: Peter H. Bick
Both Caeleb Dressel and Sherridon Dressel were missing due to unknown reasons on day two of the 2017 Purdue Invitational.
Despite this major loss to both squads, The University of Florida men and women continue to impress on the second night of competition in West Lafayette. The Indiana women also threw down some incredibly fast swims as they climb atop the total point tally.
Scores after tonight's events on the women's side leave Indiana in first with 597.5, Florida in second with 459.5 and Virginia Tech in third with 377. The men's scores show UF leading with 667, ahead of IU with 562.5. VT is sitting in third with 384.5.
Our finals session began with the 200 medley relays. On the women's side, the combination of Lilly King's 25.83 breaststroke leg, coupled with freshman Grace Haskett's 21.86 freestyle split, led the lady Hoosiers to victory in a new pool record time of 1:34.58. Virginia Tech took second in 1:38.86 while host team Purdue took third in 1:39.48.
The Indiana men also took the win in their 200 medley relay with a time of 1:25.09. A rare installment of a Dressel-free Gator relay took second in 1:25.99. Missouri State turned in the third fastest time at 1:26.36.
The women took their turn at the 400 I.M. which featured a few sub-4:10 swims. Virginia Tech's Reka Gyorgy led the way for the Hokies in 4:07.45 while Florida's Kelly Fertel and Savannah Faulconer took third and fourth in 4:09.11 and 4:10.29. The B final went to Virginia Tech's Grace Kowal with her 4:17.30 while the C final was captured by Paige Scheriger in 4:20.60. FIU's Marrissa Martin won the D final with a 4:30.87.
The men's A final belonged to UF as Jan Switkowski posted a 3:42.50 and dethroned Cal's Andrew Seliskar as the fastest man in the country so far this season. Fellow Florida man Mark Szaranek was second in 3:44.56. Grant Sanders completed the Gator sweep in 3:46.43. The B final went to yet another Florida Gator, Alex Ledbed, who swam a 3:50.85. Missouri State's Phiilp Willett won the C final with his 3:54.77. Purdue's Hudson Bursch took the D final in 4:00.13.
Next up was the 100 butterfly where we IU's Christine Jensen win the women's race in 52.17. Maggie Gruber out of Virginia Tech was right behind in 52.70 while IU's Shelby Koontz took third with a 52.85. Joelle Vereb took the B final in 54.12. Ally Mayhew from FIU won the C final with a time of 54.67 while the D final went to Florida's Madison Conway.
In the men's race the Indiana men "pulled a Texas" and placed six swimmers in the top heat of the 100 butterfly. Not only did the Hoosiers place six swimmers in the final, but those six swimmers took the first six places as well. NCAA finalist Vini Lanza took the top spot in 46.56. Nikoli Miljenic took second in 47.21 and Joshua Romany earned third with his 47.31. Benjamin Kennedy earned the B final win with a time of 48.54 while the C final went to Gator Tyler Silver in a time of 49.43. The D final went to Cooper Cole from Navy in 50.02.
The 200 freestylers took their turn in the tank with Kennedy Goss earning herself a victory in the A final with a swift 1:44.48, just ahead of Purdue's Kaersten Meitz who posted a 1:45.72. Third went to UF's Kelsey Dambacher with her 1:46.87. The B final winner was Florida's Amelia Maughan who posted an NCAA 'B' cut time of 1:46.68. The C final went to Megan Bowen who swam a 1:48.57 while the D final top spot was earned by IU's Cassy Jernberg.
The men's 200 freestyle, like the 100 butterfly, was absent of Dressel. This allowed Blake Peroni to tie is own pool record from last year and take the win for Indiana in a time of 1:32.33. Florida's Khader Baqlah earned second in 1:33.35 while third went to teammate Max Rooney. Andrew Brady from the Gators took the B final in 1:37.04 while his teammate Scarpe Martinez turned in a 1:38.87 to win the C final. The D final was won by yet another Florida Gator, Clark Beach.
King took the women's 100 breaststroke in a 59.12 while being challenged by Jing En Phee who swam a 1:00.43 to get second. Cady Farlow earned third in 1:01.43. The B final went to FIU's Cari Luukkanen in 1:01.98. The C final was taken by Nicole Hunnewell in 1:02.72 while Monica Blake from Missouri State swam 1:05.13 to win the D final.
In the men's race, Ian Finnerty's 51.99 was good enough for the win in the A final, where he was followed by a 52.20 produced by Blair Bish out of Missouri State. The B and C finals were each taken by UF's Stanley Wu and IU's Nikoli Andjelic while the D final was won by Missouri State's Samuel Senn.
The 100 backstrokers were next with Ali Rockett, rocketing past the rest of the A final on her way to win it in 51.93. She was followed by Emma Ball in 52.26. The B and C final winners were Chloe Hicks out of VT and Natalie Mudd from Purdue. Kelsey Dambacher posted a quick 52.92, a time that earned her a B cut and a time that would have scored in the A final, to win the D final.
Florida Gator Michael Taylor proved he came to Purdue ready to race this weekend when he took the men's event in 47.25, while fellow Gator Bayley Main was just behind in 47.64. Sean Workman took the B final in 48.91. Missouri State's Jake Shultz and Thomas Heye each took the C and D finals, respectively.
The men and women divers each had different events tonight with Purdue's Alex Meixner winning the women's 1-meter with 309.55. The men saw IU's Connor James take the 3-meter in 463.80.
In the final event of the night, the 800 free relay, the IU women won the race by putting together a 7:10.79 while VT followed closely behind in 7:12.42. Purdue rounded out the top three in 7:14.46.
The men's relay was taken by IU as well with UF taking second. Both squads were under the NCAA 'A' cut time. The third place team was Virginia Tech in 6:33.27.
The action continues in West Lafayette tomorrow as we wonder what spectacles we will see on the final night of competition at the 2017 Purdue Invitational.
For full results, click here.