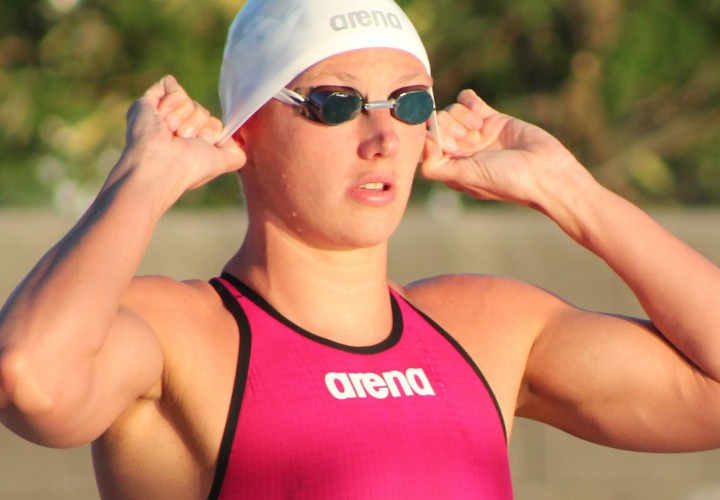 Photo Courtesy: Kara Sekenski
Editorial content for the 2017 FINA World Cup is sponsored by TritonWear. Visit TritonWear.com for more information on our sponsor. For full Swimming World coverage, check event coverage page.
FINA has announced major changes to the 2017 Airweave World Cup meets that will be in effect come August.
In January of this year, FINA announced the 2017 Airweave Swimming World Cup circuit schedule. Held between August and November, this year's competition (in 25m-pool) will comprise nine legs in accordance with the following circuit:
Cluster 1
Moscow (RUS), August 2-3
Berlin (GER), August 6-7
Eindhoven (NED), August 11-12
Cluster 2
Doha (QAT), September 22-23
Dubai (UAE), September 26-27
Hong Kong (HKG), September 30 – October 1
Cluster 3
Beijing (CHN), November 10-11
Tokyo (JPN), November 14-15
Singapore (SGP), November 18-19
But this time around, FINA is happy to present a series of changes to the events which will incorporate a series of innovations, aiming at attracting more stars and improve the exposure and visibility of this top-level event. As stated in an official press release, the main improvements, to be implemented as soon as this year, focus on:
Olympic and World medallists will have direct access to finals
Maximum of 25 events per leg – over a three-leg cluster, each event (i.e. 50m breast, 200m back, 400m IM, 1500m free…) is swum twice and up to six times during the Series
Increased awards for each race, with the first six ranked swimmers getting prize money (total per race: US$ 3'900). Relays will also be entitled to prize money. The overall amount for prize money will ascend to over US$ 2 million
Maximum of four individual races (plus relays) per swimmer/per leg
Enhanced sport presentation and TV production in all legs
Additional promotional activities on-site, involving the participating Stars
The medal ceremonies will be held at the end of each day, in the form of a Parade of Champions
According to FINA, the changes received favorable feedback from athletes and coaches as the organization hopes to definitively consolidate the World Cup's status as the most important swimming event outside the frame of the FINA World Swimming Championships.
While more prize money and media attention will essentially be great for everybody, some of the other changes are not as simple. Most evidently, with a four event maximum per leg, the playing field will certainly be evened out.
For example, Hungary's Katinka Hosszu won the overall prize last year by 717 points. Alia Atkinson, despite posting a World Record in her signature event, finished second, 39 points ahead of Jeanette Ottesen. Hosszu typically swims at least six events in all competitions, while Atkinson and Ottesen specialize in their respective sprint strokes. This change will greatly benefit stroke specialists who lack versatility on the international stage.
Additionally, allowing Olympic and World Championship medalists direct access to finals may turn some heads as well. Based on the change presented in the official FINA press release, it seems as though this could provide a disadvantage to up-and-coming swimmers or those who just missed the mark on an Olympic medal depending on the number of entrants in a given event. Hali Flickinger, for example, finished seventh in the 200 butterfly in Rio and has yet to earn a World Championships medal.
Despite these potential obstacles, FINA President Dr. Julio C. Maglione is confident in the new format:
"Our goal is always to organise great events with the presence of our Stars. Giving them additional recognition and visibility will certainly foster their participation and involvement with the FINA/airweave Swimming World Cup. The continuous support of prestigious cities, with emblematic venues, is also a guarantee of success for this fundamental competition in our calendar," he said. 
With all of these changes, the results of the 2017 circuit (both in and out of the water) are sure to differ greatly from previous years.
FINA contributed to this report.