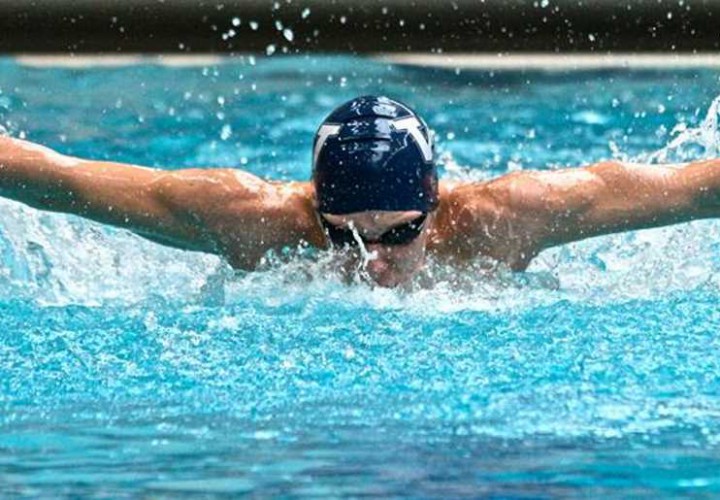 By James Bossert, Swimming World College Intern
GROVE CITY – Another week of great meets in the books for the Presidents' Athletic Conference Swimming and Diving teams: Bethany College, Chatham University, Grove City College, St. Vincent College, Washington & Jefferson College and Westminster College.
Weekend in review
This past weekend found all the PAC teams continuing their non-conference swim schedules. Megan Smith of Grove City continued to win the distance events and increase her conference leading times in the 500 (5:17.44) and 1000 freestyles (10:55.80) by nine and 22 seconds respectfully. Zach Ligus of St. Vincent won 5 different individual events over the weekend including posting the top time in the conference in four of those events so far this season (50, 100, 200 free and the 100 fly).
Bethany Bison
Cody Hussey has found his rhythm swimming the distance freestyle events during his sophomore season and freshman Kevin Bakowski has enjoyed a lot of success in his still young collegiate career in the sprint freestyles and 100 breast. Marina Baker will continue to be the rock of the women's team in the sprint freestyles.
Grove City Wolverines
Jeremy Kim and Drew Nosbisch have been impressive early on this year, with Kim in the top 10 in the conference in every event he swims and Nosbisch as the conference leader in the breaststrokes. Smith will lead the distance core and the deep freestyle sprinter group continues to be a big advantage for the Wolverines.
Washington & Jefferson Presidents
Nick Willison will vie for titles in the backstrokes, while Chris Ratliff should get a chance to show off his speed after swimming distance events the past few weeks. Jessica Sweitzer has been dominant in the 100 and 200 freestyles, leading the conference in the shorter distance (54.59). Rachel Murphy has been a key piece to relays and leads the team in the 200 back and 200 IM. As part of the only conference meet this week, the Presidents' look to top swimmers to overcome the great depth of Westminster.
Westminster Titans
The Titans will look to their two senior powers, Steven Brooks and Nicholas Smith, to continue to rack up wins and important points. Brooks has been hot in his specialty, the backstrokes and 50 free, while Smith has been swimming and winning multiple events ranging from breaststroke to the distance events. Matt Baurle has been the best breaststroke again, when Smith isn't swimming the 200, with multiple sweeps already this year. Kelsey Reott is again a favorite to win the backstrokes every time she hops in the pool and Anne Tillie has been consistent in winning the full range of freestyle events. Depth will be the factor in their clash with Washington & Jefferson, and Westminster has plenty of that to go around.
Chatham Cougars
Chatham has no meets this week.
St. Vincent Bearcats
St. Vincent has no meets this week.
Schedule
November 12: Westminster travels to Washington & Jefferson for a midweek duel.
November 15: Bethany travels to Franciscan University for a tri meet with the Barons and Cabrini College; Grove City hosts Division-II Wheeling Jesuit University. Westminster hosts Wooster College and Washington & Jefferson hosts York College.
PAC Swimmers/Divers of the Week
Westminster's Matt Baurle and St. Vincent's Marissa Frollo were named the men's and women's athletes of the week for the week of Nov. 3-9. Baurle had a three win weekend (100 breast, 200 breast and 400 medley relay) in a duel against Allegany College while Frollo won a total of seven events (50 free twice, 100 free, 100 fly, 200 medley and free relays, 400 free and medley relays) over two meets.
Previous athletes of the week included: Megan Bilko of Grove City and Zach Ligus of St. Vincent for the week of Oct. 27- Nov. 2 and the first week awards went to Keegan Reed and Jeremy Kim of Grove City.
James Bossert is a senior captain IM/backstroker at Grove City College. Bossert is in the top 10 in school history in the 100 back, 200 back and 200 IM.  Previously, he swam for 10 years with Falfins Swimming and has moved on to join the merged Colorado Springs Aquatics program that put Falfins and the Colorado Springs Swim Team together.