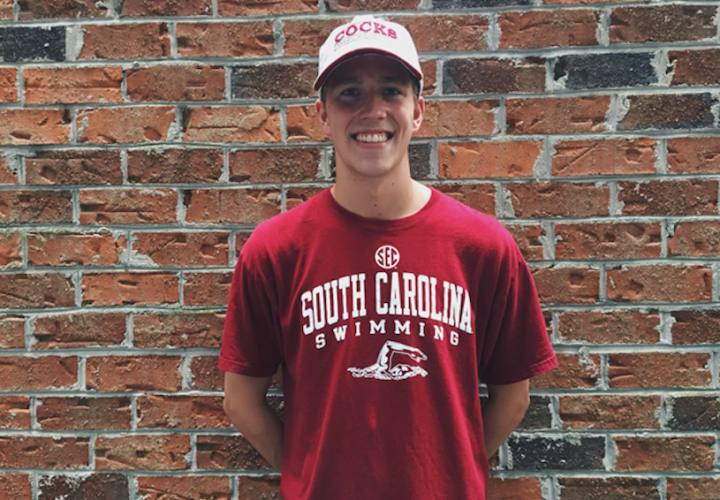 Photo Courtesy: Garrison Johnson
Agon is the proud sponsor of all high school coverage (recruiting, results, state championships, etc.) on SwimmingWorld.com. For more information about Agon, visit their website AgonSwim.com.
To report a college commitment, email HS@swimmingworld.com. Join Swimming World's Watch List
NEW COMMIT: Garrison Johnson, a senior from North Chesterfield, Virginia has verbally committed to swim for the University of South Carolina. Johnson swims for Poseidon Swimming Inc. where he is primarily a distance swimmer.
His top times include:
1650 Free 15:27.40
1000 Free 9:15.95
500 Free 4:34.91
400 IM 4:00.80
He went lifetime bests in all three of those events at NCSA Junior Nationals last March. Johnson also saw some drops in long course this summer, improving both his 1500 free and 400 IM times at NCSA Juniors. His best long course times are:
1500 Free 15:58.04
800 Free 8:26.28
400 IM 4:33.18
Johnson said of his decision,
"I knew this would be my new home after my first trip down to Columbia. Want to thank everyone whose helped me get here. GO COCKS!"
The South Carolina distance group was led by Akaram Mahmoud last year. Mahmoud, the third place finisher in last year's epic NCAA 1650, will be a senior this year. 2017 SEC mile bronze medalist Cody Bekemeyer (14:49.09) will overlap with Johnson for one year. The Gamecocks' two other conference scoreres in the mile will have graduated by Johnson's arrival. William Riggs was a freshman last year who raced the 500 free and could provide another good training partner for Johnson.