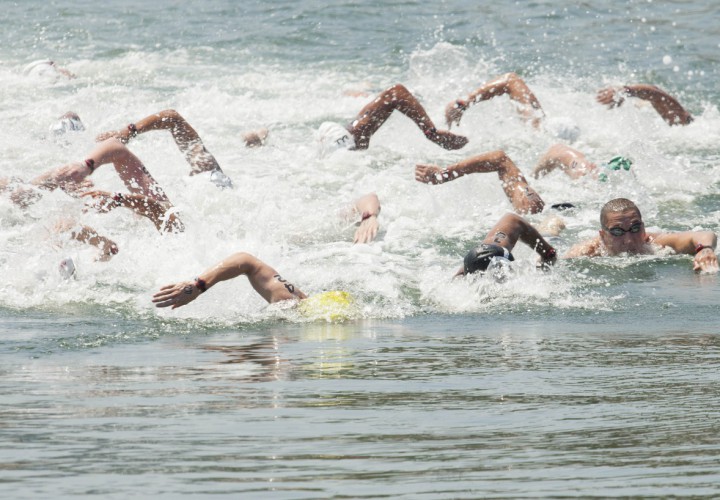 LAUSANNE, Switzerland, February 3. THE opening leg of the FINA 10km Marathon Swimming World Cup 2014 saw Brazil's Poliana Okimoto and British Thomas Allen take top honours in front of 7,000 spectators in Viedma, Argentina, on February 1. A total 59 competitors (27 women and 32 men) from 12 countries took the departure.
In the 57km Grand Prix race between Santa Fe and Coronda held on February 2, the first of the 2014 circuit, Czech Silvie Rybarova and Simone Ercoli from Italy touched first, after more than eight hours spent in the water.
In Viedma, Thomas Allen (GBR), who placed 10th in this race last year, emerged from a fiercely competitive field to capture gold in 1h51m29s04. Germany's Andreas Waschburger (1h51m30s69) and Christian Reichert (1h51m33s51) took second and third spot, respectively.
Leading with a few others from the start, Brazilian Poliana Okimoto took out the women's race in 2h05m3s88, ahead of compatriot Ana Marcela Cunha (2h05m16s94) and German Angela Maurer (2h05m18s28).
In the GP race, Simone Ercoli from Italy, already winner of this race last year, triumphed in 8h19m03s33. Ercoli completed the top-3 of the Grand Prix general standings in 2013. Team mate Edoardo Stochino finished second (8h19m06s12), closely followed by German Alexander Studzinski (8h19m16s69) for the bronze.
Czech Silvie Rybarova, who ranked sixth in the Grand Prix last year, was the best among women (8h33m27s94). Fabiana Lamberti from Italy picked up silver in 8h33m31s56 while home favourite Pilar Geijo settled for the minor medal in 8h33m40s84.
FINA 10km Marathon Swimming World Cup 2014 calendar:
Race 1: February 1 in Viedma (ARG)
NEXT RACE: April 5 in Manzanillo (MEX)
Race 3: June 28 in Setubal (POR)
Race 4: July 24 in Lac St. Jean (CAN)
Race 5: July 31 in Lac Magog (CAN)
Race 6: August 9 in Lac Megantic (CAN)
Race 7: October 4 in Hong Kong (HKG)
FINA Open Water Swimming Grand Prix 2014 calendar:
Race 1: February 2 in Santa Fe-Coronda (ARG, 57km)
NEXT RACE: February 9 in Hernandarias-Parana (ARG, 88km)
Race 3: March 29 in Manzanillo (MEX, 15km)
Race 4: July 26 in Lac St-Jean (CAN, 32km)
Race 5: August 2 in Lac Magog (CAN, 34km)
Race 6: date TBC in Ohrid Lake (MKD, 33km)
Race 7: September 6 in Capri-Napoli (ITA, 36km)
The above article is a press release submitted to Swimming World. To reach our audience, contact us at newsmaster@swimmingworldmagazine.com.