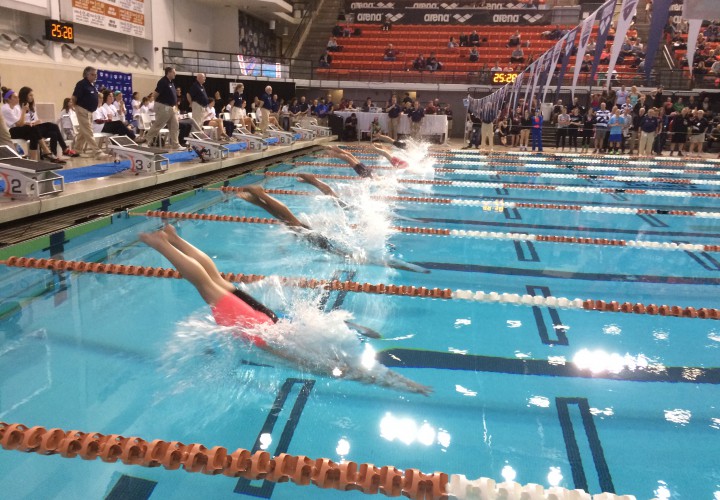 Arena Pro Swim Series editorial coverage is proudly sponsored by Arena USA. Visit ArenaUSA.com for more information on our sponsor. For all the latest coverage, check out our event coverage page.
AUSTIN – There were plenty of fast swims during day two prelims at the Arena Pro Swim Series in Austin.
Hungary's Katinka Hosszu, more in her element of the IMs today after a pair of runner-up finishes to Katie Ledecky in the 100 and 400 free last night, cruised to the top seed in the 400-meter distance medley with a 4:42.02.
She finished second in the world last year in the event with a 4:31.03 at the European Championships, while China's Ye Shiwen had the top time with a 4:30.84 from Chinese Nationals.
California's Caitlin Leverenz, a dominant 400 IMer in her own right, took second this morning in 4:45.37 with Arena Pro Swim Series points leader Elizabeth Beisel qualifying third in 4:46.09.
After a disappointing 2014 during which he missed out on an individual international gold medal for the first time since he began winning them, SwimMAC's Ryan Lochte looked good in the men's 400-meter IM prelims with a 4:22.96.
Lochte had originally talked about retiring from the event in the past few years, but with a newly refocused view on the sport after a humbling year, Lochte could be weighing his options.  In fact, it's been nearly two years since Lochte previously swam the event, dating back to June 1, 2013.
California's Josh Prenot, the 200 breaststroke winner last night, took second in 4:23.46 with NCAP's Andrew Seliskar claiming third overall in 4:24.09.  400 free victor Connor Jaeger wound up with fourth in 4:24.63, while SwimMAC's Tyler Clary also made the A final with a 4:25.78.
Ledecky, a day after a incredible 100/400 free double, showed she's still up for another fast day of swimming as she blitzed the 200-meter free prelims with a 1:57.26.
Her in-season best is a 1:55.79 from the PV Senior Championships last July.  Look for her to put up another 1:55 tonight en route to a likely third win as she's on point here in Austin.
Bluefish's Elizabeth Beisel, meanwhile, continues to pile up the pro points and cash with the likes of Ledecky not being eligible as she holds onto her NCAA amateur status.  Beisel qualified second in 2:00.48 with Mission Viejo 17-year-old Katie McLaughlin qualifying third in 2:00.66.
Conor Dwyer then picked up the top time in the men's 200-meter free with a 1:49.08 as the only sub-1:50 of the morning.  Dion Dressens checked in with a second-seeded time of 1:50.15, while Texas' Joseph Schooling wound up third in 1:50.21.
A bit of a delay then occurred in the women's 200-meter backstroke as Machine's Chloe Hicks had an unfortunate run-in with the backstroke starting wedge to start heat 1.  The wedge came loose and blasted her in the nose.
Hicks was tended to and initial indications were that she only suffered some swelling.  Hicks and Machine Aquatics declined to comment when initially approached to talk about the incident.
It was obvious that the rest of the backstrokers took note as swimmers like Elizabeth Beisel spent some extra time making sure their wedge was secured for the start.
Beisel has had backstroke start issues of her own with slips in the past that a wedge should solve.  But, having an equipment malfunction occur would be worse than a slip.
Beisel wound up taking fifth overall with a 2:12.99 in prelims, while Dominique Bouchard of Oakville put up the only 2:11 of the morning with a 2:11.93.
Scottsdale 14-year-old Taylor Ruck crushed her lifetime best of 2:13.05 with a 2:12.04 for second in prelims, while Texas A&M's Lisa Bratton touched third in 2:12.41.  Hosszu, already the 400 IM top seed, qualified fourth in 2:12.97.
Two-time Olympic gold medalist Kirsty Coventry, making a comeback with SwimMAC at 31 years old, took ninth this morning in 2:14.67 in the event she won the Olympic gold at the 2004 and 2008 Olympics.
Ryan Murphy of California, feeling some positive effects from a long training trip at altitude, grabbed the top time in the men's 200-meter back with a 1:59.63.
SwimMAC's Tyler Clary, who is vying for the ever-valuable series points here in Austin, took second overall in 1:59.95.  Meanwhile, Tucson Ford's Matt Grevers snagged third overall in 2:00.63.
Cal's Farida Osman put up the top time in the women's 50-meter free prelims with a 25.24, while SwimMAC's Arianna Vanderpool-Wallace (25.31) and Katie Meili (25.80) qualified second and third.
Brazil's Bruno Fratus (22.40) and Miguel Ortiz (22.45) set up a showdown tonight in the men's 50-meter free, while Kristian Gkolomeev (22.58) and Nathan Adrian (22.66) were also in the A final.
Arena Pro Swim Series – Austin
Scheduled Events
400 IM
200 free
200 back
50 free
ARENA PRO SWIM SERIES MONEY LIST