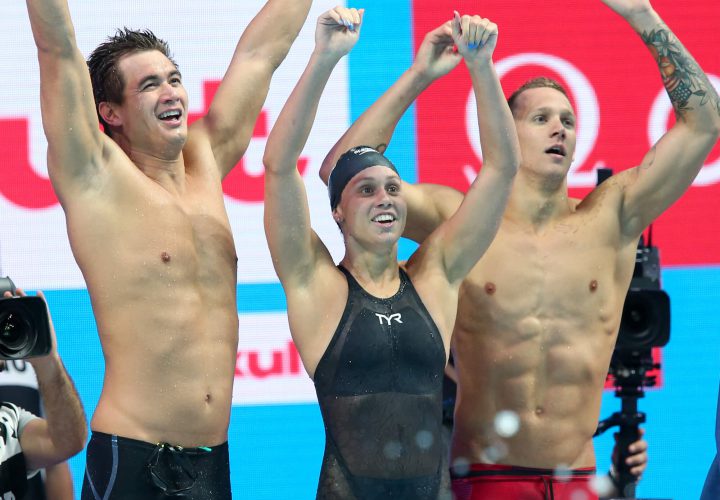 Editorial Coverage provided by

Day seven finals of the 2017 FINA World Championships saw five individuals and one relay team earn gold medals. Team USA topped the podium for four out of the six events that medals were handed out for.
Caeleb Dressel was on FIRE throughout the entire night, taking home a total of three gold medals as he topped the men's 50 free and 100 fly, plus a dominating lead off length in the mixed 400 free relay. In the relay he would combine with fellow Americans Nathan Adrian, Mallory Comerford, and Simone Manuel to post a new World Record.
Sarah Sjostrom flew to gold in her signature stroke, adding the 50 fly to her collection. She also collected the top seed for tomorrow night's 50 free final in a stunning World Record fashion.
Katie Ledecky successfully defended her 800 free title, while Emily Seebohm snuck her way past Hungary's Katinka Hosszu and the USA's Kathleen Baker for gold in the 200 back.
View day seven finals photos (courtesy of SIPA USA):
This slideshow requires JavaScript.