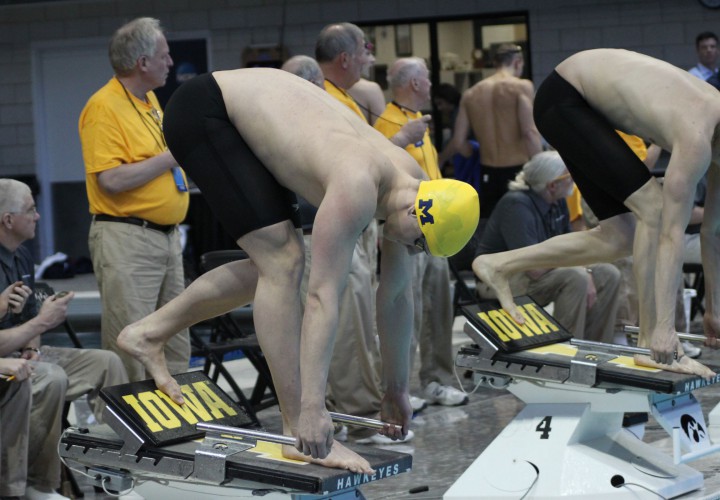 By Andy Ross, Big Ten Beat Writer
The Michigan Wolverines sent a statement to arch rival Ohio State on Saturday claiming wins in both genders in Columbus. The Wolverines started off the day with a win in the 200 medley relay with Aaron Whitaker, Chris Klein, Jeremy Raisky and Paul Powers (19.25 split) at 1:27.09, just ahead of Ohio State's 1:27.76.
The Wolverines continued its dominance with PJ Ransford (9:08.47) and Ian Rainey (9:14.36) going 1-2 in the 1000 with Brayden Seal (9:14.79) of Ohio State right behind them. Michigan claimed another 1-2 sweep with Anders Nielsen (1:35.68) and Tristan Sanders (1:38.31) with Mokhtar Al-Yamani (1:38.61) finishing the sweep. Whitaker and Kyle Dudzinski poured it on for the Wolverines with a 47.69 and 48.74 efforts in the 100 back.
Senior Dylan Bosch won the 200 fly with a 1:44.25 while teammate Evan White was second at 1:45.84, just ahead of Ohio State's Ching Lim (1:46.00). And then right before the break, Powers continued his impressive day/season with a 19.86 in the 50 free. And then right after the break he won the 100 free with a 43.84 right ahead of Ohio State's Matt McHugh at 43.86. Powers finished his day off with a fourth win leading off the 400 free relay. Jason Chen, White and Nielsen followed him on the relay with a 2:56.78 final time.
Michigan also picked up wins from Sanders (1:45.48) in the 200 back, Chris Klein (1:59.75) in the 200 breast and Nielsen in the 500 (4:24.13).
Ohio State had a few close wins on the day with DJ MacDonald winning the 100 breast at 54.67 ahead of Klein at 54.71. McHugh also picked up a win over Bosch in the 100 fly (47.55-47.62) and Lim out-raced Bosch in the 200 IM 1:46.99-1:47.18.
On the women's side, it was all Michigan again. The distance program for Josh White has gained another solid addition with Chinese Bi Yirong winning the 1000 (9:42.32) ahead of Ohio State's Lindsey Clary (9:44.39). Bi came back a few minutes later to finish second in the 200 free (1:47.98) behind fellow Asian teammate Siobhan Haughey (1:46.74). Bi then returned to go back and forth with Gillian Ryan and Clary in the 500. Ryan won the event with a very fast 4:44.92. Bi was second at 4:45.40 and Clary was third at 4:46.65.
Michigan sophomores Clara Smiddy and Emily Kopas each picked up two wins on the day. Smiddy went 53.89 in the 100 back and 1:55.38 in the 200 to set her up nicely for Big Tens and NCAAs. Kopas won the 100 breast with a 1:02.24 ahead of Amy Bopp of Ohio State (1:02.58). She then returned later in the meet to go head to head with Bopp in the 200 and Kopas won with a 2:14.20 to Bopp's 2:14.46.
Siobhan Haughey continued her very successful freshman campaign with wins in the 100 free (48.58) and 200 IM (1:58.91). She is definitely going to be one to watch at Big Tens and NCAAs and it will be interesting to see how she will do at her first big meet in short course yards.
Ohio State picked up wins on the day from Meg Bailey in the 200 fly (2:00.39) and 100 fly (55.01) as well as Liz Li in the 50 free (22.18). The Buckeyes also won both relays on the day with Camey Rabold, Rachael Dzierzak, Li and Annie Jongekrijg in the 200 medley relay (1:39.50) as well as a wire-to-wire win in the 400 free relay with Jongekrijg, Li, Dzierzak and Macie McNichols. The relay won with a 3:20.01 to Michigan's 3:20.58.
The Michigan men (6th nationally) and women (8th nationally) will finish up the regular season on February 6th as they will host Michigan State for senior day.
The Ohio State men (15th nationally) and women (25th nationally), fresh off a win Friday night against Kentucky, will finish the duel meet season on February 5th against Wright State.
West Virginia and the Buffalo men also raced in the meet and did not collect any wins on the day.
Women's Scores:
UM 162 OSU 138
Men's Scores:
UM 187 OSU 111
UM 229 UB 76
OSU 237 UB 76
UM 220 WV 77
OSU 241 WV 58
Results are not available in their entirety yet.