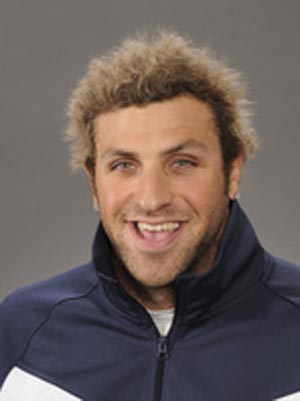 PHOENIX, Arizona, August 14. SWIMMING World returns with another in our year-long Paralympic Spotlight feature series here on SwimmingWorldMagazine.com. We dedicate the rest of the series to U.S Paralympic Coach Jimi Flowers, who passed away in July due to a rock climbing accident. Today, we feature Paralympic gold medalist Justin Zook.
Zook has been competing internationally within the Paralympic movement for quite some time. He debuted in the sport on the international level at the tender age of 12 back in 1998 at the IPC Swimming World Championships in New Zealand. Six years later, Zook claimed his first Paralympic gold medal with a triumph in the 100 back at the 2004 Athens Paralympics. He also won a gold medal in the same event at the 2008 Beijing Paralympics.
"Competing at the age of 12 internationally gave me the experience of racing competition I had never seen before," Zook said. "Within able bodied swimming, the competition you experience is the same over and over again. When competing at a world championship event, most of the competition is fairly new and extremely talented. I met a lot of people I have known since 1998 and continue to speak with today. Getting involved at a young age really helped me realize the opportunities available for continued success in the Paralympic movement."
Having grown from a young rookie in 1998 through a pair of Paralympics in 2004 and 2008, Zook definitely has developed a rare perspective on the growth of the Paralympic movement.
"Back in 1998, the only people in the stands were the parents of individuals who were competing," Zook said. "No real sponsorships existed and the individuals competing for Team USA had to pay for their own trip. I do not recall the actual amount, but my parents wrote a check for me to compete in World Championships. Now, I do not need to pay for anything related to international competition, and we have sponsors who really help us out. I think the biggest change is we now have some real publicity. People are finally starting to know what the Paralympics entail and want to help contribute. The U.S. Paralympics have done a great job of hiring people who want to make a difference in all of our lives. Finding talented individuals who wanted to work with disabled athletes may have been a bit more difficult back in 1998."
Similar to previous spotlighted athletes in the Swimming World feature series, Zook has competed in both of the past Paralympics. Each of the competitions have proven to produce much different memories and experiences for each athlete.
"In 2004, I had no real expectations for myself as far as winning medals," Zook said when asked about the 2004 experience. "I ended up coming home with a gold and a bronze, and really did not expect to come home with any. The best memory was being able to go upstairs and give both of my parents a hug. Not only was winning the gold medal a huge accomplishment for me, but it was great to show my parents the gratitude they deserved. Without both of them none of what I have accomplished would have been possible. The entire experience of being in Athens forced me to mature a lot quicker than most 18 year olds. I no longer could have short-term goals and always needed to keep everything in a somewhat long-term perspective."
Zook, now a grizzled veteran of the sport with a decade of international competition on his resume, took part in the 2008 Paralympics.
"In 2008, I went in with a lot of expectations for myself and from other people," Zook said when speaking about the 2008 Paralympics. "I was ranked #1 in the world in the 100 back, which meant the only place I could move was down. I felt more comfortable with the competition itself, but was still extremely nervous. Luckily, I was able to have my coach Tom Franke on the staff, and he helped me through both mentally and physically. I knew going into the 100 back I could not underestimate any of the competition. I remember lying in bed the night before thinking about what happened if I lost. I laid there thinking about all the people who told me I could win, and how I did not want to let anyone down."
Zook had some extra motivation in 2008 as he felt he was swimming in honor of the passing of a dear friend, Karol Carlson.
"The summer prior to Beijing, my best friends Curt and Cory Carlson's mother, Karol, passed away," Zook said about his extra motivation. "She had been like a second mother to me and as I was walking up to the blocks I closed my eyes and asked her for just a little help. I have never been very religious, but knew if I needed an extra push at the end I could count on Mrs. C. When I was standing behind the blocks, everything felt as though it was in slow motion and different thoughts were running through my head. Most of all I wanted to make everyone who believed in me proud."
Zook has high hopes for the future as he begins to prepare for the next evolution of his life. He graduated from Springfield College last summer and is now attending Florida Atlantic University's graduate school. He is pursuing an MBA in Sport Management with the hopes of becoming an Athletics Director at an NCAA Division I institution.
Zook competes in the S10 division in Paralympics competition. S1-S10 are physical classifications, while S11-S13 are for the visually impaired. Everyone is placed within these classifications through the International Paralympic Committee (IPC) functional classification system. This process is required in order to compete in an IPC approved/sanctioned meet.
"When I was born the growth plates in my right leg were non-functioning," said of his disability. "I am also missing half of my right foot. I have gone through 30 surgeries, and lengthened my leg about 18 inches. My right leg has very little function outside of walking purposes. Unfortunately, there is a large amount of nerve damage in my right leg prohibiting most activities. When I swim, my right leg drags behind me, but may kick occasionally without any force behind the kick."
With the rest of the Swimming World Paralympic Spotlight series being dedicated to Jimi Flowers, we are asking each person to present the impact Flowers had on their lives.
"Jimi and I had become very close after Beijing," Zook said. "I underwent a major surgery on my right leg one month after Beijing, and Jimi kept in touch the entire time. We would text back and forth about swimming, and how my rehab was going. He was a great coach, but a better friend. I knew if I ever needed anything outside of the swimming world, he would try to help me the best he could. Having a coach who cares about you as more than just a swimmer is something that is hard to find. Jimi displayed great confidence in everyone around him and always tried to turn the negatives into positives. I will miss Jimi greatly and wish his family the best."