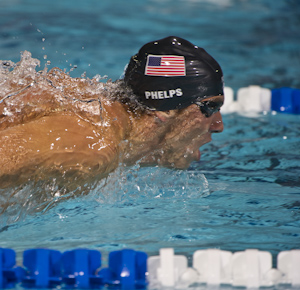 For the most comprehensive coverage on the Internet provided by Swimming World, check out the Event Landing Page for recaps, results, photos and videos from Irvine!
IRVINE, California, August 18. AUSTRALIA's Nick D'Arcy was just keeping the top ranking in the men's 200 fly warm for superstar Michael Phelps until Phelps had the chance to post a tapered time at the Pan Pacific Championships.
Phelps ripped off a 1:54.11 to win his pet event at Pan Pacs, and clear D'Arcy's previous top-ranked time of 1:54.61 set at the Australian Nationals in March. The win gave Phelps his second in a row in the event at Pan Pacs, having won in 2006 with a 1:53.80.
D'Arcy finished second in the race with a 1:54.73, finishing off his season-best and now second-ranked effort. Japan's Takeshi Matsuda wound up third in 1:54.81 to move to third in the world, while China's Wu Peng took fourth in 1:55.36 for fifth in the world.
Brazil's Kaio Marcio Almeida (1:55.66), Japan's Ryusuke Sakata (1:56.04), USA's Tyler Clary (1:56.83) and Canada's Stefan Hirniak (1:57.94) placed fifth through eighth in the finale.
Brazil's Leonardo De Deus finished first in the B final with a time of 1:56.86.
Coverage Sponsored by TYR