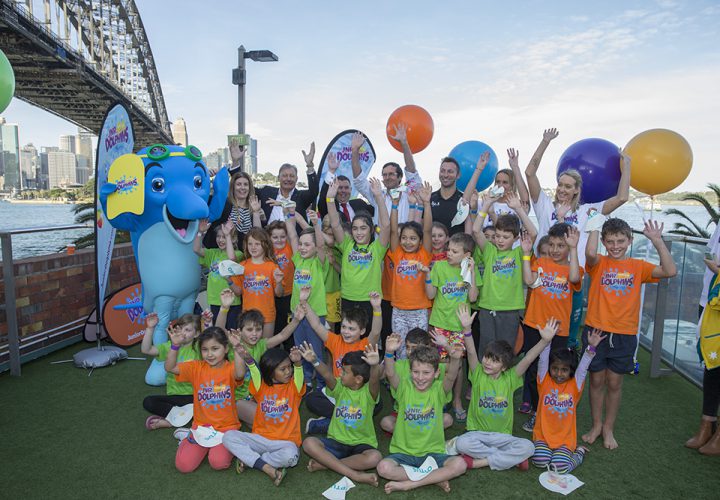 Photo Courtesy: Swimming Australia
Swimming Australia and Optus have teamed up today to launch a new national junior participation program, Optus Junior Dolphins.
Following the announcement of an eight-year partnership prior to the Rio Olympic and Paralympic Games, this is Swimming Australia and Optus' first major initiative, with the overall goal of the sponsorship to inspire more Australians to swim.
A sunny North Sydney Pool was the backdrop for the launch that saw five-time Olympic gold medallist Ian Thorpe and Rio Olympic medallists Emma McKeon and Madi Wilson help lead a group of excited children in the first official Optus Junior Dolphin clinics.
Optus Junior Dolphins has been created to encourage kids to have fun with their friends whilst improving their swimming, without the pressure of competition or serious training.
As a nation surrounded by water, and swimming a favourite pastime for many Australians, Optus Junior Dolphins is giving children the opportunity to learn skills and develop personally through games and swimming activities.
Swimming Australia President, John Bertrand AO said the program would break down barriers and allow children to simply enjoy swimming.
"It is often said that swimming is a sport for life; from cradle to grave, and Optus Junior Dolphins has been created to provide kids the opportunity to keep swimming after they have learnt the basic skills," Bertrand said.
"Off the back of the success of the Rio Olympic & Paralympic Games and as we make the move into summer, there is no better time to get the children of Australia familiar with water and develop their skills in a fun and safe environment.
"The whole of the swimming community, state associations, swim clubs and swim schools have come together to create Optus Junior Dolphins – a non-competitive, fun, safe and social program to join after Learn to Swim in a setting that encourages life-long involvement with swimming."
This is Swimming Australia's first ever national junior program and will be rolled out nation-wide to registered swim schools and affiliated swimming clubs as well as participating primary schools in the near future.
It is designed for children who have basic swimming skills, normally between the ages of five and eight, but can suit a range of abilities so each child can learn at a pace that's right for them.
Five-time Olympic gold medallist and Optus Ambassador Ian Thorpe was on deck today to help run the clinics and spread the message that swimming is a fun, inclusive and accessible sport for all.
"Being a Dolphin is aspirational for many competitive swimmers, but being an Optus Junior Dolphin is about enjoying the sport of swimming, kids getting in the water with their friends and developing skills at their own speed.
"The focus is really about having fun with their friends whilst improving their swimming through play.
"Swimming Australia and Optus are really behind this program, offering kids seven and under free club membership when they join Optus Junior Dolphins at their local swim club".
Managing Director of Marketing and Product at Optus, Ben White said, "Optus is proud to partner with Swimming Australia to launch the Optus Junior Dolphins programs to kids all around Australia."
"With swimming such an important part of the Australian lifestyle, it's important to provide kids with the right help and support to help them build their skills to feel confident and safe in the water.
"It was great to have swimming legend Ian Thorpe on deck today to share tips from his years of experience, help run the swimming clinics and spread the message that the Optus Junior Dolphins program is a great way to build confidence, make friends and have fun."
Rio Olympian Madison Wilson said for her finding the 'fun' in swimming was vital.
"The idea around Optus Junior Dolphins being all about having fun with friends I think is so important as kids should enjoy their swimming," Wilson said.
"I like to laugh, joke around and have fun with my friends, I think that is what has kept me in the sport for so long and being able to find the fun in my sessions now has helped me to get the best out of my swimming career."
Fellow dolphin and four-time Rio Olympic medallist Emma McKeon said she has fond memories of the early years of her swimming.
"Some of my most favourite swimming memories are from my junior club days, just playing around with friends and not taking anything too seriously," McKeon said.
"I have made life-long friends through swimming and also have a life-long love of the water, by focussing on the fun Optus Junior Dolphins will keep kids swimming and involved in the sport for longer."
To find an Optus Junior Dolphins participating swim school or club near you, simply head to JuniorDolphins.com.au
To connect online follow Optus Junior Dolphins – Facebook and use #OptusJuniorDolphins
Press release courtesy of Swimming Australia