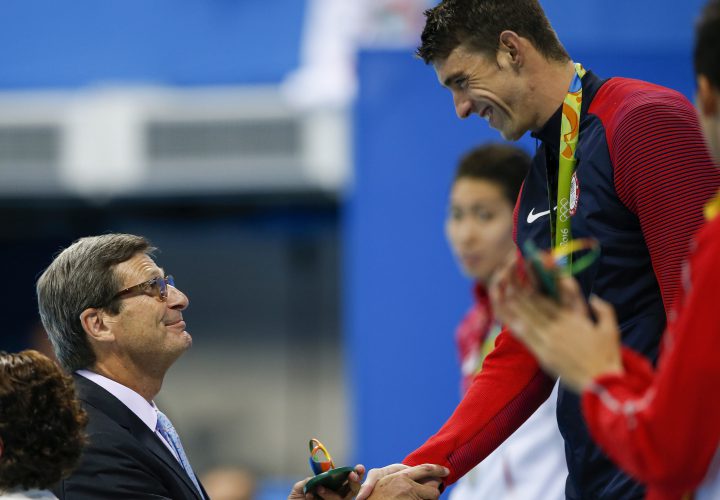 Dale Neuburger and Michael Phelps at the 2016 Rio Olympics. Photo Courtesy: Patrick B. Kraemer
By Michael Randazzo, Swimming World Contributor
Key to any recent international success enjoyed by American men's and women's water polo teams is a pipeline of talent connecting approximately 40,000 age group players to the elite athletes who represent the U.S. in the Olympic Games.USA Water Polo's "grassroots to gold medals" approach will be on display this coming week at the UANA Pan American Youth Men's and Women's (17U) Water Polo Championships, to be held from July 10 – 15 in Clearwater, Florida.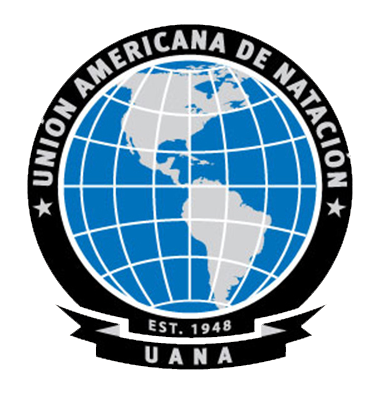 Boys and girls will represent Team USA against squads from all over North and South America, all of whom aspire to continue wearing their country's colors in higher-level competition. This week's tournament will be a new experience for many of those athletes, but for Dale Neuburger, President of the Union Americana de Natacion (UANA), it's another milestone in a lifetime of service promoting aquatic sports.
Beginning as a high school and intercollegiate swimmer, Neuburger jumped into aquatics right out of Princeton University. He's now been involved in athletics for more than four decades. In addition to his responsibilities with UANA, Neuburger is a Vice President with FINA, the international aquatics federation, as well as director of TSE Consulting, which connects sports and the public sector.
Prior to today's opening of the Pan American Championships, Swimming World spoke with Neuburger about the current state of U.S. water polo, expectations for the Pan American Championships, how FIFA World Cup soccer's popularity compares with polo and what's needed for American men and women to consistently be counted among the world's best.
– How did you end up devoting a lifetime to aquatics?
In one word: accidentally. I was a competitive swimmer in high school at Williston Academy and at Princeton University as a collegiate swimmer.
My professional career has been in the sports realm. I was Aquatics Director in Syracuse, New York. I became the manager of the new aquatics facility in Indianapolis which opened in 1982. I spent 10 years there. I then had the opportunity to be president of the Indiana Sports Corporation, bringing events to the city of Indianapolis and state of Indiana.
I've been an assistant athletic director at Indiana University, president of a sports commission and now I'm with a consulting company that works with cities and organizations interested in using sports for social and economic advantage. In my volunteer life, I have been President of USA Swimming, President of US Aquatics Sports, and Chairman of the Board of the International Swimming Hall of Fame.
Currently I'm Vice President of FINA, the international swimming federation, and I'm President of UANA, which is the continental association of the 42 national federations of the Americas—from Hudson Bay to the tip of Argentina—and all points in between.
– How is it that a sport like water polo, which offers so many positives for young athletes, has endured many challenges expanding outside of a regional footprint on the West Coast.
The cradle of water polo is California and so many talented coaches and athletes have come from there that it tends to perpetuate itself. Sometimes it's difficult to look outward when you're so successful inward.
I give a great deal of credit to USA Water Polo Chairman Mike Graff and CEO Chris Ramsey for their efforts to expand the footprint. You see water polo having strong inroads in areas where it didn't previously. The membership numbers demonstrate that significant growth has taken place on a national level in addition to continued strong performance in California.
– How was Clearwater selected to host the UANA Junior Pan American Water Polo Championships?
One of the reasons this event is in Florida was a conscious decision by USA Water Polo to continue the expansion of this footprint. [They want] to be able to hold important events in areas of the country where water polo has the chance to grow in terms of membership and media exposure.
The competition in Florida will give a great opportunity for athletes who are on our U.S. teams to be in a tournament in an important city where water polo is establishing roots, and also for athletes across the Americas to have a chance to experience an event hosted by USA Water Polo.
– A challenge for USA Water Polo is finding a face for the sport—and there's no better ambassador than Ashleigh Johnson, who is a Florida native.
Ashleigh is an amazing athlete who has demonstrated that the best goalkeeper in the world can come from the state of Florida, attend an institution like Princeton and become the world's best.
Tony Azevedo is a legend in the sport who has brought so much significance to water polo on a world-wide basis; not only for his play at Stanford and on the U.S. water polo national team, but also for club play in Europe, where he established a reputation as one of the best water polo players in the world of this generation.
– Who among this year's junior athletes at the 2018 UANA Junior Pan American Championships may follow in Azevedo or Johnson footsteps?
One of the things that USA Water Polo has done well is to ensure that the head coaches of the women's and men's national teams are viewing the sport in its entirety—not just coaching the national teams. Dejan [Udovicic] and Adam [Krikorian] are looking to perform at the highest level in international competition but they're also working closely on establishing a pipeline so that there is sustained competitive excellence within water polo.
The young athletes coming through these systems now, directed by John Abdou and under the watchful eye of Adam and Dejan, illustrate how important it is to have a pipeline that has entry points that allow athletes to demonstrate their skill at all levels.
From the Junior Olympics, the largest water polo tournament in the world, which will take place later this month, to the Olympic Games, there is a very strong emphasis within U.S. water polo on the entire pipeline and not just on the national team. The evidence is in the strength of our junior teams are, both for boys and girls. We have many young players coming through the system who are going to be excellent performers at the international level.
The United States right now has one of the youngest teams to play in international competition but [we are] also among the best. That's a very good sign of growth and vitality.
– American swimmers have historically been the world's best. How can U.S. polo players, in particular our men, raise their profiles in the world?
The U.S. men's national team is on an upward trajectory. At the world championships next summer in South Korea and the Olympic Games in Tokyo, that team will perform at a very high level—and hopefully find a position on a podium. One needs to always remember in a sport like water polo, which is the oldest team sport on the Olympic program—older than football—there are many countries that are devoting substantial resources into the sport. It's a very competitive landscape.
The men's team has shown great promise recently and I think will be very successful in 2019 and 2020 on the international level. And, you're seeing strong growth by young water polo athletes in the U.S. Now it's a matter of our system enabling our athletes to continue to have competitive opportunities like this tournament in Florida. This allows them to experience—both in the Americas and around the world—a highly competitive environment
We get better the more we are exposed to competition that isn't usual. When we challenge ourselves to go against the best of the world—not just the best in our zone, our region or our country—it helps us immensely.
– What is the significance of the U.S. is hosting the UANA Junior Pan American Water Polo Championships for the first time since 2010.
FINA recognizes that a tournament hosted in the United States will be executed at the highest level of expertise, with enthusiastic crowds watching. There's no doubt about the capabilities of venues in the United States to host international competitions. We have hosted a FINA World League Super Final [2010] where we had the best water polo teams in the world competing.
On a regular basis U.S. teams are competing—sometimes here, sometimes elsewhere. It is the calendar of competitive play, when one factors in the men's collegiate season in the fall and the women's season in the spring and then making sure that club and professional opportunities are in place.
There are limitations on the flexibility of the calendar, but there's no question that U.S. national teams are playing the best in the world on a regular basis. So, we're in a good position on both sides of it, and we have regularly engaged in both tournaments and friendlies with international teams of significance to gain exposure and experience. And to understand what it takes to be on the podium.
– You're likely one of the country's foremost experts for planning and staging aquatics events. What will it take for America to host an international men's and women's water polo tournament that would include the world's top teams?
USA Water Polo has done an excellent job expanding the sport and expanding the areas for hosting important competitions. Certainly, the major population centers like New York and Chicago and Dallas are important areas for water polo competitions to gain media exposure and to draw large spectator audiences.
At this moment water polo is at a crucial stage internationally in terms of its direction. We see very positive signs in terms of the rules and the way that games are going to be refereed—to make sure that the game is more interesting, exciting and understandable by spectators who are not necessarily water polo aficionados.
Water polo can be a confusing sport for those who have never seen it before. There's a lot of whistles and a lot of things going on that aren't necessarily noticed except by those who know, appreciate and love the sport.
Part of the challenge for water polo is to make sure that the game is one that everybody can enjoy. It does contain the basics the basics of athletic play that are important worldwide: a ball, a goal and a scoreboard. if you think about the tremendous success of FIFA World Cup [soccer]—there are literally billions of people watching that event on a daily basis—it is because of the simplicity of the game. A ball, a goal and a scoreboard.
– What makes the men's world soccer tournament notable is—unlike other sporting events—the U.S. is not a strong competitor. Is it possible that as the Americans improve in polo, the rest of the world will suffer?
The greatest challenge for water polo is universality. At this time there are probably 20 federations in the world that can play at an elite level. When one thinks about athletics or thinks about swimming, there are many more countries who have athletes who can compete at the highest level. The challenge for water polo will be to have more support, more growth, more play and more membership throughout the world—rather than solely be  concentrated in Europe, North America and Australia.
It's important for polo to grow in Africa, in South America and in Asia so that the sport becomes truly universal.
The reason that FIFA World Cup is so popular is because it involves 32 teams that represent the world. There are teams from Europe that play at a very high level, but as we saw in the round of 16 [there were] strong teams from Asia as well as the Americas. It's important for water polo to have a similar level of universality for the globalization of the sport.
If it's the same 20 countries that dominate the sport and are the only ones that can play at a high level, it's less interesting. If there were 40 countries that could play at a high level it would be more interesting, and the sport would develop at a faster rate.
Our challenge is to make sure that the sport has exceptional play internationally among countries that have traditionally been strong supporters of water polo. But also to introduce the sport to other areas of the world where water polo is not as well known, not as highly developed—because that is the key to the success of the sport on a world-wide basis.
Think of it; at the FIFA World Cup, you have Iceland in the round of 32 and you don't have Italy or the United States.
– Bringing the discussion closer to home, there are two recent college polo notes that I suspect you have some comments on. First is the decision by Indiana University to have their women's water polo team join the Mountain Pacific Sports Federation.
It's an important development in collegiate water polo to have a university outside of California enter the strongest collegiate league. At some point Indiana will win the national championship. I don't know when that will be but, the reason it will win the national championship is that it is playing against the best and is able to recruit athletes who wish to play against the best. At some point that circumstance will enable a national championship for an institution outside of California.
The important element is: when there are universities willing to challenge themselves and take themselves out of a comfort zone of playing in leagues where they can either win or consistently be a high-level finisher, there is an expectation about higher level performance. It's a very important sign that a Midwestern university wants to win a national championship. The way to win a national championship is not to do that in isolation—but to do that by playing the best.
– There's another interesting change that happened last week in intercollegiate water polo; your alma mater inked UCLA's Dustin Litvak to be the Tigers' head men's coach and assistant women's coach. What do you make of this move at Princeton?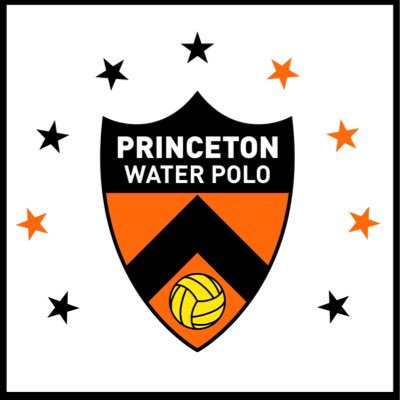 I always keep an eye on what the Tigers and the Hoosiers are doing! It's an interesting approach—the type of innovative thinking that will help water polo progress. Within the sport of swimming we've had combined collegiate programs for many years—coaches who have responsibilities for the men's and women's programs give a full understanding that it's about the sport and not about gender.
If you know and love water polo and you can teach it and inspire athletes to compete to their full potential, it really doesn't matter what suit they're wearing. If you love the game, you love the game. This is a great innovation. I hope it's successful and, I think it will be.