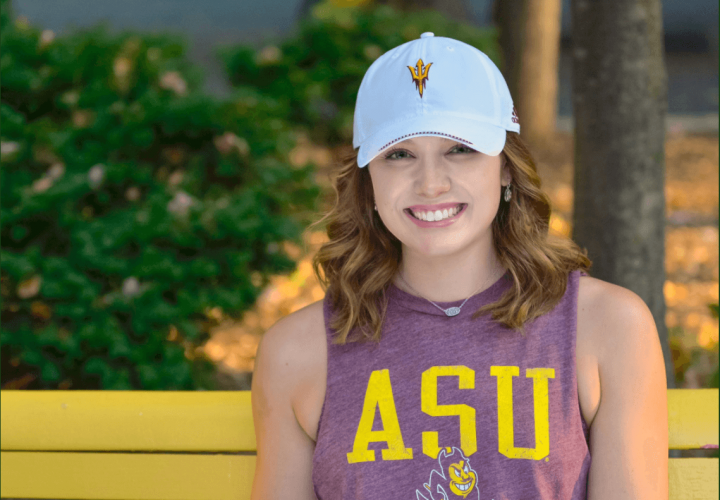 Photo Courtesy: Ruby Martin (Twitter)
Agon is the proud sponsor of all high school coverage (recruiting, results, state championships, etc.) on SwimmingWorld.com. For more information about Agon, visit their website AgonSwim.com.
To report a college commitment, email HS@swimmingworld.com. Join Swimming World's Watch List
NEW COMMIT: Arizona State University continues to make great strides on the recruiting front, this time with a verbal commitment from Iowa Flyers' Ruby Martin. Martin finished fourth in the 200 fly at the 2016 Olympic Trials.
Martin had a breakout long course meet at the Olympic Trials in Omaha two summers ago, improving dramatically from her seed in the event. She wasn't the only young face in that field, touching just behind third place finisher Cassidy Bayer.
Bayer and Martin will continue to race in the Pac-12 conference as Bayer has verbally committed to the Cal Golden Bears.
Martin has been as fast as 2:09.96 in the long course 200 fly, and she was just a bit off that this summer as she was the U.S. Open champion in the event in 2:10.18.
Martin's top SCY times include:
200 Fly 1:54.74
100 Fly 52.99
200 Back 1:57.73
400 IM 4:13.70
200 IM 2:00.04
Martin's lifetime best SCY 200 fly would have put her in the B final at last year's NCAA Championships. Her lifetime best is already well under Arizona State's school record, a 1:56.14 set in 2009. She's fourth on the all-time top 10 list in the 100 fly and seventh in the 200 backstroke. Martin is versatile enough that she'd come in at fifth on the women's 400 IM all time list. At the Pac-12 level Martin's lifetime bests would have earned her fifth in the 200 fly and tenth in the 100 fly at last year's Championships. She would have been ASU's top finisher in both of those events.
She joins Abigail Mawae, Claire Grover, Brady Estrada, and Lizzy Spears in the Class of 2022.