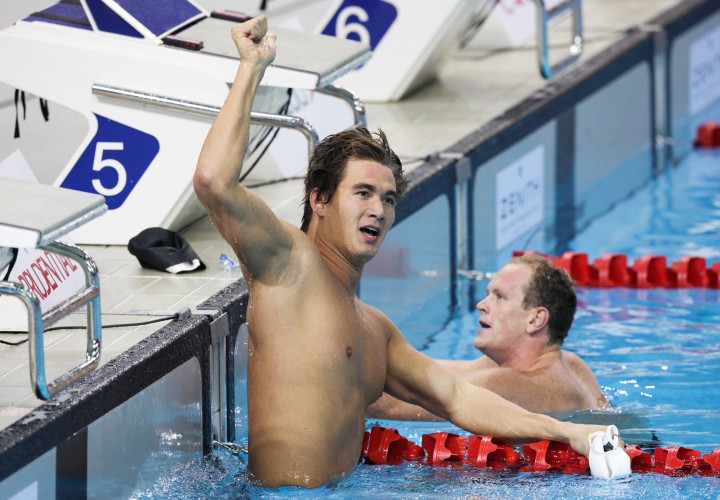 OKLAHOMA CITY − For the 23rd straight year, Oklahoma City has become the late December destination for top swimmers, but this year features two dueling meets, both bearing the title "Elite Pro-Am." John Brown founded the meet when head coach of the Kerr-McGhee Swim Club (later Chesapeake and then American Energy Swim Club), but he has moved on to coach the King Marlin Aquatic Club.
Brown and King Marlin are hosting a version of the Pro-Am at the Oklahoma City Community College, the traditional site of the meet, while American Energy is continuing on with the original meet at the Mitch Park YMCA. Both meets follow the exact same format, with the same order of events and head-to-head shootout 50 finals. Each of the meets have drawn elite swimmers to the Sooner State, so we put together a virtual meet to determine the fastest swimmers in each event this weekend in OKC.
The majority of the winning times below have come from the American Energy version of the Pro-Am, but the meets splitting up have definitely cost fans some exciting races. Some good "virtual races" here include Katie McLaughlin vs. Felicia Lee in the 100 fly, Katie Meili against Maya DiRado and Melanie Margalis in the 200 IM, and on the men's side, Giles Smith and Miguel Ortiz in a tight 100 fly battle.
Oklahoma City Elite Pro-Am Virtual Meet
Women's 1000 Free
[table "" not found /]
Men's 1000 Free
[table "" not found /]
Women's 200 Free
[table "" not found /]
Men's 200 Free
[table "" not found /]
Women's 100 Breast
[table "" not found /]
Men's 100 Breast
[table "" not found /]
Women's 100 Fly
[table "" not found /]
Men's 100 Fly
[table "" not found /]
Women's 400 IM
[table "" not found /]
Men's 400 IM
[table "" not found /]
Women's 200 IM
[table "" not found /]
Men's 200 IM
[table "" not found /]
Women's 50 Free
[table "" not found /]
Men's 50 Free
[table "" not found /]
Women's 200 Breast
[table "" not found /]
Men's 200 Breast
[table "" not found /]
Women's 100 Back
[table "" not found /]
Men's 100 Back
[table "" not found /]
Women's 500 Free
[table "" not found /]
Men's 500 Free
[table "" not found /]
Women's 1650 Free
[table "" not found /]
Men's 1650 Free
[table "" not found /]
Women's 200 Back
[table "" not found /]
Women's 100 Free
[table "" not found /]
Men's 100 Free
[table "" not found /]
Women's 200 Fly
[table "" not found /]
Men's 200 Fly
[table "" not found /]