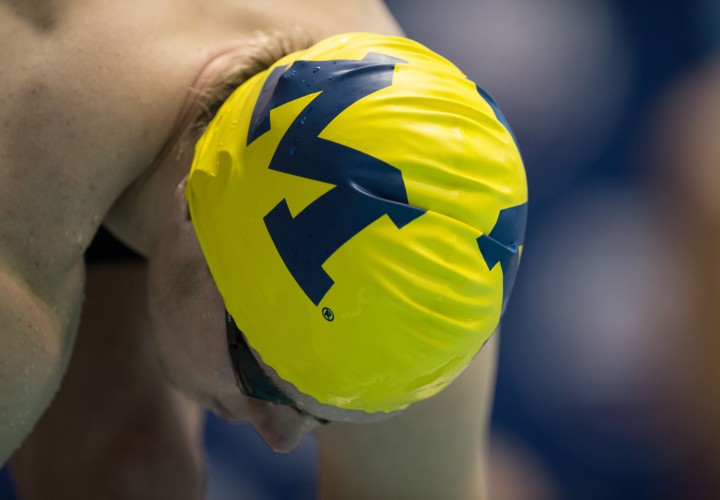 COLUMBUS, Ohio, February 2. ANOTHER exciting dual meet ensued yesterday afternoon between two long-time Big Ten rivals as both the men's and women's meets between Ohio State and Michigan were decided in the final relay. In the women's meet, the score was tied at 168 heading into the final relay before Ohio State's foursome of Michelle Williams, Annie Jongekrijg, Aliena Schmidtke and Alex Norris touched first to clinch the win in the relay and the meet.
Meanwhile, the Michigan men held on to beat Ohio State 151-147 despite losing the final relay. The Wolverines had a large enough lead that their second and third-place swims in the 400 free relay were enough to secure the meet.
The Ohio State men and women finish the season at 9-1 in dual meets, while the Michigan men are 8-0 and the Michigan women are 5-5.
Ohio State Women's Press Release
The No. 16 Ohio State women's swimming and diving team (9-1, 2-1 Big Ten) won the final event of its dual meet with No. 20 Michigan to eke out a closely-contested 181-172 decision over the Wolverines Saturday at McCorkle Aquatic Pavilion. With the win, the Buckeyes are now 9-1 overall and 2-1 in the Big Ten while Michigan falls to 5-5 overall and 2-4 in the Big Ten.
"I told them it could go this way, we were going to take it to the relay and come out with a win," head coach Bill Dorenkott said. "Michigan is a tough competitor but I like where we are heading into Big Tens."
Senior Michelle Williams opened up her senior meet with a victory in the 100 freestyle. She finished with a time of 49.89, a NCAA "B" cut. Shortly after, freshman Taylor Vargo extended her successful weekend with a first-place finish in the 200 breaststroke in 2:15.21.
Following a quick break from competition, senior Kelly Ann Baird clocked in a time of 4:49.23 in the 500 freestyle to put Ohio State in the lead. The Buckeyes were relentless, claiming the top two spots in the 100 butterfly behind swims from Aliena Schmidtke and Williams. Schmidtke claimed the win with a mark of 55.16.
Going into the final event and with the score tied 168-168, the 400 freestyle relay team of Williams, Jongekrijg, Schmidtke and Norris touched the wall first in 3:20.80 and clinched the meet victory on Senior Day.
The women return to McCorkle Pavilion on Saturday, Feb. 8, to open up the Ohio State Winter Invitational. Preliminaries are scheduled for an 11 a.m. start time.
Ohio State Men's Press Release
The ninth-ranked Ohio State men's swimming and diving team won six races and two diving events, but lost a hard-fought meet to No. 1 Michigan, 151-147, on Saturday at the Bill and Mae McCorkle Aquatic Pavilion. Ohio State is now 9-1 overall and 3-1 in the Big Ten while Michigan improves to 8-0 and 5-0 in the Big Ten.
"A lot of credit goes to our seniors," said head coach Bill Wadley. "The competitive spirit that they showed today to swim great races is really the essence of this team. This was a fun dual meet – Michigan had a great squad and they are ranked No. 1 in the country for a reason. But I thought our guys rose to the challenge."
The Buckeyes got off to a fast start in the 200 medley relay as the team of Gavin Trebilcock, Keanu Stevenson, Tim Phillips and Josh Fleagle touched the wall first in a time of 1:27.50.
In the next event, the 1000 freestyle, senior Alex Miller placed second with a time of 9:11.51, just two seconds off his season-best time. Michigan's Connor Jaeger won the race in 9:04.27, which set a new pool record.
The Wolverines picked up additional momentum in the 200 freestyle, finishing 1-2. Ohio State's top performer was Michael DiSalle, who was third in 1:38.56.
The Buckeyes came roaring back in the 100 backstroke as freshman Matt McHugh placed first with a NCAA "B" cut time of 48.21. It is also his season best time in the event. Additionally, the Buckeyes had the second place finisher, Michael Gallagher (48.64), and third-place finisher, Connor McDonald, (48.83) to pick up additional points.
With renewed momentum, Ohio State finished 2-3 in the 100 breaststroke, led by DJ MacDonald (second, 54.91) and Stevenson (third, 55.31). Both times are NCAA "B" cuts.
Michigan took the top four spots in the next race, the 200 butterfly, as Ohio State's top finisher was Tamas Gercsak (fifth, 1:49.95).
Fleagle and Phillips tilted the score back in favor of Ohio State in the 50 freestyle as they finished 2-3. Fleagle was second in 20.42 and Phillips was third in 20.53. Fleagle continued his impressive afternoon in the next event, the 100 freestyle, as he touched the wall in 44.30.
McDonald made it back-to-back wins for Ohio State in the next event, the 200 backstroke, with a time of 1:45.25, which is an NCAA "B" cut. Andrew Braun followed that up with a first-place showing in the 200 breaststroke (1:58.77). His time was a personal season best, NCAA "B" cut and gave the Buckeyes yet another jolt of momentum.
Michigan was able to take the top two places in the 100 butterfly. Ohio State's top finisher was Phillips, who clocked a NCAA "B" cut time of 47.72.
In the 200 individual medley, Gercsak and Gallagher tied for third place with times of 1:51.42. Michigan pulled ahead for good in the 200 freestyle as it had the first, third, fourth and fifth finishers. Miller was the Buckeyes' top performer with a time of 4:24.92, an NCAA "B" cut.
In the final race of the day, the 400 freestyle relay, Ohio State picked up its second relay win of the night behind the team of Fleagle, DiSalle, Steffen Hillmer and Phillips (2:55.78). Michigan eked out the overall time victory, however, by placing 2-3 in the race.
In diving, junior Stephen Ettienne picked up critical points for the Buckeyes by winning both the 3-meter and 1-meter dives. He scored a 330.83 on the 3-meter and 377.25 on the 1-meter.
Ohio State returns to action next Friday, Feb. 7, when it hosts Wright State at the McCorkle Aquatic Pavilion at 6 p.m.
Michigan Women's Press Release
The No. 21-ranked University of Michigan women's swimming and diving team dropped a tightly contested dual meet at No. 19 Ohio State today (Saturday, Feb. 1), 181-172, in a meet that was tied going into the final event, the 400-yard freestyle relay.
The points were equal at 168-168 inside McCorkle Aquatics Pavilion, and Michigan needed the top two spots to secure a victory. But OSU took first and third place in the relay to wrap up the meet victory.
Senior Courtney Beidler (Richboro, Pa./Council Rock South) and sophomore Marni Oldershaw (Oakville, Ontario/Iroquois Ridge) put the Wolverines in striking distance in the second-to-last event of the meet, the 400-yard individual medley. Beidler took first — her second win of the meet — and Oldershaw took second, giving U-M some crucial points to eliminate OSU's lead.
A big lift came late in the meet when the diving scores were added in. Just like she had in the three-meter competition on Friday (Feb. 1), junior Carey Chen (Vancouver, British Columbia/University Hill Secondary) outperformed the field to take first place on the one-meter board (292.43). She was followed by teammates sophomore Sarah Kamstra (Zeeland, Mich./Zeeland West) and junior Nicole Honey (New Hyde Park, N.Y./Herricks) in third and fourth places, respectively.
The Maize and Blue held a 95-91 advantage over Ohio State following day one of the meet (Friday, Jan. 31). Michigan raced to a win in the opening event today, beating the Buckeyes by 1.5 seconds in the 200-yard medley relay. Sophomore Ali DeLoof (Grosse Pointe, Mich./Grosse Pointe South),senior Angela Chokran (South Elgin, Ill./St. Charles North), sophomore Zoe Mattingly (Zionsville, Ind./Zionsville) and freshman Julia Fiks Salem (Sao Paulo, Brazil/Domus Sapientiae) clocked in at 1:41.37, compared to OSU's second-place relay at 1:42.87.
Junior Claudia Lau (Hong Kong, China/Dicoesan Girls' School) was Michigan's other event winner of the day, taking the 200-yard backstroke in 1:59.20.
The Wolverines wrap up their dual-meet schedule against Michigan State this Friday (Feb. 7) at Canham Natatorium. The meet begins at 5 p.m. ,and there will be a pre-meet ceremony to honor U-M's six seniors: Beidler, Erin Bridgewater, Erin Cameron, Chokran, Nikki Hubbard and Brianna Maroukis.
Michigan Men's Press Release
Led by multiple-event winners Connor Jaeger (Fair Haven, N.J./Rumson-Fair Haven) and sophomore Dylan Bosch (Johannesburg, South Africa/Crawford College Sandton), the No. 1-ranked University of Michigan men's swimming and diving team eked out a road victory on Saturday (Feb. 1), taking down No. 9 Ohio State, 151-147, inside the McCorkle Aquatic Pavilion.
Ohio State got up early, taking first in the 200-yard medley relay, thanks to an explosive leadoff leg. Junior Bruno Ortiz (Tokyo, Japan/St. Mary's International) attempted to rally the group with a blistering split of 19.40 in the anchor spot, but the gap was too wide. The Wolverines began to pick up steam in the 1,000-yard freestyle, as Jaeger shattered a nine-year-old pool record to take first (9:04.27). He broke the record by more than 19 seconds and was seven seconds clear of second-place finisher Alex Miller (Ohio State). That win was followed by a 1-2 finish in the 200-yard freestyle from senior Michael Wynalda (Wyoming, Mich./Grandville) and junior Justin Glanda (Rochester Hills, Mich./Cranbrook Kingswood), who were clocked in at 1:35.34 and 1:36.71, respectively.
Ohio State pushed back, though, grabbing 25 of 38 points across the 100-yard backstroke and 100-yard breaststroke, despite junior Richard Funk (Edmonton, Alberta/Strathcona) extending his recent winning streak in the former (54.61). That momentum was halted after Michigan took the top four spots in the 200-yard butterfly, led by Bosch. The South African was clocked in at 1:45.44, followed by senior Kyle Whitaker (Chesterton, Ind./Chesterton) in 1:47.02, senior John Wojciechowski (Scottsdale, Ariz./Phoenix Brophy Prep) in 1:48.07 and Jaeger in 1:48.34. Ortiz collected another win in the 50-yard freestyle (20.27) as Michigan led, 62-50, heading into the break.
Michigan was shut out on wins in each of the next three races coming out of the break but kept pace thanks to depth, including a 2-3-4 finish in the 100-yard freestyle, led by Glanda (44.49). Senior Ryutaro Kamiya (Tokyo, Japan/St. Mary's International) and Funk were second in both the 200-yard backstroke (1:45.65) and 200-yard breaststroke (1:59.04), respectively. The two teams were tied 94-94 heading into the 500-yard freestyle.
U-M went back in the lead for good after taking 14 of 19 points in the 500-yard freestyle, courtesy of another victory from Jaeger (4:24.94). Back-to-back 1-2 performances extended the lead further, led by Bosch, as the sophomore pulled a difficult double to take first in the 100-yard butterfly (46.63) and second in the 200-yard individual medley (1:46.96); Whitaker won the 200-yard IM (1:46.71).
The final race of the night was the 400-yard freestyle relay, and even though Ohio State won the race, Michigan teams took second and third, once again utilizing depth to secure valuable points and the eventual team victory.
Sophomore Timothy Faerber (Potomac, Md./Churchill) was one of two U-M divers in action in the diving well, taking second on one-meter (305.40) and third on three-meter (309.38). Senior James Ross (Richmond, Va./Collegiate School) was the other, taking fourth on both one-meter (269.03) and three-meter (284.18).
The Wolverines return to Canham Natatorium for a competition next Saturday (Feb. 8) for the first time since late November, when they welcome in-state foe Michigan State for Senior Day. The meet will begin at noon.