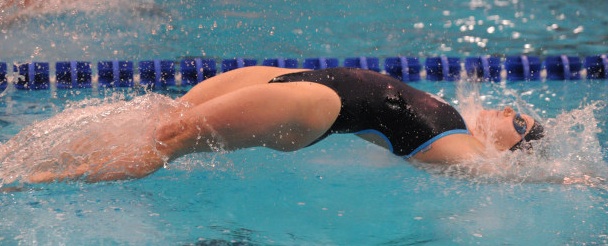 NOTRE DAME, Indiana, February 2. THE University of Notre Dame swimming and diving teams wrapped up a successful Shamrock Invitational yesterday, as the women topped Iowa in the team scores and the men defeated Missouri State and Iowa. Emma Reaney and Kelly Ryan stood out on the women's side, combining for seven individual victories in two days — four by Reaney and three by Ryan. On the men's side, seven different Notre Dame swimmers earned victories on the second day of the meet.
Notre Dame Women's Press Release
The No. 24 University of Notre Dame women's swimming and diving team won 16 of the 20 events to run away from Iowa, 263-106, at the two-day Shamrock Invitational at Rolfs Aquatic Center this weekend. Northwestern also competed at the invitational, but the Irish and Wildcats chose not to count their score since the two teams just dualed a few short weeks ago. The Wildcats squeaked past the Hawkeyes, 186-184, in the other dual result.
Great crowds came out to Rolfs all weekend as a pool-record 609 braved Saturday's elements to give the invitational a two-day total of 1,041 spectators.
With 16 wins in 20 chances, strong performances were the norm for the Irish throughout the weekend.
"I thought we got better as the meet went on," said head coach Brian Barnes. "It was interesting to show up after a day of school and a morning swim yesterday and I thought we were a little rusty last night. However, I thought this morning we showed up and did a heck of a job. I know what I asked this team to do this week and then to head into a three-session meet and compete the way they did, I'm very happy with them. We have work to do in several areas but I'm pretty happy with where we are."
Junior Emma Reaney won four individual events and three relays, grabbed four NCAA B cuts and broke two pool records (200 IM, 800 free relay).
Senior Kelly Ryan picked up three individual wins and two relays, tallied two NCAA B cuts and swam a leg of the pool-record 800 free relay team.
Freshman Katie Miller won the 400 IM and also assisted on the winning 800 free relay team, while junior Bridget Casey claimed the 200 fly title and swam the anchor for the 800 free relay. Miller notched three NCAA B cuts and Casey had one.
Junior Allison Casareto won the 1-meter discipline Friday night, while senior Christen McDonough, freshman Catherine Mulquin, sophomore Genevieve Heidkamp, junior Hannah Bowen and junior Courtney Whyte helped the Irish win all five relays.
Prior to the evening session, seniors Sarah Dotzel, Mikelle Masciantonio, McDonough, Ryan and Lauren Stauder were honored for their contributions to the program both in and out of the water with a ceremony and senior video.
"Tonight was more about our seniors than anything," said Barnes. "Watching the team with this senior class, it's a beloved class. It's good to see that in athletics. We are going to miss them tremendously. Today was a sentimental day for all of us. They have represented Notre Dame with great passion and it was good to see them recognized."
The Irish (7-5) close out their regular season at 12 p.m. next Saturday with a dual against Cleveland State at Rolfs Aquatic Center. Notre Dame heads to its first Atlantic Coast Conference meet in a few short weeks (Feb. 19-22).
Notre Dame Men's Press Release
On the strength of seven race victories, and an additional nine runner-up finishes, the University of Notre Dame men's swimming and diving team put an exclamation mark on a victorious outing at the 2014 Shamrock Invitational Saturday night in front of a record crowd of 609 at the Rolfs Aquatic Center.
The Irish (6-5-1) defeated Missouri State 223-147 in one of the two dual matchups, and Notre Dame added a 224.5-145.5 win over Iowa to claim its fourth sweep in nine Shamrock Invitational starts.
"I thought we got better as the weekend went on," Notre Dame head coach Tim Welsh said. "We told the guys that we thought we had a breakthrough this morning and a follow through tonight. It was a very strong day overall."
Sophomore Shane McKenzie (400 IM, 3:55.52), senior two-time All-American Frank Dyer (200 freestyle, 1:37.28), the `C' entry of the Notre Dame 800 freestyle relay (Reed Fujan, Michael Hudspith, Patrick Murphy and Broderick Kelley, 6:36.98), freshman Joe Coumos (1-meter diving, 355.80 points), freshman Joe Petrone (1650 freestyle, 15:40.81), junior All-American John Williamson (200 butterfly, 1:48.43) and Hudspith (100 freestyle, 45:07) all claimed race victories on Saturday.
Of the seven different Irish competitors who logged race wins on the day, four were Notre Dame freshmen and sophomores. Welsh said that there were a number of younger student-athletes who honed in on the Shamrock Invitational as a meet to post top results.
"We did have a group of guys who focused on this meet, `Shamrock Guys' we will call them," he said. "They made a huge contribution, and we are very proud of them for doing that."
Welsh felt the team responded well to the meet format, which was spread out over a single session Friday night before closing with a pair sessions on Saturday. The Shamrock Invitational closely followed what the Irish will see at the Atlantic Coast Conference Championship Feb. 26-March 1 in Greensboro, N.C.
"I think we are sufficiently tired, and what we were able to see was where the guys needed rest, and where to polish their technique, strategy and race plan," Welsh said. "We were definitely able to see that under race conditions, and the advantage to this is like football at high speed. Unlike a trials-finals where you don't get a re-swim at night, going into the ACC we know that if we're going to be successful there we have to be very good the first time we swim."
Notre Dame now turns its attention to next weekend's season finale dual meet against Cleveland State. The extra dual contest following the Shamrock Invitational is a first on the Notre Dame schedule since the Irish downed Olivet 173-102 on Feb. 7, 2009.
"There will be a different race plan for that final meet, and we will evaluate how this came out," Welsh said. "We will take a look and say, `What do we need to do next, what is the next most important thing we need to do?' We went into this meet saying not to count on next week, or thinking that there is always a next week, this is its own deal and it ends tonight. We will re-evaluate where we are, and see what the next best steps are."
Next Saturday's dual meet against Cleveland State is scheduled to begin at noon (ET) inside the Rolfs Aquatic Center.