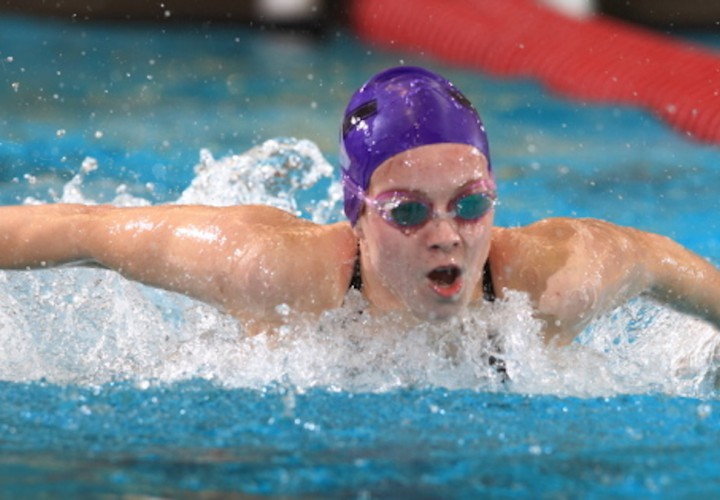 EVANSTON – The Northwestern swimming and diving teams closed out a successful weekend of swimming with dual meet wins over Oakland and Illinois-Chicago on Saturday afternoon. Both Oakland squads earned wins against Illinois-Chicago as well in their head-to-head matchups.
Northwestern Women's Press Release
Northwestern captured a couple of convincing wins on Saturday over visitors UIC and Oakland in double dual meet action. The Wildcats won 10 of 14 swimming events on their way to a 211-86 win over UIC and a 180-111 victory against Oakland.
The `Cats grabbed momentum early by winning the first four events of the afternoon, including sweeps of the top three spots in the 200 medley relay and the 200 free. Lacey Locke (Carmel, Ind./Carmel), Julianne Kurke (Atlanta, Ga./Parkview), Aja Malone (Acworth, Ga./Allatoona) and Annika Winsnes (Singapore/United World College) combined for a commanding victory in the 200 medley in a time of 1:44.71. In the 200 free, sophomore Megan Purdy (Boulder City, Nev./Boulder City) bested the field in 1:52.32.
In the 1000 free, Lauren Abruzzo (Denver, Colo./Kent Denver) topped the field by eight seconds, swimming to a win in 10:02.50. Teammate Sydney Modeas (East Amherst, N.Y./Clarence) was second in 10:10.61. Northwestern made it four straight wins when Locke handily took the 100 yard backstroke in 56.15.
The `Cats dominated the 200 yard butterfly, and sophomore Ellen Stello (Shorewood, Wis./Shorewood) was the star of the race, winning by a full five seconds in a time of 2:00.67.
After the intermission period, Northwestern picked right back up where it left off. Winsnes was close to an NCAA "B" time with her 50.77, which easily won the 100 free. NU sandwiched two Oakland spots with its 1-4-5-6 finish.
The Wildcats never relented, taking three of the top four positions in the 500 free, including a first-place finish by Stello in 4:55.47, a full three seconds ahead of the competition.
The very next race saw the `Cats finish 1-2-3-4. Locke beat out teammate Malone by .04 seconds to take the title in the 100 fly. Locke finished in 56.82.
After a short rest, Stello was back at it, securing victory in the 200 individual medley during a tight race with Oakland's Patricia Aschan. Stello reached the finish a mere tenth of a second faster than Aschan in a time of 2:07.92.
Northwestern took finishes of third and fourth in both the 3-meter and 1-meter diving competitions. Both times it was Monique Demaisip (Norwalk, Calif./Gahr) in third and Mashal Hashem (Potomac, Md./Winston Churchill) in fourth.
Northwestern returns to action Nov. 7-8 in Lexington, Ky., in a quad dual meet against Kentucky, Missouri and Southern Illinois.
Northwestern Men's Press Release
Northwestern was at home for the first time this season and did not disappoint, collecting a pair of wins Saturday afternoon to move to 3-0 on the young season.
The Wildcats scored a convincing 179-112 win over UIC, while holding on down the stretch to edge out Oakland, 155-134.
NU won nine events during the double dual meet but even in events where a Wildcat did not win, the team was able to place several finishers near the top to negate points scored by the opponents.
The `Cats started in style, winning the first two events by wide margins. The Northwestern "A" team of Alex Snarski (Libertyville, Ill./Libertyville), Uula Auren (Helsinki, Finland/Makelanrinteen Lukio), Andrew Jovanovic (Chicago, Ill./Loyola) and Almog Olshtein (Haifa, Israel/Haifa) earned their stripes in the 200 medley relay, posting a 1:29.99 mark, which was a full two seconds better than the second-place finishers from Oakland.
Junior Jordan Wilimovsky (Malibu, Calif./Malibu) put on a show in the 1000 free, posting a winning time of 9:08.37 and finishing nearly 40 seconds ahead of the rest of the field. Wilimovsky's splits were nearly two seconds better than everyone else at each turn. Freshman Jonathan Blansfield (Westport, Conn./Staples) followed Wilimovsky to the finish, earning a second-place spot.
Oakland proved to be tough competition on Saturday, as the Golden Grizzlies captured six races but their efforts were thwarted by a Northwestern squad that followed close behind each time. In the 200 free, Oakland's Jorden Merrilees was the victor, but three Wildcats came in 2-3-4, putting significant points on the board. Again, in the 100 back, the Grizzlies' Aleksander Danielewski claimed first, but Northwestern finished 2-3-4.
Northwestern received efforts from all levels of experience to get back in the winner's circle. The senior Auren came out with a dominant effort in the 100 breast, posting a time of 56.37, and freshman Olshtein raced to a 20.60 first-place finish in the 50 free, finishing just shy of an NCAA "B" qualifying time.
Olshtein and sophomore Jovanovic were neck and neck out front in the 100 free. Olshtein was just a little bit faster, taking the victory in 45.38. Jovanovic finished second in 45.70.
When the team needed a spark down the stretch, Van Donkersgoed (Eden Prairie, Minn./Minnehaha) provided it in the form of a tight race to the finish against UIC's Christian Grobe in the 200 breast. Donkersgoed reached the finish in 2:05.82, besting Grobe by just .05 seconds.
Wilimovsky was a winner again in the 500 free, leading a Northwestern 1-3-4 finish in that event. He raced to the win in a time of 4:28.95, beating out Merrilees from Oakland.
Diving proved a strong point for the Wildcats on the afternoon. In the 1-meter, the Wildcats swept the top three spots, including a dominant 326.35 effort from sophomore Andrew Cramer (Indianapolis, Ind./Cathedral). He was equally as dominant in the 3-meter with a 347.0, as the `Cats again finished 1-2-3.
Northwestern returns to action Nov. 7-8 in Lexington, Ky., in a quad dual meet against Kentucky, Missouri and Southern Illinois.
Oakland Press Release
Aleksander Danielewski had three individual wins while Tricia Grant and Takara Martin were two-time winners on the women's side for Oakland at Saturday's double dual against Northwestern and UIC, hosted by Northwestern.
The Oakland men defeated UIC 169-124 and dropped a 155-134 dual to Northwestern. For the women, the Golden Grizzlies defeated UIC 204-93 and were bested by the Wildcats 180-111.
"Northwestern and UIC brought out the best of us in a number of areas today," Oakland head coach Pete Hovland said."There were a lot of close races and I think wewill benefit from them in the long run. In the areas we struggled I simply contribute it to our training regiment and I'm confident the necessary adaptations will come in the next few weeks and the necessary adjustments will be made."
Danielewski won both the 100 back (49.76) and 200 back (1:50.12) and had the fastest time in the 200 IM (1:54.26) to lead Oakland's effort. Danielewski remained unbeaten on the season in the 200 back with his win.
Adding individual wins for the Oakland men were Jorden Merrilees in the 200 free (1:39.39) and Mario Rusnak in the 100 butterfly (50.55).
For the women, Martin was victorious in both the 100 breast (1:05.17) and 200 breast (2:20.43), keeping Martin unbeaten in three outings this season in the 100 breast. Grant also remained undefeated on the year in the 1-meter and 3-meter diving events, winning with scores of 275.10 and 282.60, respectively.
Patricia Aschan also was a winner for Oakland, touching first in the 200 back in 2:04.85.
Oakland begins the home portion of their schedule with home events Oct. 31 and Nov. 1. On Friday, the Oakland women will host Ohio and Youngstown State women's teams at 6 p.m. at the Oakland Aquatic Center. Saturday, Nov. 1 will feature a men's and women's dual against Wayne State at 1 p.m. Prior to Saturday's meet, Oakland will hold a ceremony recognizing the efforts of the 2013-14 men's and women's Horizon League Championship teams.
"With our two toughest road trips now out of the way we're all looking forward to our first two home meets of the year next weekend as well as our championship ring presentationon Saturday," Hovland said.
Illinois-Chicago Press Release
The UIC swimming and diving teams were unable to overcome both Northwestern and Oakland in a dual meet Saturday. The men's squad (0-3, 0-2 HL) fell 179-112 to the Wildcats and 169-124 to the Golden Grizzlies. The women (1-2, 1-1 HL) came up short to Northwestern (211-86) and Oakland (204-93).
The highlight of the day for the Flames came in the men's 200 yard butterfly as junior Kei Ishimaru won the heat with a time of 1:50.77. Ishimaru was followed closely by teammate junior Ryota Kuwahara, who touched the wall at 1:52.76 in third place.
Ishimaru raced again in the 100 yard fly and placed fourth with a time of 51:45. Kuwahara also competed in the 500 yard free and finished in fifth (4:46.02).
Senior Mike Reed earned second place in the 50 yard free (20.99) and touched just .39 seconds behind the winner. Freshman Tanner Alms accomplished a season best in the 1000 yard free with a time of 9:52.05, which earned him third place. Junior Christian Grobe captured two top five finishes as he placed second in the 200 yard breaststroke (2:05.87) and fifth in the 100 yard breaststroke (59.61). Junior Ramiro Almaraz captured a second place finish in the 200 yard IM as he touched the wall with a time of 1:57.81.
On the diving boards, junior Mark Ciesielski earned fourth place in both the one-meter and three-meter boards with scores of 252.60 and 253.00, respectively.
The women's squad was led by two freshmen, Brianna Hines and Sophia Shlabi. The pair combined for five top-five finishes.
Hines earned three top-five finishes in her collegiate debut. She placed third in the 1000 yard free with a time of 10:21.03, third in the 500 yard free (5:01.12) and fourth in the 200 yard IM (2:08.42).
Meanwhile, Shlabi collected two top-five finishes. She placed third in the 100 yard breaststroke with a personal best time of 1:05.94 and fifth in the 200 yard breaststroke (2:25.77).
Senior diver Whitney Johnson placed second in both diving events. She scored 270.75 on the one-meter board and 238.00 on the three-meter board.
The Flames are back in action on Nov. 8 as they travel to Brown Deer, Wis. to take on Horizon League rival Milwaukee.