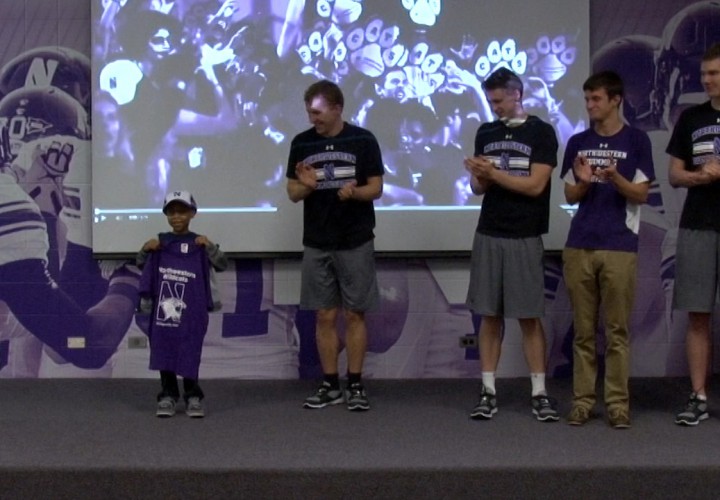 EVANSTON, Illinois, October 3. Northwestern men's swimming and diving, through a partnership with Team IMPACT, a Boston-based charitable organization, "drafted" 5-year-old Justin Henry of Evanston Thursday night to become member of the team.

Henry, who was diagnosed with sickle cell anemia at just 2-months-old, joined the squad during a 15-minute ceremony in NU's Nicolet team meeting room. After members of the team, coaching staff and administration spoke to welcome Henry and his family, the team held a formal "announcement" ceremony similar to a USA Swimming team introduction after a national meet.

Sickle cell anemia is a hereditary blood disorder characterized by red blood cells that assume an abnormal, rigid shape. Sickling decreases the cells' flexibility and results in a risk of various complications. As a toddler, Henry dealt with swelling of his hands and feet which resulted in being in-and-out of the hospital every 6-to-8 weeks. Henry also suffers from sleep apnea and an enlarged heart, which increases his possibility of stroke.

Henry epitomizes what it means to be a fighter and will serve as an inspiration to his new Northwestern teammates. To the best of their ability, Team IMPACT children become full-fledged members of collegiate sports organizations by attending practices, games and social events with their teammates and mentors.
Northwestern kicks off its season Oct. 16 at Eastern Michigan before opening its home schedule at 1 p.m. CT Saturday, Oct. 25, against UIC and Oakland. To learn more about team IMPACT, visit their website at http://www.goteamimpact.org.
The above article is a press release submitted to Swimming World. To reach our audience, contact us at newsmaster@swimmingworld.com.