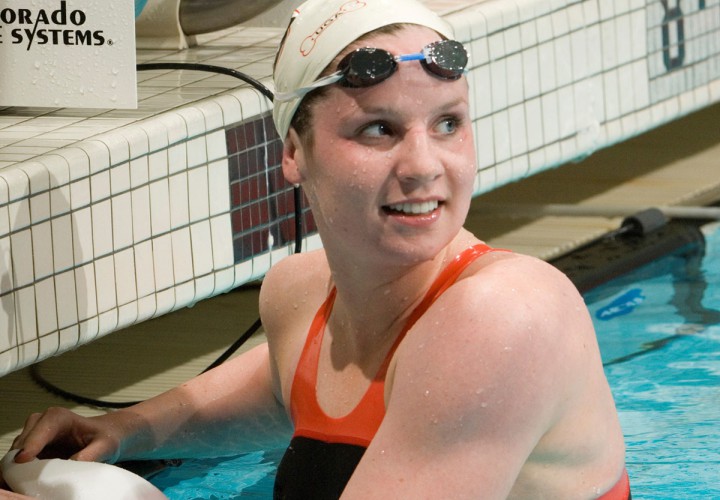 PHOENIX, Arizona, July 15. AS part of our 11-day series highlighting the National Interscholastic Swim Coaches Association's release of the 2013-14 All-America lists, Swimming World will also be looking at the history of each event that is part of the high school schedule. Today, we're looking at the 200-yard free relay. First added to the NISCA All-American lists in 1991, the 200-yard free relay has a much smaller set of history. But, there's still been some seriously fast times in just 23 years being recognized by NISCA.
Not only did Mercersburg Academy stand ahead of its time in the 200-yard medley relay in 1992, it also had an amazing outing in the 200-yard free relay.
At the 92nd Eastern Interscholastic Championships at LaSalle University in Philadelphia, the quartet of Brian Craft (21.20), Zack Gipson (20.53), Geri Hewett (20.62) and Greg Gipson (20.35) became the first high school team to ever break 1:23 in the event with a 1:22.70.
"We had four good legs that came together at one time," Mercersburg coach Pete Williams said back in 1992. "I don't think we'll duplicate that one. The relay was as fast as many college teams."
Though Mercersburg would not have scored any points in the 200 free relay at the 1992 NCAA Division I championships, the team would have finished second-to-last in the meet, beating Virginia's 1:22.89. Mercersburg would have finished fourth overall at the Division II championships that year.
Outside of Brother Rice giving the mark a run in 1996 with a 1:22.80, Mercersburg's amazing swim would stand as the top high school record until 2009 when Glenbrook South raced to a 1:22.15.
Mercersburg's time would still rank fourth in the nation this year behind only Creighton Prep (1:22.31), Bolles (1:22.32) and Loyola (1:22.57).
BOYS 200 FREE RELAY TOP TIMES PER YEAR
1991, 1:23.12, Bolles School
1992, 1:22.70, Mercersburg
1993, 1:23.15, Kingwood
1994, 1:23.75, Carmel
1995, 1:23.97, Peddie School
1996, 1:22.80, Brother Rice
1997, 1:23.25, Brother Rice
1998, 1:24.62, Brother Rice
1999, 1:23.21, St. Francis DeSales
2000, 1:23.88, Bolles School
2001, 1:24.59, Souderton Area
2002, 1:24.59, Ann Arbor Pioneer
2003, 1:23.39, Lake Forest
2004, 1:24.92, Carmel
2005, 1:23.86, Brophy Prep
2006, 1:23.60, Westlake
2007, 1:23.41, New Trier
2008, 1:23.04, Yucaipa
2009, 1:22.15, Glenbrook South
2010, 1:22.74, Montgomery Bell
2011, 1:21.01, Hershey
2012, 1:22.91, LaSalle College
2013, 1:19.27, Bolles School
2014, 1:22.31, Creighton Prep
During the 2002-03 season, future four-time Olympic silver medalist Kara Lynn Joyce revolutionized high school sprinting at the Michigan High School State Championships. Swimming for Ann Arbor Pioneer, Joyce put up what was called "a virtuoso performance not likely to be rivaled in the near future," by Swimming World in the February 2003 issue.
Joyce clocked a national high school record 22.04 as the leadoff for Pioneer's amazing 200-yard free relay record of 1:32.77.
"Setting a national record by yourself is one thing, but being able to share it with three other people on a relay makes it even more special. We did something pretty amazing together," Joyce told Swimming World in 2003.
Joyce was joined by Margaret Kelly, Jennifer Merte and Leigh Cole as part of the record-breaking swim.
By the time Joyce's efforts at her Michigan state championships were said and done, she had been involved in setting or resetting five national records and seven state records. That included a 48.69 in the 100 free, and a 1:46.75 in the 200 free.
Pioneer would have place well this year on the NISCA All-American lists, as the 1:32.77 from 2002 would have placed third in the nation this year. Only Carmel (1:31.37) and Bolles (1:32.74) were faster.
GIRLS 200 FREE RELAY TOP TIMES PER YEAR
1991, 1:35.69, Zeeland
1992, 1:36.59, Germantown Academy
1993, 1:34.98, Pine Crest
1994, 1:35.26, Xavier Prep
1995, 1:34.63, Peddie School
1996, 1:35.78, Peddie School
1997, 1:36.18, Cheshire
1998, 1:35.19, Bolles School
1999, 1:35.12, Trinity Prep
2000, 1:34.54, Saint Charles
2001, 1:35.93, New Trier
2002, 1:35.28, Ursuline
2003, 1:32.77, Ann Arbor Pioneer
2004, 1:34.86, Lake Forest
2005, 1:35.08, Peddie School
2006, 1:34.92, Ann Arbor Pioneer
2007, 1:33.76, Peddie School
2008, 1:33.83, West Des Moines Valley
2009, 1:32.75, Carmel
2010, 1:33.90, Bolles School
2011, 1:32.63, Baylor School
2012, 1:31.18, Baylor School
2013, 1:32.35, JSerra Catholic
2014, 1:31.37, Carmel
2013-14 NISCA Girls High School All-Americans

2013-14 NISCA Boys High School All-Americans

NOTE: All America times have to be submitted to NISCA by a certain deadline in order to make the 2014 All-American list. Coaches can submit times here: http://www.niscaonline.org/aaswimming/. Corrections can also be submitted to NISCA via three emails: Boys Swimming contact: boysswaa@niscaonline.org; Girls Swimming contact: girlsswaa@niscaonline.org; Boys and Girls Diving contact: aadiving@niscaonline.org
This is the eighth day of what will be an 11-day showcase of the NISCA All-American program. Swimming World is proud to partner with NISCA to provided a global spotlight on high school swimming in the U.S., and will be talking to some of the top movers and shakers in high school swimming this week as part of the Morning Swim Show. Additionally, we'll be taking a look back at some of the best of the best high school swimmers historically.
To access high school All-Americans all the way back through 1974, purchase back issues of Swimming World Magazine!
For more incredible high school content, make sure to subscribe to Swimming World TODAY to make sure you get our High School Swimmers of the Year (August) and High School National Champions of the Year (September) issues.