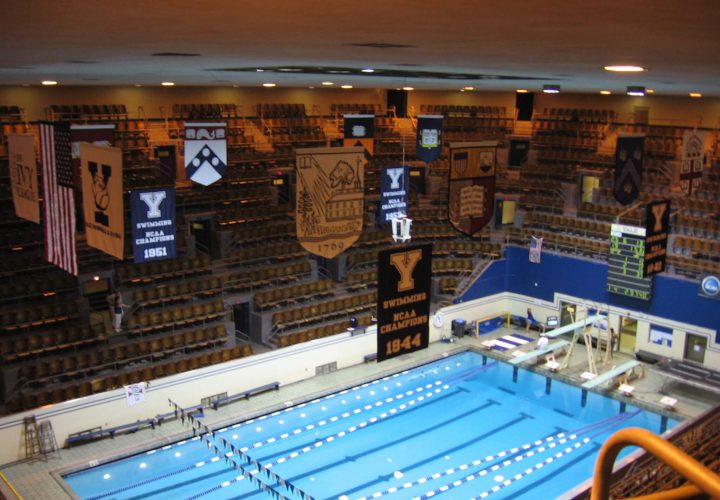 NEW HAVEN, Conn. – The Yale men's swimming & diving team will welcome nine new team members into the family for the upcoming 2019-20 season. The new student-athletes include eight swimmers and one diver, bringing a variety of experiences and covering a wide range of events. They will join the other returning members of the Bulldogs along with a veteran coaching staff in continuing to build the legacy of Yale's program.
Yale Men's Swimming & Diving Class of 2022:
Cristian Bell
Backstroke / Butterfly / IM
Hometown: Egg Harbor Township, N.J.
High School: Egg Harbor Township High School
Club: Egg Harbor Seahawks
Best Times:
100 Back: 49.07
200 Back: 1:46.59
100 Fly: 49.78
400 IM: 3:59.68
Winter and Summer Junior National qualifier and finalist… Three-time Scholastic All-American… Two-time NISCA All-American… High school team captain for Junior and Senior year… NJSIAA scholar-athlete award.
Why Yale: " I have always wanted to attend a school that would challenge me both in the classroom and in the pool. Yale's world-class education and competitive swim team seemed to offer all that and more and after going on my recruiting trip and meeting the coaches/team I was blown away by everything I saw. I truly felt like there was no better place for me."
Michael Blank
Freestyle / Backstroke / Butterfly
Hometown: East Windsor, N.J.
High School: Peddie School
Club: Peddie Aquatic Association
Best Times:
50 Free: 20.34
100 Fly: 49.36
50 Back: 22.31
100 Back: 49.91
Questbridge National Scholar, High school team Captain, Four-time All-American, Winter Junior Nationals third-place finish.
Personal: Born in Moscow, Russia… speaks three languages… has two sisters Nika and Rena.
Why Yale: "When I visited Yale I felt an atmosphere of ambition and desire to improve that was contagious among the team and coaches. This, along with the impressive history of Yale University and Yale Swim and Dive makes me think that Yale is the perfect fit for me."
Liam Bogart
Freestyle / Backstroke / IM
Hometown: Scarborough, N.Y.
High School: Hackley School
Club: Empire Swimming
Best Times:
500 Free: 4:30.60
1000 Free: 9:23.65
200 Back: 1:49.50
400 IM: 3:58.78
Scholastic All-American…holder of four club team records and three high school team records… Captain of high school swim team.
Personal: Dual citizen (US/Canada)… Middle of three children (older sister at Dartmouth and younger sister a grade below at boarding school)… Sports enthusiast.
Why Yale: "I chose Yale because of its amazing coaching staff and the feel of the team, and the opportunities that Yale gives me both in the pool and in the classroom."
Evan Schott
Freestyle / Butterfly
Hometown: New Haven, Conn.
High School: Hopkins School
Club: Bulldog Swim Club
Best Times:
50 Free: 22.03
100 Free: 48.49
100 Fly: 52.33
Captain of Varsity swim team… Connecticut Swimming Scholar-Athlete… Member of two high school record relays.
Personal: Interested in studying computer science… Going to road trip across the U.S. for summer after high school… Father swam at Penn.
Why Yale: "I love Yale for the endless stream of opportunities it presents me. I will have the fortune of being a part of a supportive and dedicated team, all the while being able to learn from the premier professors and coaches of the world."
Andrew Schuler
Breaststroke / Butterfly / IM
Hometown: Zionsville, Ind.
High School: Zionsville High School
Club: Blackline Aquatics
Best Times:
100 Breast: 55.17
200 Breast: 2:02.75
100 Fly: 48.99
200 IM: 1:48.71
Former national record holder in the 200 medley relay… 2017 US Open Qualifier… Two-time relay Indiana State Champion.
Personal: I enjoy smooth jazz, long walks on the beach, and fishing.
Why Yale: "I chose Yale because I seemed to get along really well with the team on my recruiting trip, and Jim's enthusiasm for swimming and academics made a great impression on me."
Nathan Stern
Freestyle / Butterfly
Hometown: Bangkok, Thailand
High School: The Peddie School
Club: Peddie Aquatics Associations
Best Times:
50 Free: 20.55
100 Free: 44.74
200 Free: 1:39.78
100 Fly: 49.56
Three-time NISCA All-American… School Record holder in 200 freestyle and medley relays… Member of Thai National Youth team since the age of 12… Current Member of Thai National Team… Medalist at SEAAGE Swimming Championship… Recipient of the Robert l. Ballou Memorial Trophy and the Clinton l. Sprout Swimming Cup… Former NJ 13-14 Age Group State Record Holder in the 50 and 100 Freestyle.
Personal: Holds Dual Citizenship (Thailand and Croatia)… Member of the Cum Laude Society…Has two siblings, a younger brother, and older sister… Plans to study engineering
Why Yale: "I loved the people I met. I felt the atmosphere at Yale is one I can thrive in. I felt welcomed and I am extremely excited for the next four years!"
Owen Stevens
Diving
Hometown: Darien, Conn.
High School: Darien High School
Club: Whirlwind Diving
Best Scores:
1-meter (11 dives): 505.35
3-meter (11 dives): 507.55
Seven-time USA Diving National Qualifier… USA Diving Junior National Finalist… USA Diving 1-meter Zone Champion… Two-time USA Diving Regional Champion… Two-time NISCA All-American… 2018 Connecticut Class L State Champion.
Personal: Coached diving at the Milbrook Club during the summer… Used to be a swimmer before, but decided to switch to diving at 10 years old… Member of the National Honor Society… has older brother who plays lacrosse at Skidmore College.
Why Yale: "Yale was the perfect choice for me because I felt right at home when I visited campus in September. The team was welcoming, the coaching staff is incredible, and the opportunities at Yale are endless.
Felix Van Cauwelaert
Freestyle / Backstroke / IM
Hometown: Dallas, Texas
High School: Highland Park High School
Club: Dallas Mustangs
Best Times:
100 Free: 45.99
200 Free: 1:38.06
500 Free: 4:30.15
200 Back: 1:49.82
400 IM: 3:56.63
Current Texas 5A record holder in the 200 Medley Relay… Winter National and Summer Junior National qualifier… Two-time State Champion… Holder of five high school swimming records
Personal: One of three children (older brother swims at Johns Hopkins)… Swim coach for Special Olympics… Plans on studying economics and psychology.
Why Yale: "I chose Yale because I immediately felt at home there. Everything from the excellent academic opportunities to the tight-knit communities makes me feel welcome and excited to join Yale in the Fall."
Calvin Yang
Breaststroke / IM
Hometown: Belmont, Mass.
High School: Belmont High School
Club: Crimson Aquatics
Best Times:
100 Breast: 55.08
200 Breast: 1:58:10
200 IM: 1:51.15
400 IM: 3:57.16
Former New England recorder holder for both 100 and 200 Breast in both LCM and SCY… Qualified for Junior Nationals… World Championship Trials… Olympic Trials Qualifier… 2015 New England Champions LCM and SCY.
Personal: Loves dogs… likes building computers… qualified for Olympic Trials at 15…first generation to go to college.
Why Yale: "I felt that Yale is full of incredible people that'll help me pursue both my education and academics. I am proud to say that I will be able to contribute to this strong and developed program, and helping it even further it is even more exciting."
The above press release was posted by Swimming World in conjunction with Yale University Athletics. For press releases and advertising inquiries please contact Advertising@SwimmingWorld.com.