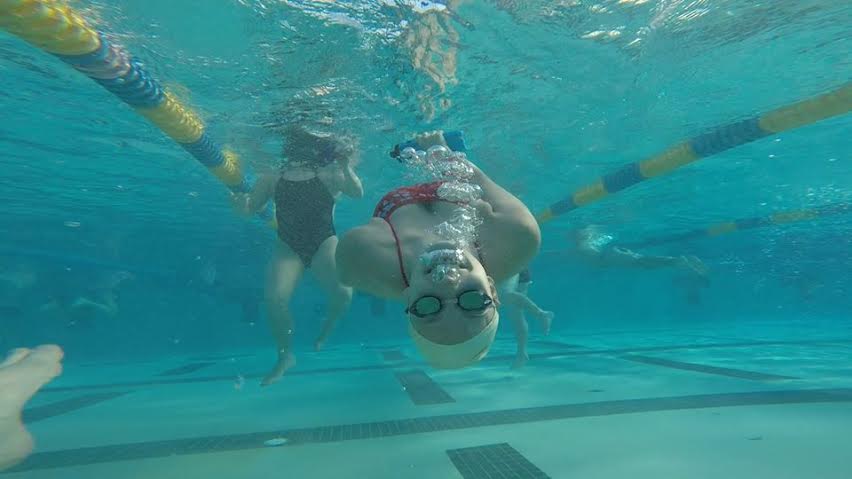 By Kelley Baylis, Swimming World College Intern
Emily Medeiros, sophomore on the Springfield College women's swim team, has been lighting up the pool this year, and has come into her own as a NEWMAC swimmer.  A second year collegiate athlete, Medeiros knows what to expect week to week, which she has used to her advantage.
"Last year was a huge adjustment for me! It was pretty difficult going from a club swim team where you can skip practice on a heavy homework night to a collegiate team where practice is never optional," Medeiros said.
Medeiros shows strength in breaststroke, IM, and butterfly events. In meets you can catch her touching first in events such as the 50 and 100-yard breaststroke. She's shown off some sprint power recently in the 50-yard butterfly for Springfield, touching the wall at 27.96 at a meet against Amherst College.
"This year, it's much easier for me to stay positive through our long season because I now know exactly what to expect. I know when the toughest weeks of the year are, and I know that when we get through them we will be rewarded with great swims at championships. This year is also better because I feel closer to my friends on the team. We have such a great group of ladies on the team and its amazing getting to lean on each other," she said.
As every swimmer knows, swimming is a mentally draining sport. As a freshman, Medeiros, like all other first years, did not know what to expect.
"I have learned from my coaches and teammates that attitude makes all the difference in the world. Positive and negative attitudes are both highly contagious and this year our team has had an incredibly positive attitude. This has created a fun environment and made those long, hard workouts much more bearable," she explained.
Along with the incredible learning experience that comes along with each passing year, Medeiros shared how she has changed her training from last year to this year.
"I worked on my pulling and freestyle this year which has really helped me personally keep up during freestyle sets that the team does all together," she said.
With New England Men's and Women's Athletic Championships (NEWMAC) rapidly approaching, Medeiros is looking forward to another successful meet.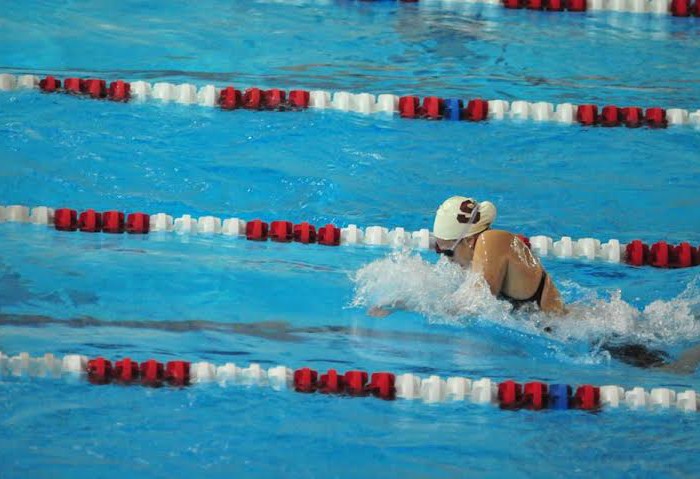 "I can't wait to see how the hard work everyone on the team has put in since September pays off. I love the energy you feel at championship meets when teammates go lifetime bests and everyone just feeds off of each other's positive energy. On a personal level, I can't wait to swim my favorite event, the 100-yard breaststroke. I am also excited to see what our 400 Medley Relay team can do!" she explained.
Medeiros isn't changing her lineup much from last year.
"Last year at NEWMACs, my individual events were the 100 Fly, 100 Breast, and 200 Breast. I was very happy with my times in each of those races! I'm changing my lineup this year to be the 200IM, 100 Breast, and 200 Breast, so I have only one individual event per day to focus on," she said.
Medeiros shared her pre-meet rituals with me.
"Before races I like to warm up a while before my event and give myself time to dry off and get warm. I always listen to music basically until they say take your mark!"
As the taper meets starting to pick up, look forward to seeing Medeiros behind the blocks at this years' NEWMAC.