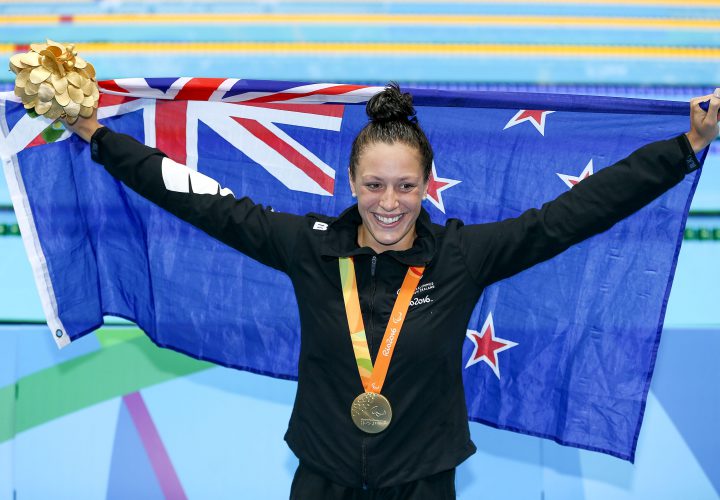 Photo Courtesy: Getty Images
New Zealand's most decorated paralympian, Sophie Pascoe, heads a team of nine para swimmers to compete at the 2018 Pan Pacific Para Swimming Championships in Australia from August 9-13.
Also in the team is three-time paralympic gold medallist Cameron Leslie, and Rio paralympians Jesse Reynolds, Tupou Neiufi and Hamish McLean.
Christopher Arbuthnott and Celyn Edwards will return to Australia following a plethora of personal best times at the Commonwealth Games earlier this year. Bryall McPherson will make her return to international competition, while Amanda Lowry will make her international debut after only six months in the para swimming programme.
Paralympics New Zealand High Performance Director Malcolm Hunn is thrilled with the quality of the team.
"The last championships were held in 2014 in California where the New Zealand Para Swimming Team won 13 medals. This team will once again be aiming for multiple podium finishes as we build towards the Tokyo 2020 Paralympic Games."
Pascoe, currently based in the UK with some of the best in the sport in preparation for Tokyo 2020, will bid farewell to training partner Ollie Hynd, one of Britain's most successful Paralympians and his celebrated coach Glenn Smith. She will be reunited with her long-time coach Roly Crichton next month as they put the training to the test in Cairns.
Leslie has set himself a challenge of competing in pinnacle events for wheelchair rugby as well as swimming, and will compete in the IWRF Wheelchair Rugby Championships in Sydney, before heading to Cairns to focus on his favoured event, the men's 150m IM.
Paralympians Reynolds and Neiufi, and para swimmers Arbuthnott and Edwards will return to Australia following their performances in the recent Commonwealth Games. Reynolds and Edwards were just outside of the medals at these games, collectively placing fourth three times by the narrowest of margins.
Paralympian Hamish McLean is looking to improve on his performances in Rio as he continues to build his international experience, whereas McPherson won a national title at last week's New Zealand Open Championships, securing her selection to the team.
International debutant Lowry only been part of the New Zealand para swimming programme for six months. The championships will be just her third meet, and will be an incredible development opportunity as she builds her experience in high performance environments. Rio gold medallist and world record holder Mary Fisher has made herself unavailable for selection.
New Zealand Para Swim Team:
| | | | | |
| --- | --- | --- | --- | --- |
| Name | Classification  | Impairment/Disability  | Club | Resides |
| Sophie Pascoe | S10/SB9/SM10 | Limb deficiency (Amputee – left below knee) | QE11 | Christchurch |
| Celyn Edwards | S8/SB8/SM8 | Limb deficiency (Amputee – left upper arm) | Selwyn | Christchurch |
| Jesse Reynolds | S9/SB8/SM9 | Limb deficiency (Proximal Focal Femoral Deficiency PFFD) | Fairfield | Auckland |
| Christopher Arbuthnott | S9/SB9/SM9 | Limb deficiency (Congenital – right below elbow) | Ice Breakers | Auckland |
| Tupou Neiufi | S9/SB8/SM9 | Hypertonia/Left side hemiplegia | Howick Pakuranga | Auckland |
| Bryall McPherson | S8/SB8/SM8 | Limb deficiency (Amputee – right through shoulder) | North Shore | Auckland |
| Cameron Leslie | S5/SB3/SM4 | Limb deficiency (Congenital all 4 limbs) | Whangarei | Whangarei |
| Hamish McLean | S6/SB6/SM6 | Short stature (Achondroplasia) | Wanaka | Christchurch |
| Amanda Lowry | S3/SB2/SM3 | Loss muscle power (Tetraplegia) | Otumoetai | Tauranga |
The above press release was posted by Swimming World in conjunction with Paralympics New Zealand. For press releases and advertising inquiries please contact Advertising@SwimmingWorld.com.