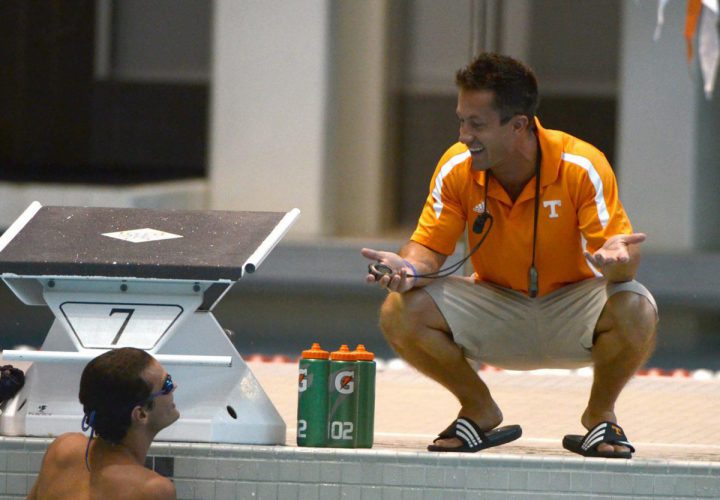 Photo Courtesy: Tyler Fenwick
Tyler Fenwick, who spent the past five years as an associate coach at the University of Tennessee, has taken a job as the associate head coach at the University of Virginia. He joins head coach Todd DeSorbo, hired last week to replace Augie Busch at the helm of the Cavaliers.
"The opportunity to work with Todd DeSorbo, get back to Virginia, get closer to home, it's exciting," Fenwick told Swimming World. "I spent a lot of time at the University of Virginia when I was in college and after college. A lot of my best friends are University of Virginia alums. I have a lot of love for University of Virginia swimming."
Also joining the Virginia staff as assistant coaches are Wes Foltz and Blaire Bachman. Foltz previously worked with DeSorbo at NC State, serving as Director of Operations and an assistant coach in the sprint group, but he will now coach full-time. Bachmann spent the past year at Indiana after previously coaching at Dartmouth.
Fenwick, who specializes in coaching distance and open water swimmers, is currently in Southern California, where he is serving as head coach of the U.S. open water team heading to Taipei for the World University Games, but he has already officially started at Virginia.
Fenwick explained that the toughest part about his decision to go to Virginia was leaving Tennessee, and he will miss working alongside Vols head coach Matt Kredich.
"I'm extremely grateful to Matt Kredich and the opportunity he gave me over the years," Fenwick said. "Matt Kredich is the reason I went to Tennessee, first as a grad assistant and then as an assistant coach. He's one of my closest friends and my biggest mentors.
Fenwick expects no shortage of enthusiasm on pool deck in Charlottesville with he and DeSorbo both on deck. "I'm excited about Todd's vision for the program," he said. "In terms of coaching philosophies, we want people who are constantly learning and discovering."
One big reason why a job at Virginia attracted Fenwick: his longtime friendship with the late Fran Crippen. Crippen and Fenwick swam together at Germantown Academy in Philadelphia growing up, and Fenwick often visited when Crippen was in school at UVA.
"Fran's a piece of this," Fenwick said. "One of the seasons I coach open water is Fran Crippen. It's my way to honor him. Being able to return to Charlottesville and be able to coach at the pool he trained at, it's an exciting opportunity."
Read the full press release from Virginia below:
The Virginia swimming and diving programs announced the addition of Tyler Fenwick, Blaire Bachman and Wes Foltz as assistant coaches on Friday (August 18).

"I am excited to announce the addition of three exceptional coaches joining me to complete the staff at UVA," said head swimming and diving coach Todd DeSorbo. "All three mirror my philosophy and will provide great support to our student-athletes' pursuit of excellence."

Fenwick joins the coaching staff, as the associate head men's and women's coach, after serving as the associate head coach at Tennessee since 2012. During his time with the Volunteers, he coached four U.S. Olympians, 200 All-Americans and saw his student-athletes set 36 school records.

"Tyler Fenwick comes from a storied Tennessee program and led the distance group there to national prominence including success at the international level," DeSorbo said. "His experiences with Team USA internationally will help direct our athletes to future NCAA and international success. He is well respected in the swimming community and has a great reputation for developing student-athletes at the highest levels. He is currently wrapping up a stint as part of Team USA's coaching staff for the World University Games in Taiwan."

Prior to Tennessee, Fenwick coached the men's national team as a senior coach. While working with the U.S. national team, Fenwick coached two 2012 FINA world junior champions, the 2012 U.S. Open Water men's national champion, one U.S. national champion and one U.S. junior national champion.

Fenwick served as the assistant coach for Germantown Academy Aquatic Club in Fort Washington, Pa., from 2004-07 and the assistant coach for the University of Tennessee aquatics program from 2007-09. He additionally was the U.S. head coach for the 2015 and 2017 World University Games and the 2017 UANA Pan American Championships. Fenwick served on the U.S. national team coaches list for five of the past six years.

Fenwick holds a bachelor's degree in English from William and Mary and a master of science degree in sports management from Tennessee.

Bachman joins UVA after serving as the assistant swimming coach and women's recruiting coordinator for Indiana since 2016. Her primary responsibility was to oversee the middle distance and distance training groups. With the Hoosiers, Bachman served as the primary coach for 2016 Olympic gold medalists Lilly King, Cody Miller and Blake Pieroni, as well as aiding the program's 2017 World Championship and World University Games qualifiers.

"Blaire Bachman comes to UVA from the quick-rising Indiana program where she has been the key to their recent success in women's recruiting," DeSorbo said. "She has had the great opportunity to work directly with recent Olympic and world championship medalists, world record holders, and NCAA champions. Blaire will make an immediate impact with our program as she has five years of experience as a head coach, experience at a comparable Ivy League institution, as well as her most recent experience with a top-10 NCAA Program at IU."

Prior to working at Indiana, Bachman spent a year as the assistant swimming coach and women's recruiting coordinator for Dartmouth. From 2010-15, she worked as the head swimming coach at Brenau University administering year-round training. Bachman started her coaching career as a camp counselor and coach for the Georgia Bulldogs Swim Club (2012-2016).

Bachman received a bachelor of arts degree in mass communication from Georgia College and State University.

Rounding out the new additions to the Virginia coaching staff is Foltz. Foltz spent the last year as an assistant coach at NC State helping the program achieve one of its best performances in recent history. Foltz helped coach 34 male and 25 female All-American performances as well as aiding both programs to a top-10 NCAA finish. Additionally, he had a hand in the Pro Group Wolfpack Elite's success over the last year including a World Championship title by Simonas Bilis and a third-place finish for Cullen Jones at the 2017 U.S. World Championship Trials.

"Wes Foltz previously coached alongside me at NC State. He brings youth, energy and expertise through working with some of college swimming's best over the last five years," DeSorbo said. "Prior to NC State, he spent his days coaching alongside legends Dave Salo and Jon Urbanchek at Southern California. Wes is one of the best, young, up-and-coming coaching minds in college swimming and brings an energy unmatched to the pool deck every day. He's also worked with Olympic medalists, world championship medalist and NCAA champions."

Prior to NC State, Foltz worked at Southern California (2014-16) as the assistant coach, helping the program record 64 All-American performances. During this time, the women's program captured the 2016 Pac-12 conference championship and a sixth-place finish at the NCAAs. The men's team recorded the conference title in 2015 in addition to finishing fourth at the NCAAs.

From 2012-15, Foltz was a volunteer assistant coach for NC State in addition to working with the Marlins of Raleigh swim team (2012-14) as an assistant coach.

"With the addition of these three to the UVA staff, along with mainstays Jason Glorius, our leader for the diving program, and Lizzy Lagasse, our director of operations, the UVA programs are poised for success," DeSorbo said. "This staff is engineered to the exact specifications to meet the needs of championship athletes. The environment on the pool deck will be electric and our commitment to excellence will be uncompromising."