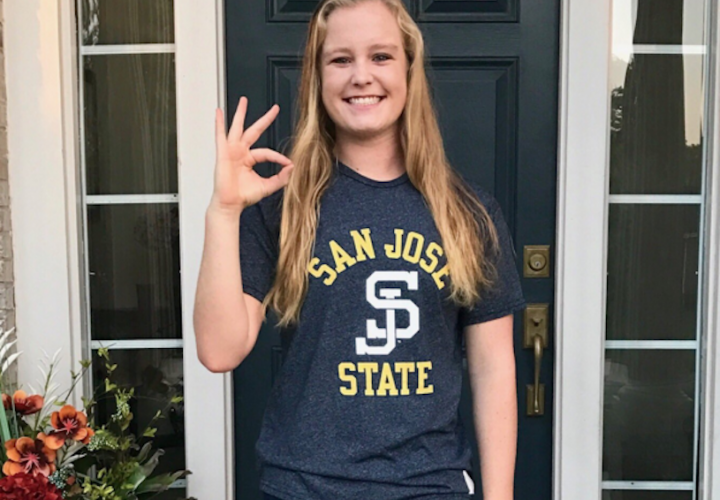 Photo Courtesy: Shelby Mullendore (Twitter)
Agon is the proud sponsor of all high school coverage (recruiting, results, state championships, etc.) on SwimmingWorld.com. For more information about Agon, visit their website AgonSwim.com.
To report a college commitment, email HS@swimmingworld.com. Join Swimming World's Watch List
NEW COMMIT: Shelby Mullendore will head to San Jose State University next fall after giving her verbal commitment to swim for the Spartans.
The freestyler/backstroker from Lincoln, Nebraska swims for Heartland Aquatics and is a senior at Lincoln Southwest High School.
Her best times are:
200 Free 1:53.45
100 Free 52.66
50 Free 24.28
200 Back 2:04.92
100 Back 56.98
50 Back 27.21
Lincoln Southwest won the Nebraska high school girls swimming state title last February. Mullendore finished second to her teammate with a 1:55.65. She added to that a third place (53.04) finish in the 100 free. She also anchored the team's winning 200 and 400 freestyle relays en route to the state crown. The team also won the meet in Mullendore's sophomore year. In 2016 she was second in the 100 free with a 52.66.
At San Jose State Mullendore will join a sprint free group that will still include Kimberlee Giggey (51.37) who will be a senior. Brenna Bushey (23.45) and Antionette Loya (23.56) were Mountain West 50 free C finalists last year. They'll overlap with Mullendore for one and two years, respectively. With her lifetime best time, Mullendore would have snuck into the 100 backstroke C final, scoring points at last year's meet. Only junior Colleen Humel (53.74) scored for the team in that event last year.