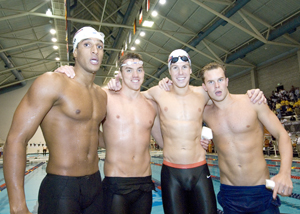 FEDERAL WAY, Washington, March 28. "U of A, U of A, U of A" rang out from the Wildcats' cheering section after Arizona claimed the NCAA meet record with a victory in the 800 free relay at the NCAA Division I Men's Championships.
The foursome of Jean Basson (1:34.09), Darian Townsend (1:31.79), Joel Greenshields (1:33.75) and Nicolas Nilo (1:33.22) recorded a time of 6:12.85 to wipe out the 6:14.14 set by the Wildcats in last year's victory.
Arizona grabbed the title for the third time in a row with wins also coming in 2006 (6:16.67) and 2007 (6:14.14). That is the longest streak since Texas owned the event from 1998 to 2001, a four-year span.
"It's not the first time I've anchored the relay and I'm really glad they put the confidence in me and when you are in that situation right there you have to represent yourself and your entire team," Nilo said. "You are here to accomplish something and I was representing Arizona, not Nicolas Nilo, just Arizona and I am glad I did well."
Texas' foursome of Dave Walters, Matt McGinnis, Michael Klueh and Ricky Berens, the same four that set the American and NCAA record during Big 12s with a 6:10.55, placed second in 6:16.54.
Tennessee's quartet of Jonas Persson, Nolan Morrell, Andrew Thirlwell and Michael Wolfe rounded out the top three in 6:20.61.
Heading into the final day of swimming, Arizona owns a 91-point advantage over Texas, 376 to 285. Stanford (231), California (222.5) and Auburn (213) are the only other teams with more than 200 points.