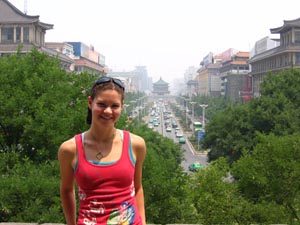 Special to Swimming World by Justin Kischefsky
ANNAPOLIS, Maryland, October 17. AS the setting sun casts its last, fading light over Annapolis, it slowly begins its ascent half a world away over Beijing, China. It is there, and then, at the ancient city's Capital Normal University, where Navy swimmer Kelly Zahalka arises to begin another day of classes.
Zahalka, and a handful of her Navy classmates, are spending the 2008 fall semester as exchange students at the school located 12 time zones away from the home of the Brigade of Midshipmen. An honors history major with a Chinese minor at Navy, Zahalka is taking classes at the school on China's philosophies, politics and its future. She lives with a Chinese roommate and the only language used by the two in their room is Mandarin.
"My father works a lot with Chinese clients and in China in the fuel additive industry, so I was introduced to China at an early age," said Zahalka, via e-mail, of her interest in the country. "I was intrigued by the character based language and expansive history of China. I've always been interested in people with a different way of looking at things than me, because it helps me see outside myself and understand the world around me better."
Swimming also has been a part of Zahalka's life since she was born 21 years ago in St. Charles, Ill. The youngest of Tom and Cathy Zahalka's two daughters, she took her first swimming lesson when she was just 18 months old, primarily for her safety during family vacations to the Great Lakes. She joined her first competitive swimming team at the age of four which, in her words, consisted of her "really just struggling to finish one length of the pool." Two years later her family moved to Richmond, Va., and she joined the NOVA swim club, where she began training and competing year round.
"At first I swam because my sister swam and my friends swam," said Zahalka. "It was more of a social event than anything competitive. I don't think any of us ever predicted what role swimming would later play in my life.
"Every year I added one more practice to my weekly routine, until by my junior year of high school I was doing 10 two-hour sessions in the water a week plus several dryland sessions. There was never really a conscious effort on my behalf to devote so much of my time to swimming; it just kind of evolved. Throughout my career, I always optimistically believed that I could swim faster, so stopping was never something I considered."
While in high school, she would help her club team win four state titles. Individually, she was tabbed as the league swimmer of the year twice during her career, scored the most points at the state meet in both 2003 and '04 and competed at the 2004 U.S. Olympic Team Trials.
With those accolades in hand, it was no surprise that Zahalka had offers to swim on the collegiate level at schools such as Michigan, Arizona State, Texas A&M and Southern California. Several of her high school and club teammates attended Navy, however, and it was based on her respect for them that Zahalka decided to visit The Yard.
"As soon as I stepped onto campus, I began to feel that the Naval Academy was where I was supposed to be," said Zahalka. "From a swimming standpoint, the team was great and swimming wasn't their job – it was a place for them to train and work hard together, but also an escape from the military demands during the day. I wanted swimming to be something that I looked forward to everyday instead of something that I had to do to keep a scholarship.
"Outside of swimming, the Naval Academy really fit with what I was looking for coming out of high school. It was a place where I could immediately step into a role of service. Academic, athletic and personal pursuits at the Naval Academy are never solely for oneself. We pursue these things to become better leaders in the military upon graduation to serve our country. I couldn't pass up the opportunity to be a part of a community of people who shared this same sense of service with me."
As with China and swimming, the importance of service has been with Zahalka since she was young and it too began with her family.
"Everyday before dinner my family says what we are thankful for on that particular day," said Zahalka. "This practice has made me realize that I have been blessed with so much in my life. Serving for me is a way to show my appreciation for all that has been given to me. These feelings come from my family and my faith."
Zahalka has excelled both in the classroom and as a member of the Brigade at Navy. Not only has she attained a 4.00 grade-point average in each of her six completed semesters at the school, she also has been consistently ranked among the top few members of her class on the Academy's Military Order of Merit.
Her swimming ability also has continued to improve since her arrival at Navy. Zahalka holds Navy records in both the 200 butterfly and the 400 individual medley events and she is the second-fastest swimmer in Navy history in the 200 IM. She has posted NCAA 'B' cut qualifying times in several events during each of her three seasons.
After winning the Patriot League title in the 400 individual medley event during her freshman year, she won the 200 fly, both individual medley events and a pair of relay crowns at the 2007 Patriot League Championship to help Navy win the team title. For her efforts at the meet, Zahalka earned the Patriot League Swimmer-of-the-Year accolade.
"In a sport where the athletes often post the best times of their career in high school, Kelly has continued to improve on a regular basis," said Navy women's swimming head coach John Morrison. "Her posting NCAA provisional qualifying times in multiple events each year hasn't been done before at Navy. That she has done so while finding the proper balance between athletics and academics only makes what she has achieved all the more impressive."
While coaches stress to athletes that when they are in practice they need to separate themselves from academics for those few precious hours, often times Zahalka would be thinking of both aspects of her life at the same time. During her sophomore year, for example, she was consumed with ideas for a paper she had to write.
"Not just once, but on numerous occasions, Kelly would stop after one of her swims during the practice set and quickly yell at me to come down to her lane," remembered assistant coach Rob Lias. "From there, she'd ask me to write down different ideas for this paper. At times she'd asked what I'd written for her, think it over, do her next swim, come back and say 'I like it, but change the wording to this.'
"During that entire week, her swimming never suffered. It was one of those things where the mind kind of forgets what the body was doing. She knew what she had to do for the set and she did it. She was still swimming fast and hitting the times that were set for her, but all the while her thoughts were of something outside of the pool. We tell the swimmers to come in and try to forget about their day outside the pool and let a new one start in the water. This is mostly because for many of them the thinking of the constant pressures of class will take away from the practice. But not for Kelly; she was doing both and she made it look easy."
At the end of her sophomore year, Zahalka started to receive regional and national recognition for her all-around achievements. She was selected as the 2007 Patriot League Scholar-Athlete of the Year for her sport and garnered Third-Team Academic All-America honors for at-large sports from ESPN the Magazine and the College Sports Information Directors of American (CoSIDA).
Zahalka's junior year began with a few additional challenges, but it ended with what she feels was her crowning moment in swimming.
"Kelly's junior year was difficult," said Morrison. "She took on a big job as the Brigade Sergeant Major, her boyfriend, now fiancee', was at SEAL training, she was the defending league swimmer of the year, was starting to go through the application process for some major scholarships and still had a 4.00 GPA going. Putting together all of the aspects of her life was a challenge, especially with her desire to accept nothing but excellence out of herself at everything she does."
After Zahalka completed a regular season that saw her total 24 individual event wins in 37 races, the year would culminate with the three-day Patriot League Championship in Navy's Lejeune Hall, during which she would attempt to defend each of her three individual event crowns. First up for Zahalka was the 200 individual medley event. After Colgate's Erin McGraw and Zahalka posted the two fastest times during the morning trial heats of the event, Zahalka swam a career-best time in the final but was edged for the title by McGraw by eight-tenths of a second.
As in the 200 IM, Zahalka was seeded second coming out of the morning trial heats of the 400 IM that was held on day two of the meet. Trailing by one-half of a second after the opening butterfly portion of the final to Colgate's Carin Guyett, the morning's fastest swimmer, Zahalka had taken over the lead by an identical amount of time halfway through the backstroke. Her advantage only grew over the remainder of the race to give Zahalka her third consecutive 400 IM title and her fifth career league championship in a time that was second only to her own Navy and league record. Additionally, it fueled her confidence and excitement for the 200 fly event on the following day.
When the water had settled after the conclusion of the morning round of racing on the last day of the championship, McGraw's time of 2:03.93 was the fastest clocking of the 200 fly. Zahalka finished with the third-best performance of the session, two seconds behind McGraw and seven-tenths of a second in back of Guyett, who earlier in the year had broken Zahalka's Patriot League record in the event. Their respective efforts meant the three swimmers would be in adjacent lanes for the finals that night.
It would turn out to be the race of the championship.
Soon after the swimmers hit the water in the final, teammates McGraw and Guyett built a slight gap between themselves and Zahalka. After the opening 50 yards, Zahalka found herself in third place, four-tenths of a second in back of McGraw and three-tenths of a second behind Guyett. While the three swimmers would hold their respective places at the midpoint of the race, McGraw had opened up her lead over Zahalka to one-half of a second. Zahalka then started to make her move as the athletes neared the turn that signified they had completed 150 yards. She was still in third place with those 50 yards and one full lap remaining, but the difference between her and the leader was down to just two-tenths of a second … and Zahalka was seemingly slicing into it even more with every kick.
As the athletes approached the 175-yard mark of the race, Zahalka found still another gear. She went from being in third place heading into the final turn to swimming neck-and-neck-and-neck with the leaders just after it. With the finish line less than 20 yards away and the three swim caps bobbing in-and-out of the water in a row and in rhythm, Zahalka propelled herself through the water with every stroke. When the three respective arms hit the wall in a margin too close for every eye in the building to distinguish the final placings, an anxious silence replaced the cheering from the standing crowd as all heads in the natatorium were quickly turned towards the scoreboard.
The roar from the Navy contingent returned when they saw a "1" placed next to Zahalka's lane number. She had not only won the race by two-tenths of a second, she also had established a new Patriot League Championship meet record in the event of 2:03.02.
"Kelly swam her own race," said Navy men's swimming head coach Bill Roberts, who was on the pool deck during the race and one of the many to swarm Zahalka as she exited the pool. "Though she was in third at the halfway point of the race, you could tell she was in control as she was approaching the back half of the event to set up for the win."
"That race was the most memorable moment of my entire swimming career," said Zahalka. "The come-from-behind victory was fun in itself, but what made it so special was looking up into the stands and seeing the excitement on my father's face. He gave me a few words of encouragement right before the session that were just what I needed to push through at the end. I respect my father a lot, and being able to feed off his advice was really something special for me."
"That race was not only gratifying for her, and all of us associated with the team, I also think it was an enlightening swim for her," said Morrison. "Kelly is very cerebral when it comes to training and competition. To win the 200 fly on the last day of the meet took more heart than mind. When she was trailing late in the race, I think Kelly put the cerebral part behind her and swam with heart. She placed every emotion and ounce of effort into that swim and got the sweet reward of victory."
More accolades came pouring in for Zahalka during the spring of 2008. She not only was again selected as the league's top scholar-athlete for her sport, she also was tabbed as the Patriot League Female Scholar-Athlete of the Year for all women's sports. One year after earning a third-team academic All-American accolade as a sophomore, she garnered first-team honors at the end of her junior year. In the more than one-half century of the award, Zahalka is just the ninth Navy student-athlete to garner multiple Academic All-America honors in a career.
Additionally last spring, Zahalka was selected as a recipient of the Harry S. Truman Scholarship. She was one of 65 college juniors from an initial applicant pool of over 600 to receive the accolade that is based upon "leadership potential, intellectual ability, and likelihood of making a difference." Recipients receive $30,000 in scholarships for graduate study in preparation for careers in government or elsewhere in public service. The list of past Truman Scholars include Janet Napolitano, current governor of Arizona; Neil Gorsuch, Circuit Judge for the United States Court of Appeals for the Tenth Circuit; and George Stephanopoulos, political commentator and member of President Bill Clinton's original White House staff.
Whether standing atop the victory platform at the league championship ready to receive a trophy or sitting in an office while being told she had received another accolade, when being singled out for something Zahalka gets a shy, almost embarrassed grin on her face as if to say please don't make a big deal over me. But what she has accomplished during her time at Navy has not gone unnoticed by those around her.
"Kelly is a role model to all who know her," said teammate and fellow senior Jennie Spencer. "Some look up to her for her athletic ability, some for her academic success and others for her leadership. Through it all she always finds time for her friends and teammates. She is never too busy to talk with or share a smoothie with over a slice of pizza. She has never let her accomplishments get to her head or in the way of friendships."
"Kelly truly is a remarkable person," said Morrison. "She accomplishes big things quietly and confidently. She is likable, kind and caring. Our conversations are not about Kelly's needs; they are all about what the team needs. She is a team player in so many ways."
Swimming is a very individual sport, one in which the athlete is alone in their own thoughts through a seemingly endless number of laps in a pool during which there is no one to talk with. But being part of a swim team is what keeps Zahalka going after all of these years.
"The things I value most in life are the people around me," said Zahalka. "Being part of a family or team is really important to me. I feel like the Naval Academy really is a large family and I am honored to count myself among the student body. On the swim team this feeling is especially heightened. We see each other first thing in the morning, at our best and at our worst. Everyday we depend upon one another to figure out how to make it all work. Seeing 30 girls come together at the end of long meet to pull out a come from behind victory definitely makes me realize the power and value of a team.
"What has kept me in the sport have been my teammates and coaches. Without them, swimming for me would be a void. I look forward to relays the most at swim meets, by far."
The over 7,000-mile gap between Zahalka and her fellow Navy swimming swimmers is one of the aspects of life in China she has struggled with.
"Being over here without a team and coaches makes me realize how valuable having a team to get you through practices really is," said Zahalka. "I don't enjoy swimming nearly as much when I'm by myself, so I've been spending more time running and cross training with Pilates than anything else."
Despite that absence from her coaches and teammates, and that fact that she currently swims in a three-lane, 40-meter pool with elderly Chinese locals –– "they are very accommodating" –– Zahalka has set typically high goals for herself when she returns to Navy for her second semester.
"Upon my return I hope to be able to make the most of my last semester at the Naval Academy," said Zahalka. "I am so grateful for all of the friends I have made who supported me all along the way, especially the girls on the swim team. I want to enjoy this time we have together before we go off to different communities to serve.
"For swimming I hope to be able to contribute to the team's effort at the Patriot League Championships. I recognize that without the solid six months of training that the rest of the team will have that my contributions will be different than in years past. I will be trying my hand at a few different events. I just hope to finish out the year and my career working hard and having fun with the team."
Zahalka's plans for after graduation are also ambitions. Besides her impending wedding this summer, she hopes to study Modern Chinese Studies for two years in the United Kingdom. After that, she wants to become an intelligence officer in the Marine Corps.
Zahalka chose to attend the Naval Academy because "I was looking for a place where I could contribute to society immediately." Morrison feels she has more than achieved her goal, and the possibilities for her future contributions to both the military and society as a whole are limitless.
"At the Academy, Kelly wears the uniform with pride and, upon her arrival, immediately became a dedicated member of this nation's greatest collegiate team, the Brigade of Midshipmen," said Morrison. "Along with several others, Kelly has set the course for our swimming and diving program to become nationally recognized.
"I know Kelly will do many remarkable things in the future, and I see her doing it with the knowledge and skill sets she gained during her four years by the bay. Kelly has the unique ability to see the big picture, divide it up into smaller pieces, improve those smaller pieces, and put the picture back together to generate remarkable outcomes. I don't know exactly what Kelly will do yet, but whatever she does it definitely will be bigger and more important than her self."