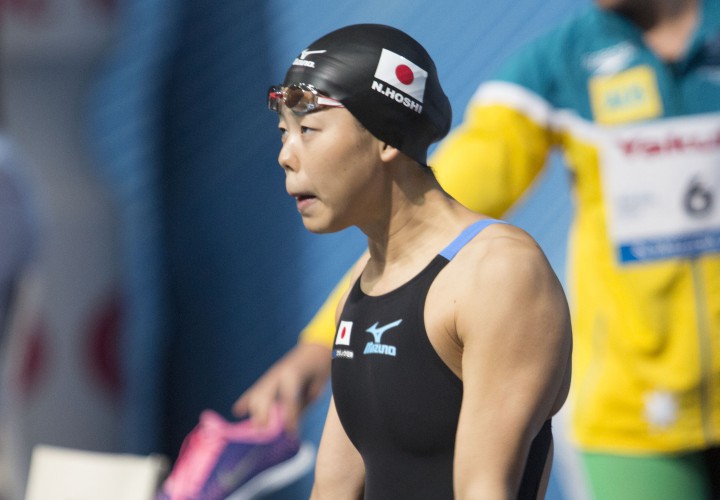 TOKYO, Japan, June 21. THE butterflies proved to be the top-profile events at the Japan Open tonight in Tokyo, including one of the deepest women's 200-meter butterfly finales in the world.
The world pacesetter, Natsumi Hoshi, cruised to victory in the women's 200-meter fly with a 2:06.34 tonight. That swim fell short of the 2:05.98 she used to win at Japanese Nationals, but still proved to be the third-fastest time of the year behind only Mireia Belmonte's 2:06.33.
Miyu Nakano took second overall in 2:08.18 tonight to rank 12th in the world rankings, while Sakiko Shimizu finished third in 2:09.19. Shimizu jumped to 16th in the world rankings with that performance. The 200 fly finals were exceptionally deep here in Tokyo with Haruno Ito finishing fourth in 2:09.74 and Suzuka Hasegawa taking fifth in 2:09.82. Ito improved on her 19th-ranked season best of 2:09.88, while Hasegawa grabbed 21st in the world.
Daiya Seto sizzled in the men's 200-meter fly with a winning time of 1:54.75. That's just off his second-ranked season best of 1:54.70 from the Mare Nostrum circuit. Only Chad Le Clos has been faster with a 1:54.56 from South African Nationals. Masato Sakai took second tonight in 1:55.15 to move to third in the world, while Kosuke Hagino placed third in 1:56.57 for 11th in the rankings.
Miki Uchida vaulted to 18th in the world rankings with a 54.28 to win the women's 100-meter freestyle finale. Yayoi Matsumoto took second in 55.08, while Kanako Watanabe snagged third-place overall in 55.30.
Noriko Inada, the Masters swimming wonder who continues to perform well into her 30s, took the women's 50-meter back title in 28.56. That swim is just a bit off her 17th-ranked season best of 28.42 from the Japanese Nationals earlier this year. Emi Moronuki took second in 28.71 with Masumi Takaba winding up third in 28.76.
Junya Koga cleared Ryosuke Irie, 24.69 to 25.17, in the men's 50-meter backstroke coming up short of his sixth-ranked season best of 24.66 from the Mare Nostrum stop in Barcelona. Irie also has been faster with an eighth-ranked 24.86 from Japanese Nationals. Takeshi Kawamoto placed third in 25.50.
Asami Chida topped the women's 800-meter freestyle finale in 8:35.92 with Yukimi Moriyama snaring second in 8:37.84. Mahiro Ishii wound up third in the finale with an 8:40.81. Fumiya Hidaka touched out Naito Ehara, 3:50.44 to 3:50.57, for the men's 400-meter freestyle title. Kohei Yamamoto picked up third-place honors in 3:51.14.
Rika Omoto took home the women's 200-meter IM title in 2:12.53, while Hiroko Makino took down the national junior record with a second-place time of 2:13.03. Mio Motegi placed third in 2:13.13. With the top two swimmers in the world, Hagino and Seto, sitting out the men's 200-meter IM this week, Irie managed to capture the title in 1:59.81. Hiromasa Fujimori took second in 2:00.01 with Reo Sakata taking third in 2:00.30.