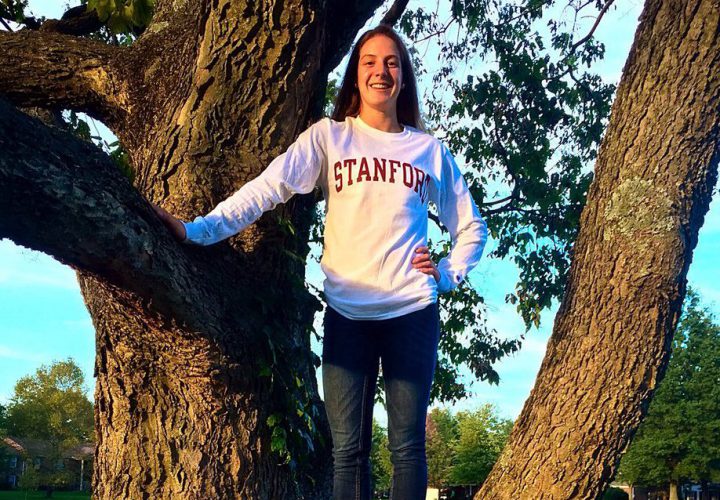 Photo Courtesy: Brooke Forde (Twitter)
Agon is the proud sponsor of all high school coverage (recruiting, results, state championships, etc.) on SwimmingWorld.com. For more information about Agon, visit their website AgonSwim.com.
U.S. National Junior team member Brooke Forde verbally committed to Stanford Monday night. Forde gives head coach Greg Meehan another ace to play for the 2017-2018 season along with the likes of Katie Ledecky, Simone Manuel and Ella Eastin. Forde currently swims for Lakeside Swim Club and Sacred Heart Academy in Louisville, Ky.
"The Stanford swim team was so welcoming to me and I felt an immediate connection with them," Forde said. "I know that Stanford will give me the best opportunity to grow as a student and an athlete. Coaches Meehan and [Tracy] Duchac have done a great job building a model program, and I can't wait to be a part of it."
Forde specializes in the 400 IM, having won the Winter Junior Nationals (East) title in the event last year. She got the silver medal in the 400 IM at Jr. Pan Pacs in Maui this summer in a swift time of 4:40.98, which ranked 11th among Americans this year.
Forde finished 15th in the 400 IM and 19th in the 200 IM at Olympic Trials this summer only two weeks after she was in the hospital getting a spinal tap to help deal with the symptoms of viral meningitis.
Forde figures to contribute for Stanford right away as her top time of 4:07.49 in the 400 IM would have qualified her for the championship final at this year's NCAA championships. Her other focus events in college figure to be the 200 IM (best time 1:57.85) and either the 200 breast (2:11.29) or 200 fly (1:57.03). Her 200 free best time of 1:46.76 indicates she could eventually be an option for the Cardinal's 800 free relay as well.
Forde took visits to Texas, Virginia and Georgia but ultimately chose Stanford, where Ledecky was one of her hosts on a recruiting trip.
Forde's older brothers are both successful swimmers in their own right. Clayton, a freshman at Georgia, finished 41st in the 400 IM at Olympic Trials this summer, and Mitchell, a senior at Missouri, barely missed the cut in the 50 free.
Brooke's father, Pat, covers swimming and major college sports for Yahoo Sports, and while covering Olympic Trials this summer, he took some time out to be a fan and cheer on his kids. Read Pat's thoughts on the experience here.
To report a verbal commitment email HS@swimmingworld.com.