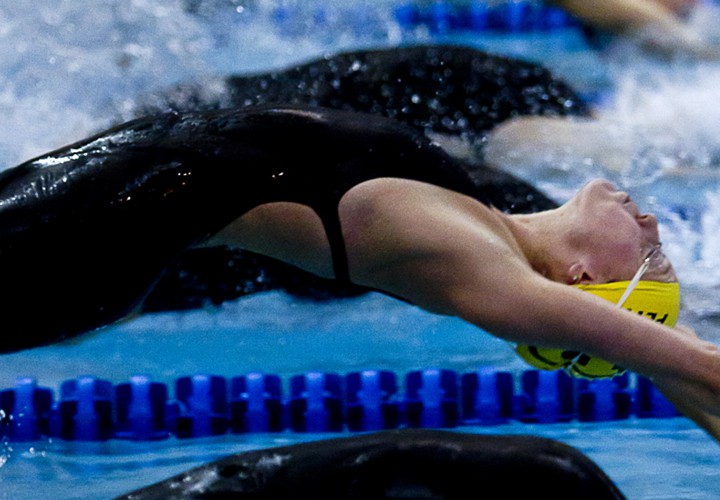 Swimming World is streaming the 10-and-under and 11-12 afternoon sessions and the 11-and-over finals sessions each day at the Speedo Tom Dolan Invitational on the event landing page. On-demand race footage will be available after each session there as well.
COLLEGE PARK – Two national age group record swims by Reece Whitley and one by Delaware Swim Team sparked the second day of competition at the Speedo Tom Dolan Invitational, where Olympian Andrew Gemmell and age grouper Benjamin Charles also impressed in the short course yards meet.
After a 53.84 prelim swim in which he swam faster than expected in the 100 breaststroke, Penn Charter Aquatic Club's Reece Whitley turned on the fire in the final with a blazing 53.06. Turning at 25.30 at 50 yards, Reece looked to be on pace for a sub-53 second swim but came up just short of being the youngest swimmer under 52 seconds. He'll be 15 years old in a matter of months, and has his eye on Carsten Vissering's 52.83 which stands as the 15-16 national age group record. Regency Park's Luke Durocher and Nation's Capital Kyle Barker also had a thrilling finish, tying for second with matching times of 59.30.
Durocher got his revenge on Whitley in the 13-14 100 fly final with a 50.29 to win over Whitley's 50.43. Delaware Swim Team's Jake Johnson was a close third with a 50.61.
Whitley won his second event of the night with a blazing-fast 3:55.86 in the 400 IM, including a 1:03.25 breaststroke leg. Johnson led the race by a body length after backstroke but had to settle for second with a 4:02.21. Barker finished third with a 4:05.90.
Destin Lasco of Pleasantville, who had been a star in the 11-12 age group, found success as a 13-year-old in the final of the 200 free for the 13-14 age group. Lasco held off Penn Charter's Colin Reilly to win with a 1:42.82 to Reilly's 1:42.93. Phil Costin of Poseidon took third with a 1:44.18.
Poseidon took the lead early in the 800 free relay fastest heat, thanks to a 1:44.60 from Phil Costin, and never looked back, winning with a 7:11.75. NOVA of Virginia was second with a 7:18.61, while SwimMAC Carolina was third with a 7:19.06.
North Carolina's Madison Homovich, in her first race of the meet, used a 1:46.24 anchor leg to blaze past Nation's Capital's Katie Mack to help her team win the 800 free relay with a 7:37.91 to 7:38.23. SwimMAC Carolina was third with a 7:44.62.
15 and over finals
Andrew Gemmell and Sean Fletcher showed up to give the competition a postgraduate flair, and both handily won their events after getting a push from some teenagers. Gemmell of Nation's Capital, the Swimming World Magazine Male Open Water Swimmer of the Year, had some pressure from NOVA of Virginia's David Dixon in the open 400 IM through the backstroke leg, but Gemmell turned on the afterburners to win with a 3:52.89 after posting a 3:51.91 in prelims. Dixon faded to fourth with a 3:57.86, while Nathan Pawlowicz of Nation's Capital (3:55.73) and Machine Aquatics' Casey Storch (3:56.69) rounded out the top three.
Fletcher, now a postgrad at the University of Michigan representing Mason Makos, returned to the area where he grew up and won the open 100 fly with a 47.07. Fletcher finished third at last week's USA nationals with a 45.82. David Crossland of Delaware Swim Team pushed Fletcher's pace in the first 50 yards but faded a touch to place second with a 48.14. Cole McGarry of Nation's Capital was third with a 48.97.
Vincent Everman of Central Bucks and John Shebat of Nation's Capital battled for the win in the men's open 100 breast, and it was Everman with the victory, 55.91 to 56.04. Michael Pettinchi of Nation's Capital took third with a 56.87.
In the men's open 200 free, James Murphy of Machine Aquatics won with a 1:36.67, a full second over the 1:37.71 by Greg Brocato of Central Bucks for second place. Rory Lewis of Machine Aquatics was third with a 1:38.82.
Allie Szekely of Central Bucks, now 16 years old, dominated the open division as much as she has in the age group races at this meet. She started with a 1:01.34, just beating out the 1:01.40 by Asphalt Green's Anna Belousova. Olivia Paskulin of Pointe-Claire was third with a 1:02.09. Szekely returned to post a 4:06.33 in the 400 IM, a superb swim at 16 years old. She led from start to finish, even outsplitting butterfly specialist Cassidy Bayer of Nation's Capital after the butterfly leg. Bayer held on for second with a 4:13.94, while teammate Megan Byrnes was third with a 4:15.74.
Rachael Burnett of Machine Aquatics held on to win the open 200 free with a 1:47.42, while Sydney Pesetti of Poseidon was second in 1:47.59. Finishing third was Byrnes with a 1:48.67. In the open 100 fly, Bayer took the win with a 53.44, though teammate Kylie Jordan made it close with a runner-up time of 53.55. Szekely rounded out the top three with a 54.18.
Machine Aquatics dominated the girls' open 800 free relay, posting a 7:21.92. Nation's Capital was second with a 7:27.91 while Poseidon was third with a 7:29.69.
Townley Haas, fresh off a series of successful performances at last week's USA Swimming nationals, kicked off a quick weekend of racing with a 1:35.97 to give NOVA of Virginia a chance to possibly break the 15-18 national age group record of 6:28.90 by SwimMAC Carolina. But the team fell off the pace, posting a solid 6:35.85 for the win. SwimMAC Carolina finished second with a 6:44.97 while Nation's Capital was third with a 6:47.75.
13-14 girls age group finals
Morgan Scott won two events tonight. She started with a 1:50.15 in the 200 free, holding off a very strong final 50 yards from SwimMAC Carolina's Julia Menkhaus, who was second in 1:50.19. Sophie Perez of North Carolina Aquatics took third with a 1:51.47. Scott took another close race over Menkhaus, this time posting a 55.35 in the 100 fly to Menkhaus' 55.72. Brooke Matthias of Nation's Capital was third this time with a 56.17.
Menkhaus got one victory tonight, charging through the final 100 yards to win the 400 IM with a 4:21.18. Danika Katzer of Nation's Capital was second with a 4:22.84, while Alex Sumner of Suburban Seahawks took third with a 4:24.71.
Kate Douglass of Westchester started the session with a 1:03.22 to win the 13-14 100 breast title in a thrilling three-way battle. Kaki Christensen of Chelsea Piers took second with a 1:03.38, while Annie O'Dare of Central Bucks was third in 1:03.71.
11-12 age group finals
With less than an hour between prelims and finals, most of the athletes in the 11-12 age group had little rest between events. They soldiered through the competition, with many swimming faster in finals.
A day after doubling up with wins on Thursday, Chase Travis of Delaware Swim Team added the 100 free to her victories with a 53.27 to the 53.88 by Maya Fischer of Nation's Capital. Allison Kopac of Nation's Capital took third with a 54.29.
Nation's Capital went 1-2-3 in the girls' 50 butterfly. Abby Harter (26.23), Phoebe Bacon (26.56) and Kopac (26.63) gave the host team reason to celebrate.
Sophia Zhang of Asphalt Green won the girls' 50 breast final with a 30.72 over the 30.87 by Greenwich YWCA's Meghan Lynch and the 31.59 by Westchester's Theresa Milo. Zhang's teammate Isabel Gormley shocked the field by winning the 100 backstroke with a 58.62. Also breaking 1:00 were: Hadley DeBruyn of Delaware (59.67), Anna Redican of Machine Aquatics (59.68) and Lauren Aylmer of Phoenix (59.77).
In timed final competition swum earlier in the afternoon, Travis won the 400 IM easily with a 4:23.49, with Gormley second in 4:27.96 and Sophia Zhang third in 4:37.14. Lynch took the win in the timed-final 200 breast with a swift 2:22.99, while Zhang (2:23.47) and Anna Keating of Machine Aquatics (2:28.79) rounded out the top three.
The Delaware Swim Team foursome of Chelsey Liu (55.16), Bella Warner (53.79), Isabella Paoletti (54.68) and Chase Travis (52.27) scorched the 11-12 timed final in the 400 free relay with a 3:35.90 to set the 11-12 national age group record this afternoon. That performance crushed the previous effort of 3:37.71 set by the Irvine Novaquatics' team of Courtney Mykkanen, Taylor Newton, Carly Perri and Aislinn Light. Nation's Capital also got under the old national age group record with a 3:37.16 for second, while Asphalt Green just missed the old record with a 3:37.81.
In the boys 11-12 timed final events, Ryan Catron of Nation's Capital blew away the field in the 400 IM, posting a 4:19.68 to win by a full pool length. Joey Dickson of Delaware was second with a 4:36.39, while Darius Truong of Nation's Capital was third with a 4:37.78.
Truong made a push to get his first win of the meet, but Machine Aquatics' Bryan Patten was too strong in the 200 breast as he won with a 2:17.96. Truong was second comfortably with a 2:22.11, while Justin Hausler of Delaware took third with a 2:29.58.
Benjamin Charles of Machine Aquatics was the class of the field in the 11-12 age group, winning three events. After a 51.19 in the prelims of the 100 freestyle, he won the final with a 51.33. Leo Goldblatt of Nation's Capital took second with a 51.70 ahead of the 52.66 by Brett Feyerick.
Charles got another victory in the 50 breast with a 29.96, the only sub-30 swim of the age group. Nicholas Clark of Chelsea Piers was second with a 30.26 while Patten took third with a 30.36. Charles' third win came in the 50 butterfly with a 25.23. Goldblatt finished second to Charles again with a 25.67, while Anthony Grimm of Nations Capital took third with a 26.35.
Nation's Capital ran away with the boys' 11-12 400 free relay victory, combining for a 3:32.63. Machine Aquatic was second with a 3:42.30 while Nation's Capital's B team took third with a 3:44.53.
10-and-under age group timed finals
In the boy's 50 breast, Jason Mack of Nation's Capital posted only sub-36 second swim of the day in the age group with a 35.75 to win. Teammate Bailey DeLuise was second with a 36.30, while Patrick Mullen of Greenwich YWCA placed third with a 36.99.
Gabe Willis of North Carolina Aquatics won the boys' 100 free with a 1:01.26, touching out the 1:01.49 by Tollefson's Jackson Van Wagener. Akira Lomvardas of Asphalt Green took third with a 1:02.20. Jack Maketa took the boys' 50 fly with a blazing 29.71. Christian Lee of Westchester (31.60) and Van Wagener (31.72) were fast in their own right but couldn't match Maketa's speed.
Lee got a win today with a 1:08.09 in the 100 back. Maketa settled for second in that race with a 1:09.20, while Dylan Zhang of Asphalt Green was third with a 1:11.65.
Esther Lin of Westchester took the girls' 50 breast with a 35.57. Nyah Petrakis of Central Bucks was second with a 36.17 while Madison Wu of Asphalt Green posted a 36.73 to get third just ahead of Carly Sebring of Nation's Capital and her 36.75.
Giulia Baroldi of Joe Flaherty's Dolphins won the girls' 100 free with a 56.08. Yilinna Collmar of Westchester (58.20) and Ashley Kolessar of Delaware (59.86) rounded the sub-1:00 swims.
Baroldi returned for another victory in the 50 fly, but she had to share it with Collmar as the two posted times of 29.12. Claire Curzan of North Carolina Aquatics was third with a 29.71.