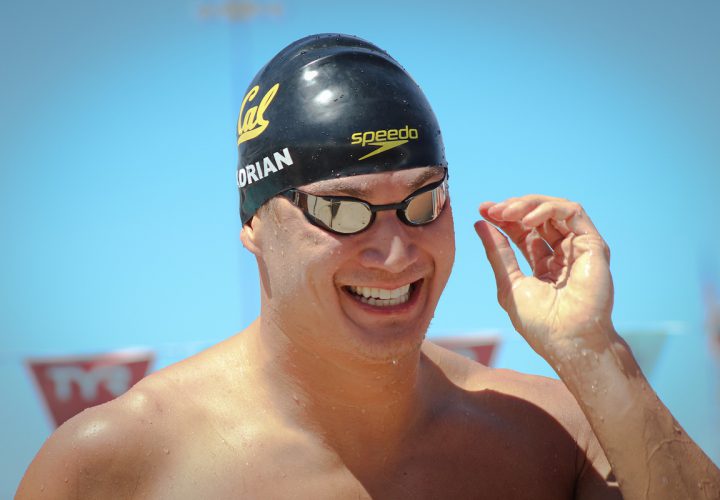 Photo Courtesy: Taylor Brien
Editorial content for the 2018 TYR Pro Swim Series Mesa is sponsored by SwimOutlet.com. Visit SwimOutlet.com for more information on our sponsor. For full Swimming World coverage, check out our event coverage page.
Michael Andrew, Michael Chadwick, Nathan Adrian, Bruno Blaskovic, Cullen Jones, Nikola Miljenic, Andrej Barna and Kyle Robrock competed in the Quarterfinals of the Mesa Men's 50 Free Knockout.
Andrew won yet another heat in tonight's session with a time of 22.25. This is a bit off his 21.93 sixth-ranked swim from Atlanta. Chadwick earned the second position in 22.41 while Adrian (22.44) and Blaskovic (22.72) also earned their spots in the Finals.
Jones (22.80), Mijenic (22.90), Barna (23.08) and Robrock (23.35) rounded out the heat.
Adrian then asserted his sprint freestyle dominance by taking the semis in 22.52. Andrew had just enough left on his fifth race of the night to get second in 22.69. Despite a late charge, Chadwick narrowly missed out on another swim by racing to a 22.77. Blaskovic was fourth in 23.24.
While the men were even throughout the first half of the race, Adrian powered to the finish for a distinct victory in 22.94. Andrew earned second place in 23.70.