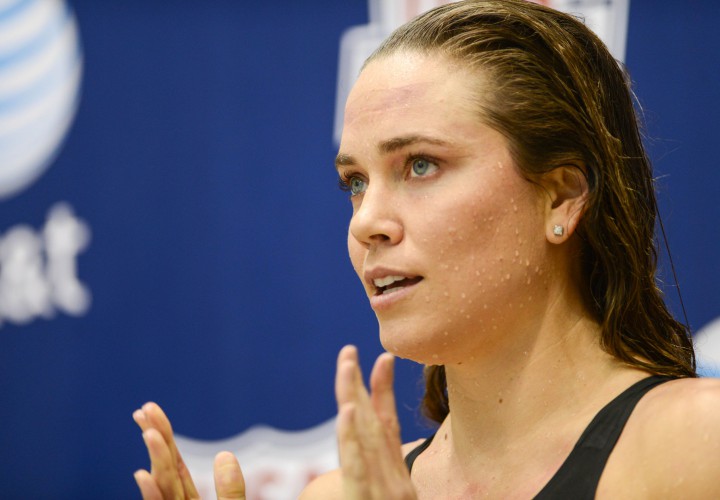 Photo Courtesy: Tia Patron/Tennessee Athletics
BERKELEY – Next month's short course world championships is one of many steps Natalie Coughlin is taking on her quest to participate in a fourth Olympic Games, and based on her performances recently while racing in Italy she's confident she's on the right path.
Speaking on a conference call with the media, Coughlin said her performances in Italy, which included an American record in the 100 individual medley did not surprise her.
"At the risk of sounding stuck up, I'm not surprised with my success in the past two weeks," Coughlin said. "I've been waiting for that consistency (in training) to show up in my racing."
Coughlin will race only the 400 freestyle relay in Doha next month, but she enjoyed racing various sprint events, including backstroke. Though she said her prime focus in the next nine months is only freestyle as she prepares to race the 50 and 100 freestyles next summer at the Pan American Games, she isn't ruling out returning to backstroke.
She said things are clicking with her and coach Dave Durden at the University of California-Berkeley. After two years working with Durden and his postgraduate squad that includes Olympic champions Nathan Adrian and Anthony Ervin, Coughlin feels like she and Durden have "worked through the growing pains, …. and we have a lot of momentum" going forward to 2016.
"I'm all in for the next two years," she said.
As one of the older athletes on the women's squad for the world championships, Coughlin's looking forward to mentoring the younger swimmers on Team USA, including the five females still in high school. Coughlin reminisced about her first international meet — the 1999 Pan Pacific championships — and how she was honored that such legends as Jenny Thompson "took me under their wing" when she was just a senior in high school.
"Now, I try to pay it forward and do my part as best I can," she said.
The short course world championships runs December 3-7.