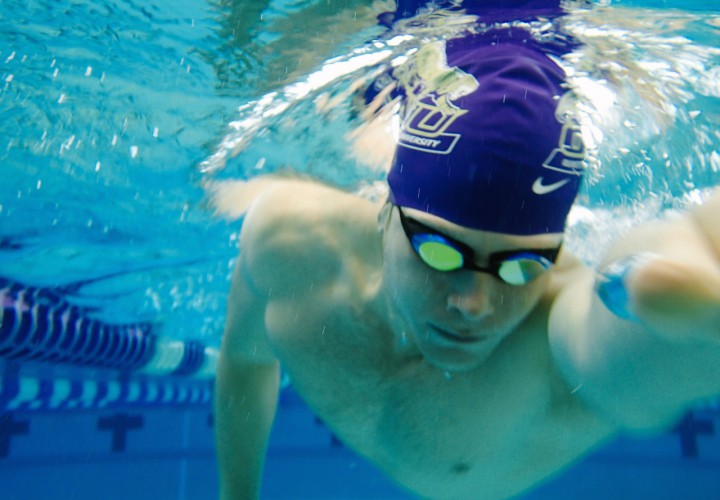 Photo Courtesy: Olivet Nazarene Athletics
By Lileana Pearson, Swimming World College Intern
The NAIA is proud to highlight their top athletes, and in the past few weeks they have released their men's and women's players of the week.
First up for men we have a swimmer from Union College in Kentucky, Nathan Lethbridge. The freshman originally from London, Canada was selected to hold the title due to his stellar performance since the beginning of the season. Lethbridge is the first male to be honored this season and continues to be an outstanding athlete. With a total of fourteen swims that have been NAIA Championship 'A' cuts it is no wonder that he has caught the eye of the division and made such a standout appearance at meets.
The first woman to be recognized is the firecracker swimmer from Biola University in California, Lisa Tixier. Freshman Tixier has an older sister, Christine, who also happens to be a phenomenal swimmer. Lisa follows in her footsteps. She has the potential to set NAIA, school and personal records with her incredible athletic ability. Lisa Tixier has flawlessly qualified in 18 of her 19 swims for NAIA Championships and is projected to absolutely own the pool in March at the final meet of the NAIA season.
The latest male to be announced as a swimmer of the week is senior from Olivet Nazarene, Simon Pheasant (pictured above). An international student from South Africa, Pheasant has only placed first or second in races this season and secured himself a middle of the pool seed for NAIA Championships in the 100 freestyle with a time of 45.57.
This is the second time Pheasant has been announced as a Player of the Week for NAIA in his college career. It is a stellar way to close this chapter of his life as he ends his last year of eligibility.
Bailee Blankemeier of Phoenix, Arizona now swims for Concordia University Irvine and is the most recent female to be recognized by the NAIA. The freshman was selected for her outstanding performance and standing from January 12-February 1. This year she has set new school records in the 400 free relay (4:33.30) and also a program record with her 200 meter butterfly. She is nationally qualified in four events for the 2014-15 Championship meet and has lots of room to progress over the next three years.
The NAIA is always looking for ways to make sure outstanding individuals and swimmers are getting the recognition they deserve, especially as we are now only weeks from championship meet. The newest and last set of Players of the Week will be announced February 25. Be sure to look for the latest "Players of the Week" as Championships approach and the season draws to an end.